Helsinki, Tallinn and Riga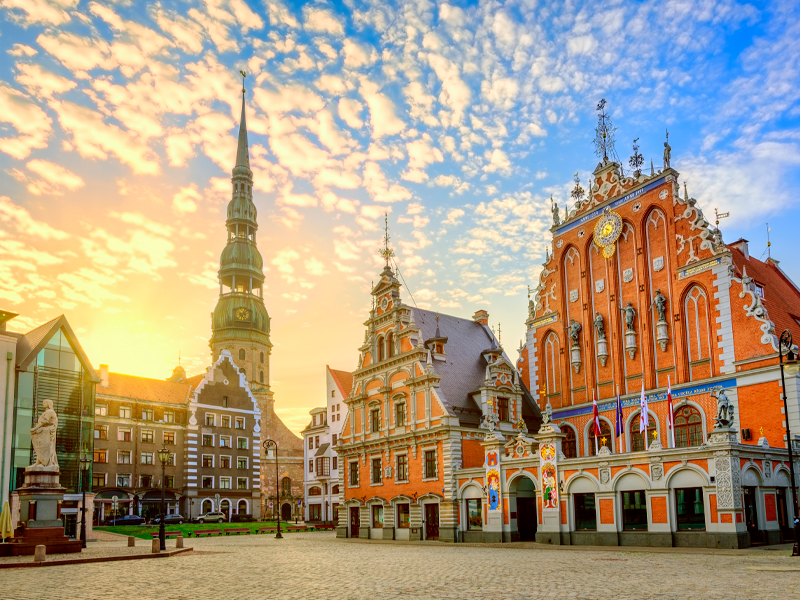 Explore a magnificent corner of Europe that is rich with history, taking in Helsinki, Tallinn and Riga.
Atmospheric towns full of diverse architecture and an abundance of UNESCO World Heritage sites. The countries bordering the Baltic Sea have managed to remain slightly under the radar when it comes to busy tourist spots in Europe, yet those who visit these Baltic beauties are richly rewarded.
From Helsinki just north of the Baltics to Riga, our southernmost stop, this tour rakes in four cities across a trio of countries on the cusp of where Russia and Europe collide.
Accompanied by an expert guide, you will discover the very best on offer from this hidden gem corner of Europe made up of Finland, Estonia and Latvia.
What You'll Love
Enjoy peace of mind with Flexible Booking*
Happy by day two or we'll bring you home with a full refund
Return flights and transfers
Seven nights in four-star accommodation, including all local taxes, with breakfast and three dinners including two at local restaurants
Guided tour of the Finnish capital Helsinki, a melting pot of Scandinavian and Russian influences
Visit to the Latvian capital Riga, with a guided walking tour of the riverside Historic Centre, a UNESCO World Heritage gem boasting a mix of gothic and Art Nouveau architecture
Walking tour of the Suomenlinna Fortress, an impressive UNESCO World Heritage Site straddled across six of Helsinki's islands, with a local guide
Visit to picturesque Kadriorg Park to see its fairy tale Swan Lake, manicured gardens and the crowning glory baroque palace on a guided tour
Guided walking tour of the Estonian capital Tallinn featuring the charming Medieval Lower Town and the hilltop Upper Town
Enjoy a relaxing countryside drive from Tallinn to Estonia's cultural capital Tartu, with time to enjoy the impressive museums, university-town atmosphere and Old Town
Journey across the Gulf of Finland to Estonia aboard a modern, comfortable ship
Services of an experienced tour manager
Subject to availability. Single supplements apply.
*Full terms and conditions can be viewed here. 
Itinerary
Day 1 – Arrival in Helsinki
Fly to Helsinki and transfer to your hotel, where you'll stay in the four-star Scandic Grand Marina or the four-star Scandic Park.
Day 2 – Helsink & Free Afternoon
Helsinki is a beautiful, bustling capital city – an idyllic archipelago nestled on the Gulf of Finland and boasting over 300 islands. Surrounded by lush forests and vast, picturesque parks, both Central Park and Kaivopuisto Park offer stunning views overlooking the sea, just two of the city's tranquil spots that provide us with an uplifting breath of fresh air.
Our morning tour takes us around many of Helsinki's highlights, including its striking Railway Station and the sculptural Sibelius Monument, resembling organ pipes. During the afternoon, we're free to explore the city's vastly varied sights
Day 3  – Suomenlinna Fortress
Today, prepare to be transported back in time as we take a short ferry ride from the mainland to the UNESCO World Heritage Site of Suomenlinna Fortress. Despite a tumultuous history, the fortress is now the epitome of peace and tranquillity. Our expert guide will bring the fort's history back to life as we explore Suomenlinna's four bastions, as well as a wealth of other attractions within the fortress walls, including deep and eerie connecting tunnels, a turquoise-topped dual use church/lighthouse, the ominous canons, lakes, gardens and even a beach. Outside of the crumbling fortress walls, we meander through the cobbled streets, across connecting bridges and in between old wooden buildings now home to quaint restaurants and artists' workshops.
In the afternoon you'll have some free time where you may choose to head back to Helsinki or stay on Suomenlinna.
Day 4 – Tallinn
Today, we leave Finland in our wake and cross the Gulf from Scandinavia to Estonia. We dock in the port of Tallinn and drive east along the coast until we arrive at picturesque Kadriorg Palace. Built in the 18th century by Russian Emperor Peter the Great as a gift to his wife Catherine, this sweeping confection of a building now houses one of the country's best art collections. Here, we take a guided tour of its intricate interior, taking in the exquisite and mesmerising ceiling in the main hall, as well as the impressive manicured gardens and fountains that the palace overlooks. After this most regal outing we continue to Tallinn to settle into our hotel before heading out for dinner in a local restaurant.
You will stay for two nights at the four-star Nordic Forum Hotel.
Day 5 – Tallinn
Estonia's capital Tallinn is, quite simply, a time warp. Its fairy tale UNESCO World Heritage-listed Old Town, a rabbit-warren of atmospheric streets neatly situated below an impressive hilltop Upper Town, offers endless discovery: an ancient castle, a pastel-coloured baroque Parliament building, the Alexander Nevsky Cathedral. As you enter Tallinn's Old Town through its landmark 14th century Viru Gate, you're immediately struck by the heady fragrance of fresh blooms from the plethora of flower shops that line the road ahead. Sitting in the shadows of the church steeples, castle walls and grand cathedrals you'll happen across a hotchpotch of winding streets and alleyways, colourful buildings and traditional traders. Stroll through Catherine's Passage, an atmospheric hidden alleyway lined with all manner of artists' workshops. Once we've enjoyed our morning walking tour of the upper and lower Old Town with a local guide, there's time to seek out various local treasures, wander through the shadows of the city walls, or maybe just a short stop to sip a coffee and watch the world go by.
Day 6 – Tartu
After breakfast we continue our tour to Tartu, Estonia's second largest city and its cultural capital, home to the country's most renowned university. On our arrival we'll have time to enjoy lunch and explore the picturesque city centre. The Old Town Square is the perfect place to people watch and take in the views of the Emajogi River, the Kissing Students Fountain, the pretty pink Town Hall and the curious Leaning House – home to the Tartu Art Museum. Not only has that, but the medieval St John's Church, boasted some of the best views over the Old Town from its belfry. We set off again mid-afternoon on our journey to Riga, capital of Latvia, where we'll settle into our hotel before heading out for the evening to sample some local cuisine in a nearby restaurant.
You will stay in either the four-star Radisson Blu Ridzene or the four-star Wellton Hotel & Spa.
Day 7 – Riga & Free Afternoon
Today, we visit beautiful Riga, largest of the Baltic State cities. Situated at the mouth of the River Daugava, this charming, cosmopolitan city offers a real mix of architectural styles. Spires of dark, gothic churches tower above the shadowy cobblestone streets below.
During our morning walking tour, we explore these hidden delights and the medieval maze that makes up the Old Town, including the striking foliage-covered Powder Tower – home to the Latvian War Museum, and the central Dome Square – the heart of seven atmospheric streets. Stand on the marked spot on the square and you can see all three golden cockerels on top of the Old Town church spires.
During the afternoon, you're free to explore the city as you wish, a stroll through Riga's famously vast Central Market, five pavilions of old Zeppelin hangars so iconic that it's included on the UNESCO World Heritage list, along with the city's Old Town.
Day 8 – Return Flight
After breakfast it's time to bid a fond farewell to the beauty of the Baltics and take the transfer for the flight home.
---
Helsinki, Tallinn and Riga
FROM
£1339.00
Departing From
Edinburgh
Other UK airports also available
Departure dates
11th August 2022
18th August 2022