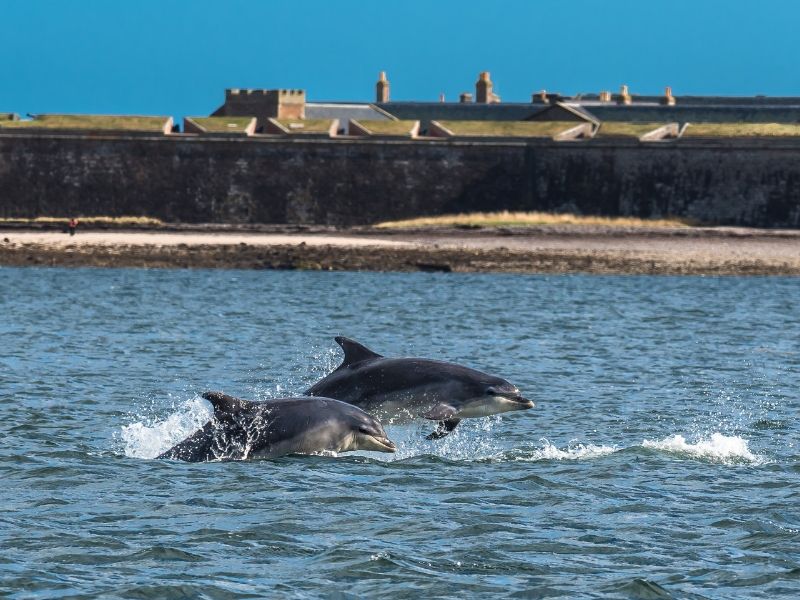 Available
Until July 2022

Scotland's natural environment is second to none with a more diverse range of habitats than almost any other country of comparable size. This tour of the Highlands aims to provide close encounters with a wide range of wildlife, all set against a backdrop of magnificent scenery.
We begin at the Loch of the Lowes Wildlife Reserve where, in addition to the star attraction, a pair of breeding ospreys, you may spot deer, otters, red squirrels and woodland birds, and continue to the Highland Wildlife Park, whose collection of rare and endangered animals and birds includes both native and non-native species, such as Snow Leopard and Polar Bear.
The waters of the Moray Firth are home to the only resident population of bottlenose dolphins in the North of Britain and our boat-trip should take us almost to within touching distance of these fascinating mammals.
Harbour porpoise and minke whale can also sometimes be seen here and, in the skies above, look out for red kites and the occasional osprey. We then visit the House of Aigas Field Centre where we will see a beaver dam and their Scottish wildcat project.
We have a day among the majestic mountains of Wester Ross as we travel to Kinlochewe and Beinn Eighe National Nature Reserve where, beneath the towering mountain of Slioch, there is a 500-acre remnant of the Western Caledonian Pine Forest, carefully protected to give an impression of the ancient woodland of pine, birch and juniper that once cloaked vast swathes of the country.
At the other end of Loch Maree lies Inverewe, one of the most stunning gardens in the country, a veritable jungle of mature exotic trees and shrubs.
Our tour concludes with a visit to the Abernethy National Nature Reserve at Loch Garten where we will see more ospreys as well as other birds, and the Fish Ladder at Pitlochry Dam for a chance to see the mighty salmon making their way upstream.
What You'll Love
Return coach travel available from Perth, Dunfermline, Edinburgh or Glasgow
3 nights' hotel accommodation with dinner, bed, & breakfast – staying at the Craiglynne Hotel
Visits to the Loch of Lowes Visitor Centre and Wildlife Reserve (near Dunkeld), the Highland Wildlife Park (near Aviemore), House of Aigas Field Centre (near Beauly), Beinn Eighe National Nature Reserve (the oldest nature reserve in Britian), Inverewe Gardens and the Abernethy National Nature Reserve at Loch Garten
Take a Dolphin Cruise on the Moray Firth
Comfortable coach travel throughout
Services of a professional tour manager
Single supplements apply. Subject to availability.
Itinerary
Day 1
We will depart from our designated departure points and head up the A9, stopping for refreshments, to the Loch of the Lowes Visitor Centre and Wildlife Reserve, near Dunkeld. Loch of the Lowes covers 98 hectares and from early April to late August the star attraction is a pair of breeding ospreys. Their nest is situated within 150 metres of the observation hide, allowing osprey family life to be observed through binoculars, telescopes and closed-circuit television. From the hide you can also spot fallow and roe deer, otters, red squirrel and common woodland birds, including tree creepers and great-spotted woodpeckers.
We will continue to the Highland Wildlife Park near Aviemore, which has an extensive collection of both native and exotic animals and birds. Native species include capercaillie, red deer, red squirrels and the rare and endangered Scottish Wildcat and among the non-native animals are the Amur Tiger, Snow Leopard, Red Panda and Polar Bear.
We later continue our journey by coach to our accommodation in the Inverness area, where dinner will be served in the evening.
Day 2
After our Scottish breakfast we will make our way to Inverness, capital of the Highlands, where we will leave for our Dolphin Cruise and head out onto the Moray Firth. Though nothing is ever guaranteed where wildlife is concerned, we have an excellent chance of seeing some of the bottlenose dolphins at close quarters, plus common seals, grey seals and porpoise. There is also a wide variety of bird life such as terns, gannets, fulmars, razorbills, kittiwakes, red kites and ospreys, and a variety of wading birds on the shoreline.
Following our cruise we depart for the House of Aigas Field Centre near Beauly. Here we will enjoy lunch using produce from the estate (included) before embarking on a guided walk around the estate to view the beaver dam, Scottish Wildcat project and other native wildlife such as red squirrels.
If time allows and conditions are favourable, we will detour via Chanonry Point where it is possible to observe dolphins that come to within a few metres of the shore.
We will return to the hotel for dinner.
Day 3
After breakfast we travel through some glorious mountain scenery to Kinlochewe at the head of Loch Maree. Here we visit the Beinn Eighe National Nature Reserve, located on the loch's southern shore beneath the mighty 3000ft face of Slioch. It is the oldest nature reserve in Britain comprising 10,500 acres and it was established in 1951. The reason for its designation is the 500-acre remnant of the Western Caledonian Pine forest which is carefully protected, the whole reserve having been fenced and sheep removed to allow natural regeneration to take place. Now the short nature trail through the ancient woodland of Scots Pine, Birch, Juniper and Heather gives a wonderful impression of the Wild Wood of Caledon as it once was, now hopefully preserved forever.
After our Woodland Walk, we will continue for an afternoon visit to Inverewe Gardens, unquestionably recognised as one of the most outstanding gardens in the country with a host of botanical specimens both native and exotic. The balmy Gulf Stream Drift Climate promotes luxuriant growth and today it is a jungle of mature trees and shrubs laced with winding walks, rising and falling, giving sudden glimpses of shimmering water through the foliage.
We will return to the hotel for dinner.
Day 4
After breakfast we will check out of the hotel and travel south to visit the Abernethy National Nature Reserve at Loch Garten. In this remnant of the Caledonian Pine Forest we hope to see a number of different bird species, including the crested tit, crossbills (three species) and more ospreys, which have been nesting here since the 1950s and can be seen from the comfort of the Osprey centre.
Continuing south, our final stop is at Pitlochry Dam and Fish Ladder, an opportunity to see salmon passing upstream on the River Tummel. The 310m ladder has 34 pools, three of which are resting pools, and there are two viewing windows. An interesting new visitor centre tells the story of the construction of the dam.
We will depart for home in the early afternoon and return to your original pick-up point in the evening.
---
Highland Wildlife Safari
FROM
£695.00
Departing From
Perth
Dunfermline
Edinburgh
Glasgow