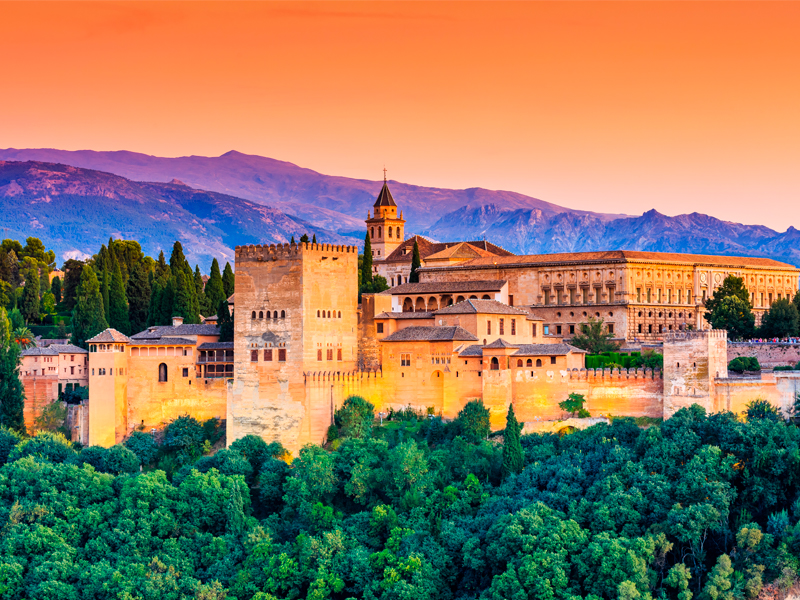 Travel with us to fall in love with Andalucia, its people, history and traditions.
Successive invasions and influences from the Romans to the Moors have left their imprint on the landscape and culture of Andalucia, making for a fascinating journey through time.
On this unforgettable holiday, we'll discover this sunny, vibrant region, while staying in the authentically Andalucian town of Antequera. Surrounded by dramatic mountains and green valleys, it is known as Andalucia's heart and is the perfect base from which we'll take day trips to explore Seville, Córdoba and Granada, three of southern Spain's most remarkable cities.
On this trip, you'll also enjoy plenty of leisure time to enjoy the whitewashed plazas and narrow streets of Antequera, and soak up the atmosphere of the real Spain.
What You'll love
Explore the history & beauty of Spain's southern region on this 7-night guided trip to Andalucía
Stay in the traditional, whitewashed town of Antequera (4* Half Board)
Enjoy a walking tour of Antequera including a visit to Dolmen de Menga, a megalithic burial mound
Discover one of the greatest cities of the Middle Ages on a guided excursion to Córdoba
Experience Spain's most breathtaking palace fortress, the Alhambra, on a day trip to Granada
Visit the birthplace of Flamenco dancing on a full day, guided trip to Seville
Return flights & transfers included
Subject to availability. Single supplements apply. To check latest availability, call 0131 608 1238 quoting "DC Thomson Travel"
Itinerary
Day 1 – Travel to Spain
On arrival in Malaga, your guide will meet you and accompany you to the coach, for transfer to your hotel in the lovely town of Antequera or Loja. During the journey, there will be tips and information to help get your holiday off to a great start!
Day 2 – Antequera
Get to know Antequera on an enjoyable half-day guided walking tour of the Old Town, starting with the impressive 'Dolmen de Menga', one of the oldest monuments in Spain, dating back to the Megalithic period. You will then have some time at leisure to stroll around and take in the atmosphere of the charming streets and squares of this typically Andalucian town.
Day 3 – Cordoba
This full-day excursion will introduce you to the UNESCO World Heritage City of Córdoba, one of the great cities of the medieval world. You will have a guided walking tour of the historic centre, where among many treasures is the wonderful Mezquita, formerly the Great Mosque, and now a Christian cathedral.
Day 4 – At Leisure or Optional Excursion to Ronda
Today is a free day for relaxing, shopping, and sightseeing at your own pace.Your guide will be happy to make suggestions for places to see and things to do.
Alternatively, today, enjoy a full-day optional excursion to the historic town of Ronda. Set atop of the scenic El Tajo Gorge, spanned by the iconic Puente Nuevo, Ronda is one of Andalucia's most scenic whitewashed towns. Your day will start with a panoramic tour taking in Ronda's old town dating from the time of the Moors as well as the more modern new town.
Your tour will finish with the opportunity to taste some of the town's local produce with an included wine tasting. You will then have the afternoon at leisure to explore Ronda at your own pace and admire the views from its bridge before returning to your hotel. (Please note this excursion is subject to minimum numbers).
Day 5 – Granada
Today you will travel to beautiful Granada for a guided city tour. Visit the Generalife Gardens and the UNESCO listed monument complex of La Alhambra (general entrance included). With its magnificent palaces, patios and gardens, it is one of Spain's most treasured and popular historic sites.
Day 6 – At Leisure
Spend some time at leisure today to explore at your own pace. Perhaps enjoy a few traditional Andalucian tapas in a local restaurant and watch the world go by.
Day 7 – Seville
Today, you'll visit Andalucía's most lively and colourful city, located on the banks of the River Guadalquivir. Seville is famous for flamenco, tapas and a rich cultural and architectural heritage. On your panoramic city tour by coach, you will view highlights such as the San Telmo Palace and Golden Tower. There will also be a visit to the beautiful Plaza Espana, and free time to explore the city's Jewish quarter.
Day 8 – Return Home
Time to say 'adios' to Andalucía, until the next time. You will be transferred to the airport for your flight home, with guide assistance.
---
Highlights of Andalucia
FROM
£1148.00
Departure dates
26th May 2022
9th June 2022
1st September 2022
13th September 2022
15th September 2022
6th October 2022
3rd November 2022
20th April 2023
25th May 2023
8th June 2023
19th September 2023
5th October 2023
1st November 2023