Highlights of Orkney & Shetland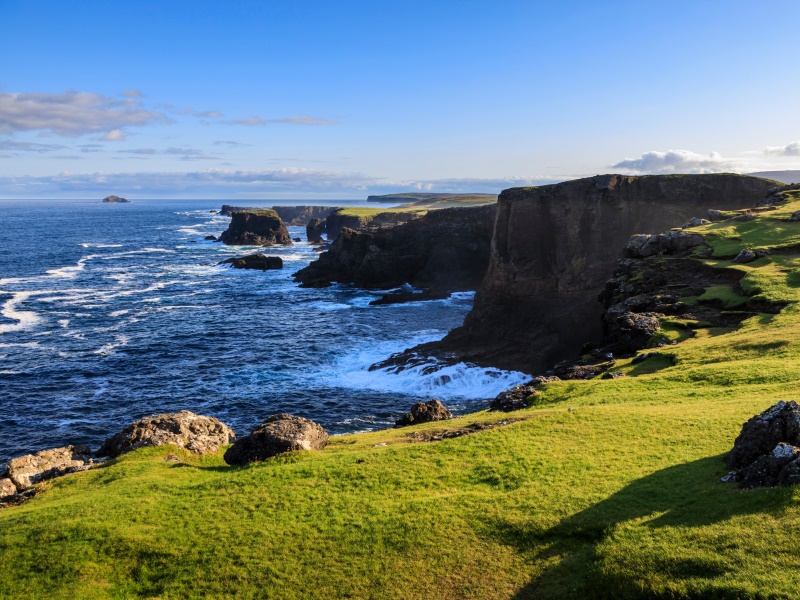 Available
Until September 2022
Sail away to lands steeped in history, wildlife and stunning scenery, far from the jostling crowds, to the haunting beauty of the Orkney and Shetland Isles.
Many people have landed there before you – some as early as 3000 BC. Most famous of all were the Vikings, but they were not alone and all around you will find historical treasures. Both Orkney and Shetland have their own identity, Orkney being very green and fertile, while Shetland has a more rugged cliff and sea loch scenery.
Both, however, share a colourful history of Picts, Norsemen, ancient antiquities, buried treasure, and seafaring legends, bound up with an independent spirit that makes them quite different from the rest of the Scotland.
We sail with Serco Northlink Ferries and their modern, purpose-built vessels-the Hrossey and the Hjaltland – from Aberdeen overnight to Lerwick. We then have two full days to tour Shetland.
After rejoining the ship for an evening sailing to Kirkwall, we have a further two full days touring Orkney, before our short crossing back to the mainland.
What You'll Love
Spectacular sea cliffs at Eshaness
Multitudes of seabirds at Sumburgh Head (May-July)
The multi-period settlement of Jarlshof
Neolithic Orkney – a UNESCO World Heritage Centre
The Churchill Barriers and Italian Chapel, poignant reminders of more recent history
Return coach travel from Perth, Dunfermline, Edinburgh or Glasgow (Aberdeen and Dundee available as pick ups but cannot drop off here)
1 nights' dinner, bed & breakfast at the Busta Hotel, Shetland and 3 nights' bed & breakfast (plus two dinners) at the Kirkwall Hotel, Orkney
All ferry crossings, including one nights' accommodation in two-berth inside cabins on Serco Northlink Ferries MV Hrossey/Hjaltland on the outward sailing. (Outside cabins available at a small supplement)
One breakfast and two dinners on board ship
All visits as outlined in the itinerary
Comfortable coach travel throughout
Services of a professional tour manager
Single room supplement, if rooms available. Offer is subject to availability.
Itinerary
Day 1
We depart from our designated departure points and travel to Aberdeen where we board the Serco Northlink Ferry (Hrossey or Hjaltland) overnight to Lerwick.
Once on board we shall check-in to our comfortable, twin-berth cabins which all have en-suite facilities. The ship has a delightful restaurant, where dinner is served this evening, together with a bar and lounges where you can relax. There is also a well-stocked gift shop for souvenir shopping or essential items.
Day 2
After breakfast on board we will leave the ship and commence our tour of Shetland. Our first stop is in Scalloway, the former capital of Shetland, where we visit the ruined castle built in 1600 by the infamous Earl Patrick Stewart. We then continue north towards the spectacular cliffs of Eshaness, look out for the 'Otters Crossing' sign at the narrow isthmus known as Mavis Grind, where it is said to be possible to throw a stone from the North Sea to the Atlantic.
Following our visit here we transfer to our comfortable hotel and enjoy dinner here this evening.
Day 3
Today we will start with a visit to the outstanding Prehistoric and Norse Settlement of Jarlshof, with over 3 acres of remains, spanning 3000 years since the days of the Stone Age, including oval shaped bronze age houses, iron age broch and wheel houses, Viking long houses and medieval farmhouses. From there we travel to the southern tip of mainland Shetland, Sumburgh Head, where the North Sea on the east meets the Atlantic Ocean on the west. Here we visit the RSPB Reserve, which is home to thousands of seabirds, including puffins, guillemots and razorbills.
In the afternoon we travel through small communities such as Gulberwick and Cunningsburgh before we explore the island's capital town of Lerwick, where we have some free time and an opportunity to visit the state of the art Shetland Museum for more detail on this special set of islands. We will re-join our ship, which sails early evening for Orkney. Dinner is served on board.
On arrival in Orkney we will transfer the short distance to Kirkwall to our accommodation.
Day 4
After breakfast today we have an all day excursion of mainland Orkney visiting the many archaeological sites including the, great stone circles of Brodgar and Stenness. lying to the north side of the Orphir Hills. To this day the monuments' age remains uncertain, however they are generally thought to have been erected between 2500BC & 2000BC. We continue to Maeshowe, the finest chambered tomb in Western Europe. Built before 2700 B.C. Maeshowe was raided by Vikings in the 12th Century. It houses the largest collection of runic inscriptions to be found in any one place in the world. A visit to Skara Brae is also included, with its new visitors centre depicting the history of this world famous monument.
Day 5
Today we will have some free time to explore Kirkwall and its environs at leisure. Places of interest include St. Magnus Cathedral, one of Europe's greatest architectural masterpieces, its red and yellow sandstone still vibrant after 861 years, and the adjacent Bishop's Palace. Spend some time shopping and enjoy lunch (not included).
In the afternoon we will depart on a tour of the south end of mainland Orkney, crossing the Churchill Barriers which were built after the sinking of the HMS Royal Oak in October 1939. The causeways are built of 5 and 10 ton concrete blocks and have good roads on the top connecting Burray and South Ronaldsay to the Orkney mainland. We also stop off at the beautiful Italian Chapel, built on the site of a former prisoner of war camp. Several hundred Italians, captured during the North African campaign of World War II were sent here to work on the Causeways and converted two huts into a chapel. The marvellous paintings in the interior were done by Domenico Chiocchetti, one of the prisoners who returned several times to restore and repaint parts of the building.
Day 6
After breakfast we check out of the hotel and transfer to St Margaret's Hope to catch the Pentland Ferries late morning sailing to Gills Bay. We will then return to our original pick up points by early/late evening.
---
Highlights of Orkney & Shetland
FROM
£1345.00
Departing From
Perth
Dunfermline
Edinburgh
Glasgow
Aberdeen
Dundee