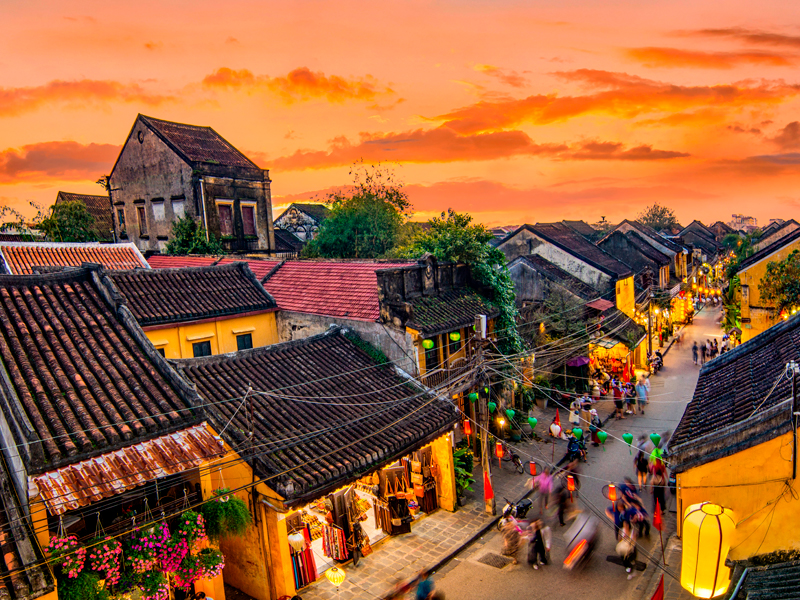 Experience the highlights of Vietnam on this 14-night holiday of a lifetime.
On this incredible trip, we'll visit the bustling cities of Hanoi and Ho Chi Minh, gaze upon towering caves while sailing in the beautiful Ha Long Bay, visit an authentic Vietnamese village and learn how to cook traditional Vietnamese cuisine in Hoi An.
We will also have the chance to explore the Vietnamese floating markets in Can Tho, visit magnificent ancient temples, sample delicious traditional cuisine and explore this beautiful country from its rivers and countryside.
You'll also have free time to sightsee at your own pace, with recommendations based on your interest from your expert guide.
Join us on this holiday that combines culture, history and experience in a land seeped in ancient traditions set against the most beautiful scenic backdrops.
What You'll Love
Discover the beauty, history & tradition of Vietnam on this 14-night guided group holiday
Spend time in Vietnam's bustling capital, Hanoi, with a full day tour including the Ho Chi Minh complex
Sail through the caves, grottos & islands of Halong Bay on a full day tour by boat
Savour the flavours of the region with a Vietnamese cooking class in the coastal town of Hoi An
Walk in the footsteps of emperors on a trip to the imperial fortress in Hue, the seat of the Nguyen Dynasty
Explore Ho Chi Minh City with 2 half day city tours, a trip to the Cu Chi Tunnels & a Mekong Delta river cruise
Experience the famous Cai Rang floating market & Khmer Pagoda in the city of Can Tho.
Enjoy 12 nights stay in Vietnam on a bed and breakfast basis, plus 9 lunches and 6 evening meals  (4*)
Return flights & transfers
Subject to availability. Single supplements apply. To check latest availability, call 0131 608 1238 quoting "DC Thomson Travel"
Itinerary
Day 1 – Travel to Vietnam
Depart for Vietnam, flying to Hanoi.
Day 2 – Arrive in Vietnam
Following our arrival in Vietnam, we will be transferred with guide assistance to our hotel in Hanoi, our tour base for the next two nights.
Later this evening, let's enjoy a cyclo (three wheeled bicycle taxi) ride to a theatre to watch a traditional Water Puppet show, followed by dinner at a local restaurant. Our Vietnam adventure has begun!
Day 3 – Hanoi
After breakfast at our hotel, let's explore Hanoi on a full day guided excursion. We will see some of its most fascinating sites such as the monumental tomb of Ho Chi Minh's (Uncle Ho) Mausoleum, view (from the outside) the simple wooden house where he lived and worked, and the One Pillar Pagoda, a historic Buddhist Temple sitting within a lake. Also included in our tour is a visit to the world-famous 11th century Temple of Literature and the former Hỏa Lò Prison. We will finish our day with a walking tour of the Old Quarter and the area around the beautiful Hoàn Kiếm Lake.
Lunch is included today, at a local restaurant.
Let's take a break to enjoy our surroundings at leisure, perhaps take a stroll along the lake, or watch the locals going about their daily life. There are many bars and restaurants that offer great views over this bustling city. If our Hanoi stay coincides with a weekend, we can even wander through the night markets and perhaps find a bargain. Our expert local guide will be happy to advise on activities and places to discover.
Day 4 – Ha Long Bay
After breakfast, we'll depart Hanoi and travel to the magnificent Hạ Long Bay, a UNESCO World Heritage Site. The drive will take approximately two and a half hours. On arrival we'll set sail on a leisurely cruise, taking in the scenic beauty of Ha Long Bay.
Lunch is included during our cruise.
During the cruise, we'll visit some of the caves and grottos of the spectacular limestone islands and take the opportunity to sit back and enjoy the serene blue waters and towering rock formations of the bay. It's no wonder that this location has been used as a setting for many movies
After disembarkation from our cruise, we set off on the drive to our hotel in Ha Long Bay and check in for the night. Let's relax and unwind after our magical voyage and enjoy dinner (included) at our hotel tonight.
Day 5 – Fly to Da Nang
After breakfast we will take a drive of approximately two and a half hours to Hanoi Airport for our flight to Da Nang in central Vietnam. There will be a stop along the way for lunch (included).
On arrival at Da Nang airport we will transfer by coach to our hotel in Hoi An, our base for the next three nights, with a journey time of approximately forty-five minutes. After check in, we can enjoy dinner at our hotel (included), relax after our journey and look forward to discovering Hoi An and its surroundings.
Day 6 – Hoi An
Let's explore more! Today we'll set off on a morning boat tour on the Thu Bồn River, where we will be able to witness the fascinating daily activities of the local people who live along its banks.
In the afternoon, let's continue our sightseeing with a guided walking tour of Hội An, where there will be an opportunity to see the iconic Japanese Covered Bridge.
Time to see more, at our own pace! The rest of our afternoon will be at leisure to explore this fascinating and beautiful town or relax at the beach.
Hoi An is a perfect place for the keen photographer, with colourful buildings, rice paddy fields, markets and interesting people among the subjects to capture as holiday memories. Opening hours permitting, a visit to the Precious Heritage Art Gallery Museum is recommended, to view stunning images of some of Vietnam's ethnic tribes people dressed in splendid traditional costume.
For coffee connoisseurs this will be the perfect opportunity to try an egg coffee, or a Cafe Sua Da (iced coffee) Vietnamese-style. Vietnam is famous for its coffee and it is simply delicious!
Day 7 – Hoi An Tour & Cookery Class
After breakfast, let's embark on a guided excursion into the Hội An countryside, where we will visit a typical village and see the farmers working their fields and gardens and gain an insight into their daily life.
After our farm tour, let's join a hands-on cookery class, to learn about traditional Vietnamese cooking methods and recipes. Our cookery class experience will include a talk on the art of Vietnamese gastronomy, vegetables, herbs, spices and how to use them. After the lesson, we can enjoy the meal we have skilfully prepared!
Day 8 – Travel to Hue & Perfume River Cruise
After breakfast, we'll set off from Hoi An to Hue. The drive will take approximately four hours, with a stop for lunch (included) along the way. On arrival in Hue, let's join our expert guide and discover Hue on a city tour, visiting the walled fortress of the Imperial Citadel and the 19th century Tomb of Tu Duc.
We'll finish our day with a cruise along the Perfume River (named because falling orchids gave the water a pleasant scent) to Thiên Mụ Pagoda, followed by dinner at a local restaurant.
After dinner, we'll transfer to our hotel in Hue for an overnight stay.
Day 9 – Travel to Ho Chi Min
Today, we'll transfer to Hue Airport for a flight to Ho Chi Min City (Saigon) where we will spend the next four nights. After checking in at our hotel there will be some time at leisure to settle in and get to know our surroundings. Dinner is included tonight at a local restaurant.
Day 10 – Ho Chi Minh
Today we begin to uncover the wonders of Ho Chi Min City (Saigon). First stop on this morning's guided tour is at Reunification Palace (formerly Presidential Palace) an important historical landmark. After that, we take a short walk to the Notre Dame Cathedral, past the French Colonial Post Office and other prominent buildings. Our final stop this morning will be at the Jade Emperor Pagoda, before enjoying lunch at a local restaurant (included).
After lunch, we continue our excursion, moving on to Cholon, Ho Chi Minh City's largest Chinatown. Here we'll uncover historic and cultural treasures including Cha Tam Church, Thien Hau Temple and the authentic Binh Tay market. The tour ends with a visit to a small Cao Dai Temple. The rest of the evening will be at leisure, to relax after a memorable day of sightseeing in Ho Chi Min City.
Day 11 – Cu Chi Tunnels
Today we will embark on an excursion to discover the Chu Chi network of underground tunnels. These tunnels were the location of many of the Viet Cong's military campaigns during the Vietnam War (or American War, as it is called in Vietnam). The tunnels were used as hiding places during combat; also serving as communication and supply routes, hospitals, food storage and living quarters for the Vietnamese fighters.
For those preferring to remain above ground, there is ample opportunity to view excavated areas from above. The more daring among us can enter some of the tunnels with our guide. As this requires crawling along on hands and knees in the darkness of the tunnel, it is certainly not for the faint hearted!
Lunch is included today.
Returning from our excursion to the Cu Chi tunnels, let's enjoy an evening at leisure and perhaps dine out in one of the city's many restaurants. Our expert guide will be happy to offer suggestions and recommendations.
Day 12 – At Leisure
Let's enjoy a day at leisure in Ho Chi Minh City, for independent exploration.
Those who are interested in the history of the Vietnam war might visit the War Remnants Museum, to view exhibits that include fighter aircraft, helicopters, tanks, plus many graphic photos – a stark reminder of Vietnam's history not so long ago.
Parks in the city provide an enjoyable space for a stroll and a glimpse of local life, for example, city dwellers playing đá cầ, a form of foot badminton. Now is also the perfect time for shopping!
Our knowledgeable guide will be happy to suggest free time activities to suit our interests.
Day 13 – Transfer to Can Tho (Mekong Delta)
Today we bid farewell to Ho Chi Min City and set off on a full day guided excursion to Cai Be, known for its large floating markets. Our journey will take around two hours. On arrival, we'll take a cruise on the mighty Mekong Delta, in a motorised sampan boat. We'll have the opportunity to sample some local seasonal fruit during lunch (included) at a local farmer's home, before continuing our leisurely cruise to Vinh Long. After the cruise, we transfer to Can Tho and check into our hotel for an overnight stay.
Enjoy some time at leisure in Can Tho and join your fellow travellers for dinner at your hotel (included).
Day 14 – Cai Rang Market & Return Home
This morning, let's uncover more of Vietnam during one last cruise. We'll visit the bustling market town of Cai Rang and enjoy a Sampan ride through its colourful floating market, with hawkers jostling for space to sell their wares, including everything from exotic fruit and vegetables to plastic sunglasses. Then let's travel deeper into the Delta area, to see one of its most spectacular temples, the Khmer monastery of Kh'leng. This temple is inhabited by a group of young Buddhist monks and is also a learning centre for members of the Khmer race that have remained there for centuries. The monks study English and Vietnamese and are keen to talk to foreign visitors.
We'll have some free time this afternoon, before our transfer to Ho Chi Min City Airport and check in for our homeward flights. Dinner or lunch is included en-route, depending on your flight departure times.
Departing Vietnam, we will reflect on a treasure trove of memorable moments from our Highlights of Vietnam tour.
Day 15 – Arrive Home
Arrive home after an unforgettable experience in fantastic South East Asia.
---
Highlights of Vietnam
FROM
£3858.00
Departure dates
8th October 2022
20th March 2023
29th April 2023
7th May 2023
9th September 2023
7th October 2023