Historic Paradors of Hidden Spain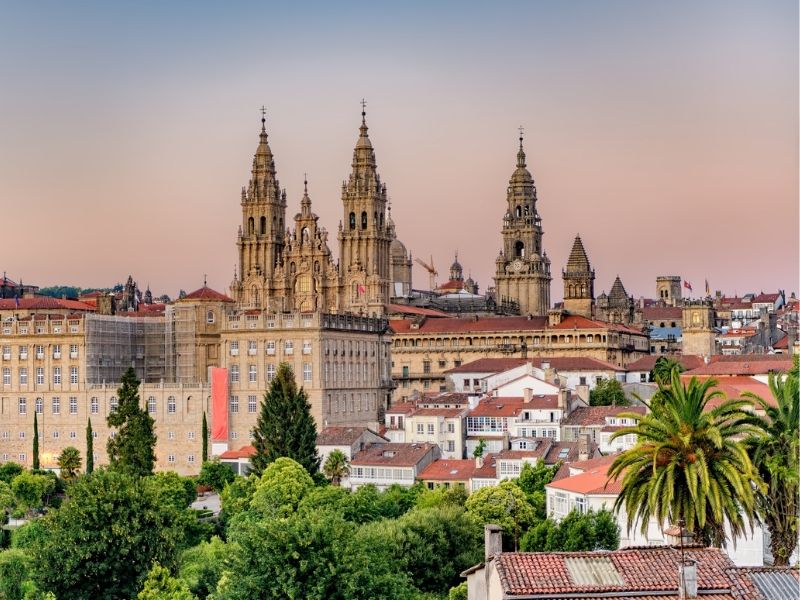 Available
Until October 2021
Stay in three delightful paradors of Spain – elegant hotels housed in former palaces, convents, castles and other historic buildings – and discover a facinating part of this historic country.
Discover a fascinating region of northern Spain, where dusty plains give way to spectacular mountains and a verdant coastline fringed by stunning beaches and fashionable resorts. Uncover the history, culture and charm of the provinces of Cantabria and Asturias, Galicia and Castilla y León. Visit ancient cities along the Camino de Santiago, which centuries of pilgrims have followed on their way to Santiago de Compostela, and enjoy the distinctive cuisine and fine wines of this very special corner of the world.
---
Paradors of Hidden Spain Available Departures:
Fly direct from Edinburgh – departs various dates until October 2020 – from £1,309pp
Dates and prices on this page are based on departures flying from Edinburgh only
---
Paradors of Hidden Spain Tour Highlights:
The royal history and elegant atmosphere of your Parador hotels
Follow in pilgrims' footsteps in Santiago de Compostela and León
Santillana del Mar – one of Spain's prettiest villages
The delights of fashionable Santander
Relaxed Gijón and the historic Asturian capital, Oviedo
The fine historic port of La Coruña
Enjoy views of the towering Picos de Europa mountains
Spend a day at leisure in the ducal surroundings of exquisite Lerma
Price Includes
Seven nights' bed and breakfast accommodation at the four-star Parador de Limpias (2 nights), the four-star Parador de Vilalba (3) and the four-star Parador de Lerma (2)
Four dinners
Return flights to Bilbao
Comfortable coach travel and transfers throughout
Fully escorted by a friendly, experienced tour manager
Single supplements apply. Offer subject to availability.
Paradors of Hidden Spain  Itinerary
Day One – Fly to Spain
Arrive in Bilbao, where our coach will transfer to your first Parador – the 20th-century palace of Limpias, in its riverside, parkland setting. Settle in to your splendid surroundings, perhaps taking a stroll along the river to enjoy the views or making use of the Parador's amenities, which include indoor and outdoor heated swimming pool. Dinner will be served in the Parador's dining room, this evening.
Day Two – Included tour to Santander and Santillana del Mar
Today your first included tour takes you to the regional capital, Santander. Take in the views from the Magdalena Peninsula, head to the fishing port or watch the ebb and flow of daily life in this elegant and sophisticated city-resort from a seat in a pavement café or tapas bar.
You'll also make the short journey to nearby Santillana del Mar, a picture-postcard-perfect medieval village. After a wonderful day, return to Limpias for a second evening, choosing perhaps to dine in the hotel or in the village.
Day Three – Discover Asturias and Galicia
Re-board the coach, today, and journey along the stunning Asturian coast, where views of the Bay of Biscay shoreline compete with those of the towering Picos de Europa mountains. Break up your scenic journey with visits to beautiful coastal Gijón, and to the nearby Asturian capital, Oviedo.
Late this afternoon, you'll reach the heart of green Galicia and your second Parador. Partly housed in a restored 15th-century tower, and an ideal base for discovering Galicia's cities and stunning coast, the Parador de Vilalba is built on the site of a former castle, in a quiet village on the route of the Camino de Santiago. Enjoy dinner this evening, and perhaps take a stroll through the old town.
Day Four – Included visit to Santiago de Compostela
Today you'll travel the short distance into ancient Santiago de Compostela, the destination at the end of the Camino, and one of Spain's most beautiful cities. A marvellously preserved Romanesque cathedral lies at the city's heart, perhaps the earliest-ever tourist destination for those who, in medieval times, first followed the route to Santiago.
After a marvellous day, you'll return to Vilalba for the evening.
Day Five – Included visit to A Coruña
On this delightfully contrasting day, you'll head to beautiful, rugged Galicia. Dotted with hidden coves and fjord-like rias reminiscent of Devon or Ireland, complete with tiny beaches and sleepy fishing ports, the Galician coast is a delight, epitomised by the historic port of A Coruña, or La Coruna as it's sometimes known.
Set on a peninsula fringed on one side by glorious Atlantic beaches, and on the other by a sheltered bay and deep water harbour, A Coruña is a wonderful place to wander and enjoy delicious Galician tapas and seafood, perhaps washed down with a glass of chilled white wine.
Day Six – Via Lugo and León to Lerma
Bidding farewell to Vilalba, today you'll re-board the coach and head back along the route of the Camino into the sun-baked province of Castilla y León. Highlights today will include visits to Galician Lugo, still enclosed by its intact Roman wall, and to the historic university city of León. See León's majestic cathedral and fine old town, and perhaps take lunch in one of its many tapas bars and cafés.
This afternoon, you'll continue on to your final Parador, housed in a splendid, 17th-century ducal palace, and offering accommodation fit for a king. Boasting an atmospheric restaurant and a secluded inner courtyard, the Parador de Lerma dominates the small town of Lerma from its position overlooking the Plaza Mayor. Dinner is served on both nights of your stay.
Day Seven – Optional visit to Burgos
Today you're free to enjoy the delights of Lerma, but you may wish to join our optional excursion and explore one of Spain's most enthralling cities. For centuries Burgos was the capital of Old Castille, and it was also once home (nearly a thousand years ago now) to the legendary warrior leader El Cid. This beguiling place has no shortage of tapas bars and restaurants in which to enjoy lunch, as you'll discover after your introductory tour.
Day Eight – Fly back to the UK
Bid farewell to your hosts, and transfer back to Bilbao airport to catch your flight home, at the end of a fascinating week in Northern Spain.
---
Historic Paradors of Hidden Spain
FROM
£1309.00
Departing From
Edinburgh
Other UK airports also available
Departure dates
9th May 2021
16th May 2021
6th June 2021
13th June 2021
20th June 2021
5th September 2021
12th September 2021
19th September 2021
26th September 2021
3rd October 2021
10th October 2021