The Blooms of Holland & Belgium 2022 River Cruise with Brian Cunningham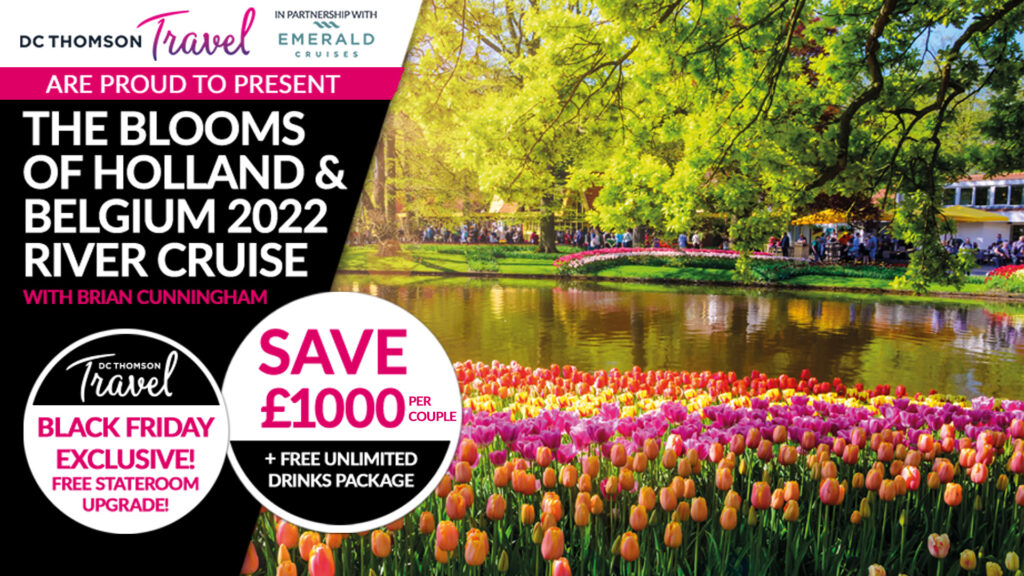 Your Exclusive Invitation
Book by 03 December, 2021 to get our exclusive limited time only, Black Friday deals.
Save £1000 per couple, enjoy a FREE Unlimited Free Drinks Package, plus get a FREE stateroom upgrade OR choose £400 credit towards a suite upgrade.
DC Thomson Travel have partnered with Emerald Cruises to create an exclusive deluxe river cruise tailored for our readers.
On this eight-day river cruise departing on 7th May 2022, you'll discover the cuisine, heritage and horticultural beauty of Holland and Belgium alongside DC Thomson columnist and gardening expert, Brian Cunningham.
On this custom built itinerary for DC Thomson Travel, on board your stylish Emerald Cruises Star-Ship, you'll experience first-class service and the upmost inclusions, plus unique tailor-made inclusions such as brand new excursions, memorable on board events, and an unlimited free drinks package for all.
Direct return flights are available from a choice of up to 16 UK regional airports including Aberdeen, Edinburgh, Inverness and Glasgow.

Exceptional Emerald VALUE

Emerald Cruises' promise of exceptional EmeraldVALUE ensures complete peace-of-mind when you travel.
Direct return flights from a choice of up to 16 UK regional airports including Aberdeen, Edinburgh, Inverness & Glasgow
Airport transfers to and from your Star-Ship
Stylish accommodation on board our innovative Star-Ships
Spectacular innovations like an indoor pool which transforms into a cinema at night†
All on board meals including a collection of highlight dinners at Reflections Restaurant, or breakfast and a light lunch at The Terrace
Enjoy our state-of-the-art coffee machines
Bottled water restocked daily in your cabin
Enjoy an included excursion almost every day of your cruise
Visits to UNESCO World Heritage-listed sites
Extra-special excursions and experiences courtesy of our EmeraldPLUS and EmeraldACTIVE programmes
First-class service from an English-speaking crew
Knowledgeable local guides at every destination
Complimentary Wi-Fi on board
Complimentary bicycles on board†
Complimentary River Cruise Cover
All airport taxes and port charges
Free deposit protection plan
ABTA & ATOL protected
PLUS ALL TIPS ARE INCLUDED
†Star-Ship features vary by river
Itinerary
Day 1 UK - Amsterdam
Day 2 Amsterdam – Zaanse Schans
Day 3 Rotterdam
Day 4 Veere
Day 5 Antwerp
Day 6 Arnhem
Day 7 Amsterdam
Day 8 Amsterdam - UK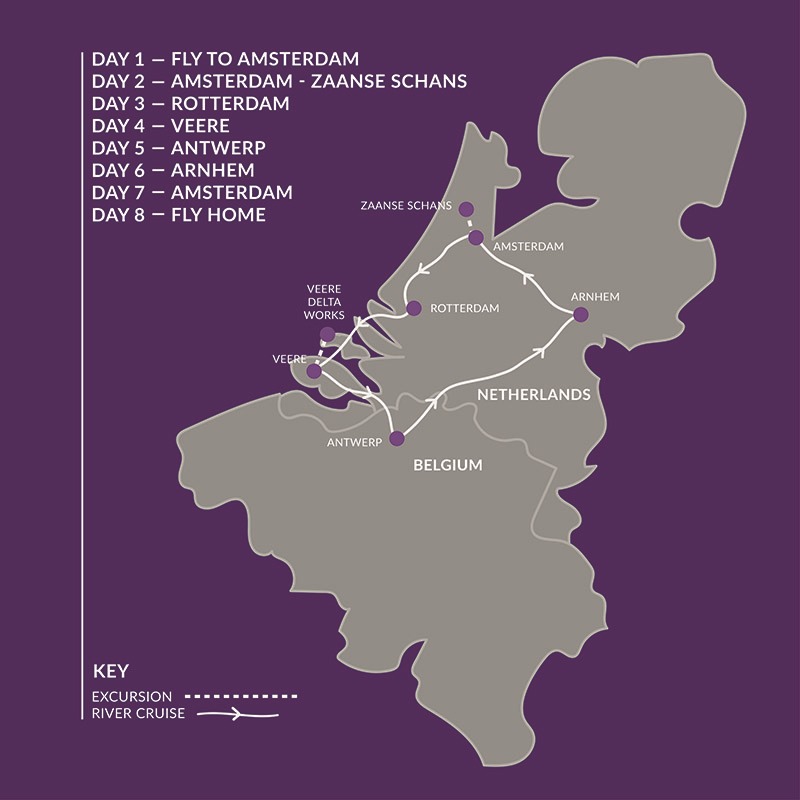 Your 8-Day River Cruise
Day 1: UK – Amsterdam
Direct return economy flights from one of up to 15 UK regional airports are included in the price of your holiday.
You will be met and transferred from the airport to your luxurious Emerald Cruises Star-Ship.
Day 2: Amsterdam – Zaanse Schans
Discover the unique crafts, windmills and architecture of Zaanse Schans.
This afternoon involves welcoming a local clog painter for a demonstration and the opportunity to try your hand at this unique craft.
DC Thomson Exclusive: This afternoon, visit the renowned international horticultural festival, Floriade 2022, an event that occurs once every 10 years and will provide a unique perspective on the Green City of the Future.
Day 3: Rotterdam
Explore Rotterdam's reconstructed city following the air raids of WWII and imagine how the gabled houses of Amsterdam would have once sat here.
Day 4: Veere
Take a guided tour of Veere, where normal houses are adorned with miniature classical palace gardens and elegant architecture adorns.
Day 5: Antwerp
Your guided tour will include views of caféfilled cobbled lanes, and chance to admire the Renaissance City Hall and Hat Steen, a medieval fortress built during the early Middle Ages.
DC Thomson Exclusive: Belgium is famous for brewing great beers and making delicious chocolates, so to celebrate this great duo, enjoy an on board Belgian beer & chocolate tasting.
Day 6: Arnhem
Visit the Airborne Museum, where you will have the opportunity to walk in the footsteps of British parachutists and immerse yourself in what the great battle of WWII would have felt like.
Alternatively, embark on a guided bike tour of Arnhem, famous for its postcard-worthy streets, scenic parks and fine museums.
DC Thomson Exclusive: This evening, join special guest, and gardening writer for The Courier and Press & Journal, Brian Cunningham for a pre-dinner drinks reception and the Captains Farewell gala dinner.
Later, join Brian for an exclusive talk and Q+A where he will talk about his passion for horticulture and why Holland is so famous for its glorious gardens.
Day 7: Amsterdam
Today, visit the beloved Keukenhof Gardens, where you'll witness incredible displays that consist of millions of flowers and tulips.
DC Thomson Exclusive: The beloved Keukenhof Gardens features millions of flowers and tulips, each assembled by an expert landscape architect.
Visit these magnificent gardens in the company of gardening expert, Brian Cunningham, who will give a short talk inside the bulb field.
Day 8 – Amsterdam – UK
After breakfast, disembark your Star-Ship for your transfer to the airport. Your flight home is included in the price of your holiday.
Your Expert Guest - Brian Cunningham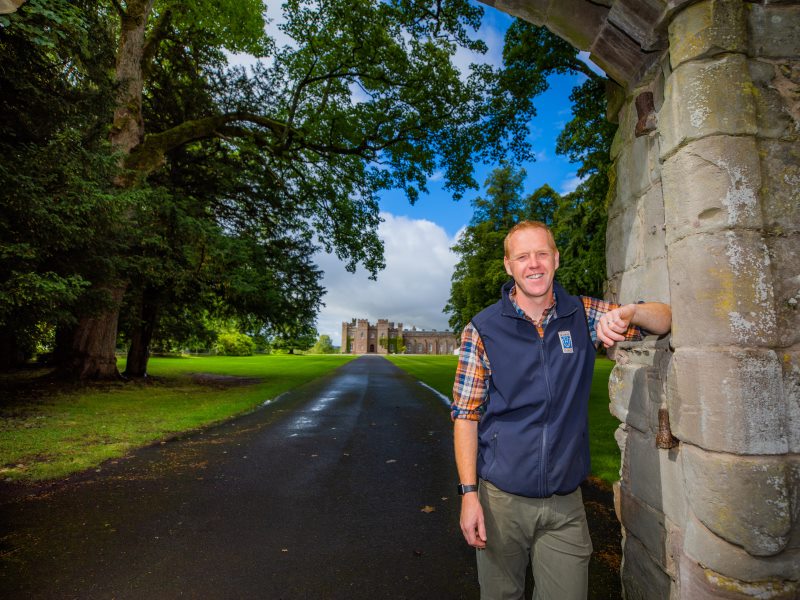 Brian Cunningham: Born in St Andrews, Brian began his life as a gardener at the Royal Botanic Garden Edinburgh, now the Head Gardener at Scone Palace.
Brian will be familiar to viewers of BBC Scotland's, The Beechgrove Garden and is also known as the 'Ginger Gairdner', writing for The Courier and Press and Journal.
Introducing your Emerald Star-Ship
Where innovation meets relaxation.
On this exclusive itinerary you will travel on board an award-winning Emerald Star-Ship.
Relax in your suite or stateroom – your private tranquil haven, or spend time with new-found friends in the stylish surrounds of our spacious public areas. You will find a wealth of innovative features on board including our indoor heated pool that transforms into an evening cinema†.
We believe food plays an important part in your travel experience, which is why we offer decadent five course dining in Reflections Restaurant to light bites on The Terrace.
Each menu is thoughtfully crafted by our chefs, influenced by the path you're travelling and includes seasonal and regional produce for the ultimate dining experience.
Your Star-Ship will dock right in the heart of Holland and Belgium's magnificent towns and cities, providing you with the perfect base from which to explore.
Enjoy the wealth of insightful and diverse excursions including a selection of handpicked DC Thomson events and excursions, unique to this sailing.
Pool & Evening Cinema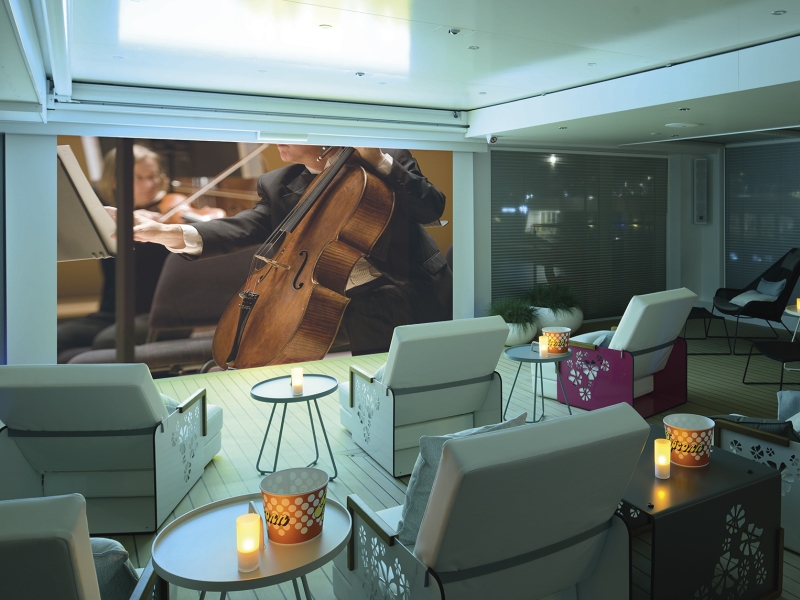 Located on the Horizon Deck on the majority of Emerald Star-Ships†, enjoy a leisurely swim.
On selected evenings, this space is transformed into an evening cinema.
Emerald Suites & Staterooms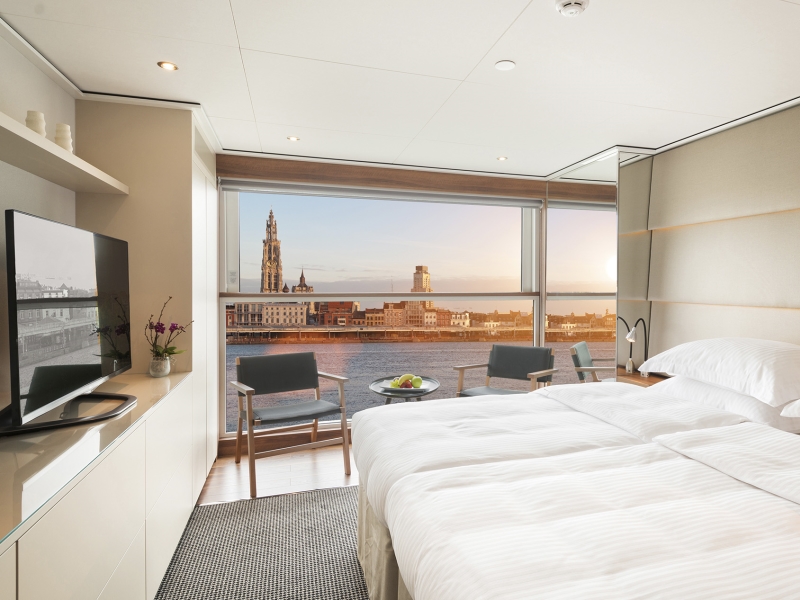 Every one of the on-board suite and stateroom categories are of a standard that you would expect from a world-class hotel, featuring their own private balcony.
Reflections Restaurant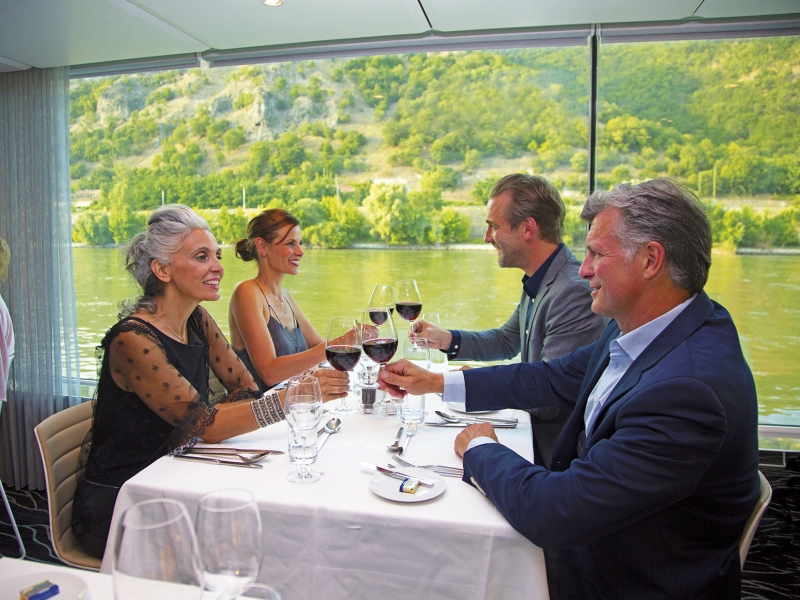 Accommodating tables of two to ten, floor-to-ceiling windows present excellent views of the river, while the menu celebrates seasonal and regional flavours.
Sun Deck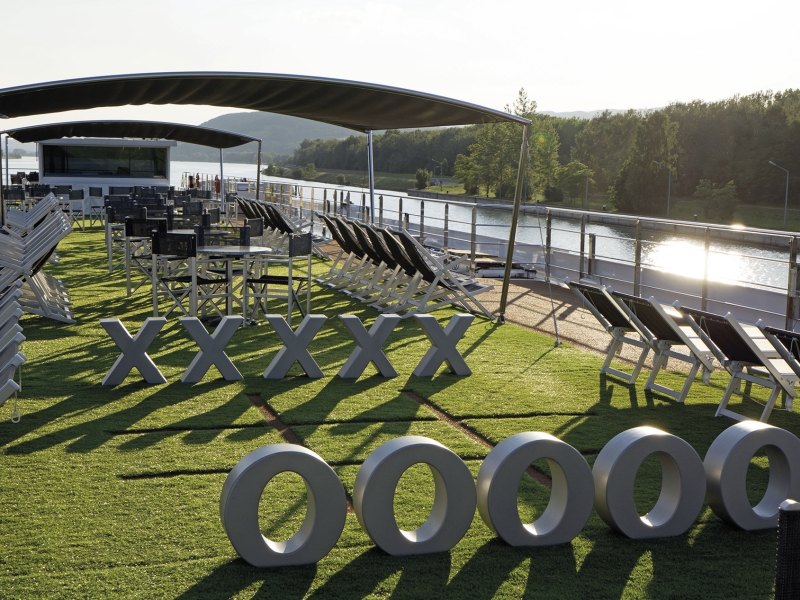 Head to the top of our Star-Ship to enjoy the best views from the spacious Sun Deck. Try your hand at noughts and crosses, or practice some putting.
ENQUIRE OR BOOK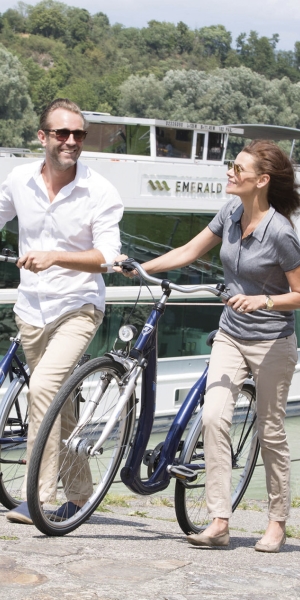 HOW TO BOOK
Call 0161 234 2853. To request a brochure, click below.
View Brochure
Click below to browse our dedicated brochure online.
Cruise with Confidence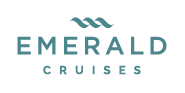 Founded in 2013, Emerald Cruises is an award-winning travel operator offering deluxe river cruises and land tours in Europe, Asia and beyond.
Recognised for their contemporary fleet of Star-Ships, itineraries are backed by our EmeraldVALUE promise, a guarantee that wherever you travel with Emerald, you'll enjoy generous inclusions and benefit from our commitment to exceptional levels of service.
Emerald Cruises have grown to become one of the world's best-loved river cruise and tour providers. River cruises bring together immersive itineraries and unforgettable shore experiences, with unrivalled on board innovations and impeccable service.
Each itinerary brings the highlights of an ocean cruise to the intimacy of the world's most celebrated waterways.
From the moment you book your holiday, Emerald Cruises want you to feel the benefit of our award-winning service and exceptional EmeraldVALUE.
That's they have created a Book with Confidence Assurance to give you complete peace of mind when booking.
Flexible Booking Policy
With Emerald Cruises Flexible Booking Policy, you can defer your travel plans and transfer to an alternative departure date or itinerary up to 60 days prior to your cruise commencing* with no fees.
Free Deposit Protection Plan
Emerald Cruises free Deposit Protection Plan offers additional peace of mind and keeps your deposit safe.
For further information and peace of mind, call reservations team on:
0161 234 2853
Terms & Conditions
All Emerald Cruises holidays are subject to availability. Prices shown are correct at the time of print and are per person based on two people sharing our lowest grade available cabin when booking The Blooms of Holland & Belgium departing 7th May 2022 only. Prices include a £1000 per couple discount applicable on all cabin grades and available on new bookings only. Unlimited free drinks package is for on board drinks only and excludes champagne, wine by the bottle and cabin mini-bar. Choose between a free stateroom upgrade or a suite upgrade credit of £400 per suite or £200 per person. Free stateroom upgrade and suite upgrade credits are available on specific cabin grades only. Pay for an E grade stateroom and get upgraded to a D grade stateroom or book any suite category from C to SA to receive your suite upgrade credit. Offers available until (3rd December 2021 December 2021). Our offers are not combinable and we reserve the right to withdraw our offers at any time. Supplements apply for single travellers and upgraded cabins. Our itineraries, hotels, dates and experts inclusions are subject to change. Expert may not be on board for the full duration of the cruise. For full booking conditions visit emeraldcruises.co.uk. E&OE. Brian Cunningham Image Credit: Steve MacDougall/DCT Media.