Iceland Northern Lights 2020 Cruise from Rosyth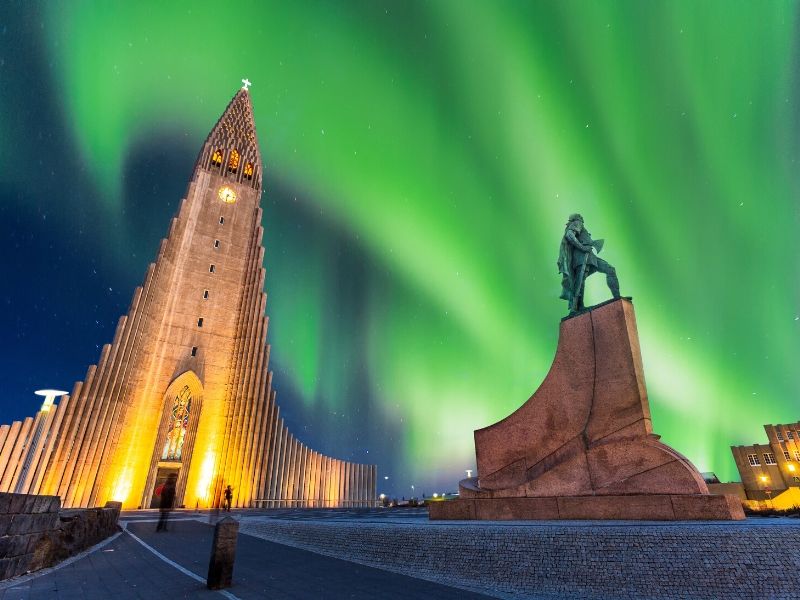 SAVE UP TO 35%
The highlight of this wonderful cruise from Rosyth aboard Marco Polo will be the three days spent in colourful Reykjavik. While here you'll have the chance to explore the Icelandic capital, and to head into the pristine, volcanic interior of this stunning Land of Fire and Ice in search of the Aurora Borealis. Calls at remote island outposts in Shetland, the Faroes and Orkney add to the pleasure.
Begin your cruise with a few days discovering the natural beauty, ancient history and culture of Shetland and the Faroes as Marco Polo calls in Lerwick and Torshavn. A passage through waters teeming with marine life brings you to Reykjavik, where geothermal pools, bubbling geysers and spectacular waterfalls dot the landscape around the lively city. Scan the night skies for the Northern Lights, and don't miss the chance to visit the famous Blue Lagoon hot springs and spa. Your return cruise to Scotland will be broken by a rare but enchanting stop in the tiny Faroese port of Klaksvik – a birdwatcher's haven surrounded by conical mountains – and calls in the Kirkwall on Orkney and Newcastle upon Tyne.
---
Iceland Northern Lights Cruise from Rosyth Ports of call include:
Lerwick, Shetland Isles
Torshavn, Faroes
Reykjavik, Iceland
Klasvik, Faroes
Kirkwall, Orkney Isles
Newcastle, England
---
Price Includes
11 nights' accommodation in your choice of cabin
Delicious full board cuisine
Afternoon teas and late night snacks
Captain's Cocktail Party (cruises of 6 nights or more)
Self service tea & coffee (6am to midnight)
Big show entertainment, cabarets and classical interludes
Daytime activities and leisure facilities
Guest speaker and arts & crafts (cruises of 5 nights or more)
Porterage of luggage, port to cabin
Port Taxes
Single supplements apply. Subject to availability.
Iceland Northern Lights Cruise from Rosyth Itinerary
Day One – Depart from Rosyth
Depart: 1400hrs
Join Marco Polo in Rosyth, settle in to your cabin and relax as she sets sail this afternoon.
Day Two – Lerwick, Shetland Isles
Arrive: 0800hrs
Depart: 1600hrs
Your next port is the Shetland capital, Lerwick. Spend time exploring this rugged but enchanting town, or join an excursion to the 3000 year-old archaeological site at Jarlshof, with its Bronze and Iron Age remains.
Day Three – Torshavn, Faroes
Arrive: 0900hrs
Depart: 1800hrs
Today we'll arrive in tiny Torshavn, the capital of the Faroe Islands. Explore its confusion of lanes, narrow passages and black-tarred houses with green turf on the roofs, or join an excursion, perhaps to cross the famous Bridge across the Atlantic connecting the main island of Streymoy with the spectacular scenery and ancient wooden churches of smaller Eysturoy.
Day Four – At sea
Spend today relaxing on board.
Day Five – Seven – Reykjavik, Iceland
Arrive: 0800hrs (Day Five)
Depart: 1600hrs (Day Seven)
Marco Polo will spend almost three full days in Reykjavik, the world's northernmost capital. Sitting on a promontory jutting into crystal clear waters and framed by majestic Mt Ejsa, this city's brightly painted wooden buildings stand in sharp contrast to the stunning beauty of its setting. Take the lift to the top of the Hallgrimskirkja Church for a panoramic view or visit the fascinating Arbaer Folk Museum. Witness geothermal activity at the famous Blue Lagoon Pool, and at the original Geysir – after which all others are named.
Day Eight – At sea
Spend today relaxing on board.
Day Nine – Klasvik, Faroes
Arrive: 0800hrs
Depart: 1400hrs
You'll make a rare call in Klaksvik, capital of the Nordoyar (the six northeasternmost Faroe Isles), today. Many of the inhabitants of this remote Danish outpost are direct descendants of the Vikings, and still speak an ancient Norse language. Sheltered by conical mountains, Klaksvik is surrounded by a birdwatcher's paradise of green meadows that you'll be able to explore on today's optional shore excursion. This evening Magellan sails on to dock in Torshavn for the night.
Day Ten – Kirkwwall, Orkney Isles
Arrive: 0800hrs
Depart: 1400hrs
Today Marco Polo arrives in Kirkwall, Orkney's historic capital. Wander the streets and marvel at magnificent St Magnus Cathedral, or join an excursion to fabled Scapa Flow, Churchill's famous Barriers or the Italian Chapel.
Day Eleven – Newcastle, England
Arrive: 0900hrs
Depart: 1800hrs
Newcastle was once among the most vibrant centres of the British Industrial Revolution, and has now evolved into one of England's most energetic and exciting cities. Some of your newfound friends will disembark and finish their journey here, and you'll have some time to explore before beginning the final leg of your cruise.
Day Twelve – Arrive back in Rosyth
Arrive: 0800hrs
Bid farewell to Marco Polo and all your fellow travellers, this morning, as you disembark at the end of your cruise.
---
Iceland Northern Lights 2020 Cruise from Rosyth
FROM
£1109.00