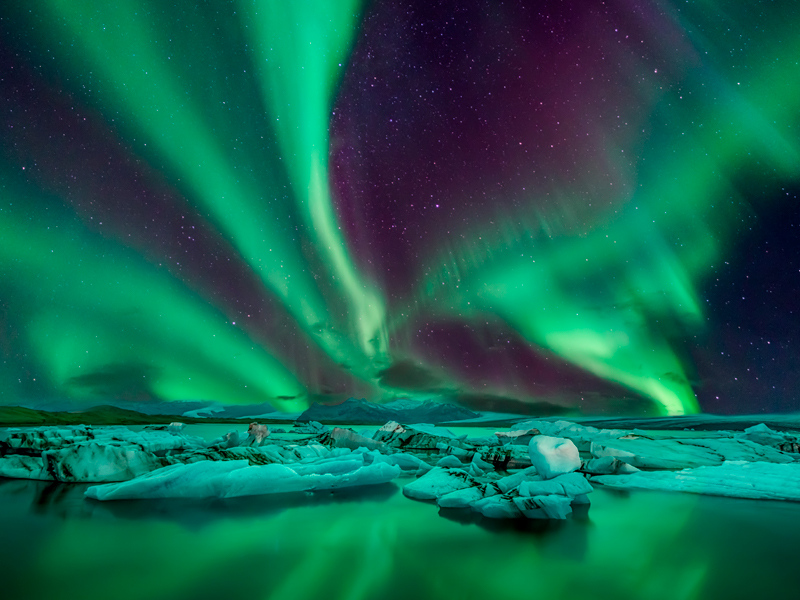 Discover the unique character and natural wonders of Iceland on this unforgettable 3-night holiday.
This truly amazing destination is home to the fantastic city of Reykjavík, as well as numerous natural wonders and stunning scenery.
From the Blue Lagoon to spouting geysers, glaciers and fjords, Iceland is an enchanting country just waiting to be explored.
It is one of few places in the world where it is possible to see the amazing Northern Lights, a natural light phenomenon that causes vibrant colours to appear in the night sky.
On this holiday to Iceland, we'll chase the Northern Lights and explore the country's versatile landscape, including black volcanic beaches, waterfalls, volcanoes, glaciers, hot springs and more, leaving us with memories to last a lifetime.
Please Note: Sightings of the Northern Lights are subject to weather and atmospheric conditions and cannot be guaranteed. The excursion may be cancelled or rescheduled locally due to unsuitable weather conditions.
What You'll Love
Explore Iceland on this 3-night guided short break holiday to the 'Land of Fire & Ice' (1 or 4* hotel with B&B)
Spend time soaking in the healing waters of the Blue Lagoon on a half day excursion
Visit thundering waterfalls & spouting geysers on a full day tour of Iceland's Golden Circle
Spend a half day of free time in Iceland's cosmopolitan capital, Reykjavík
Enjoy an evening excursion to see the Northern Lights, subject to weather conditions
Subject to availability. Single supplements apply. To check latest availability, call 0131 608 1238 quoting "DC Thomson Travel"
Itinerary
Day 1 – Travel to Iceland
On your way to Reykjavik and your hotel, enjoy a visit to the world famous Blue Lagoon, one of Iceland's most popular attractions. A natural geothermic spa, the warm seawaters are rich in minerals and silica which gives the water its mesmerising bright blue appearance.
Day 2 – City tour of Reykjavík & Northern Lights
This morning, there will be a guided tour of Europe's most northerly capital, Reykjavík. View the beautiful presidential residence on the outskirts of the city and the observatory known as The Pearl (from outside), plus the magnificent Hallgrímskirkja Church and many other attractions. The city centre is small and compact, making it easy and enjoyable to explore on foot. You will have the afternoon at leisure to further explore Reykjavik at your own pace. Stroll down the main shopping street, Laugavegur, with its pretty boutiques and buzzing bars and cafes.
After dark, you will travel north, away from the city lights, to hunt for the incredible Aurora Borealis. A stunning natural light display, seeing the Northern Lights is a truly unique experience. Please note that sightings of the Northern Lights are subject to weather and atmospheric conditions and cannot be guaranteed.
Day 3 – The Golden Circle
Embark on a full day tour of the Golden Circle, a route that is home to some of Iceland's most wonderful natural attractions. Visit the UNESCO listed Þingvellir National Park, the site of a magnificent rift valley that marks the crest of the Mid Atlantic Ridge, and the home of the largest natural lake in Iceland. Next you will see the spectacular Gullfoss waterfall, before finally viewing the spouting geysers in the geothermal active valley of Haukadalur.
Day 4 – Return Home
Today after a wonderful holiday, you will transfer from your hotel to the airport for your flight home, with guide assistance.
---
Iceland & the Northern Lights
FROM
£769.00
Departure dates
20th October 2022
10th November 2022
24th November 2022
16th February 2023
2nd March 2023
9th March 2023
6th April 2023
9th October 2023
19th October 2023