India and Nepal – Tigers, Taj & Temples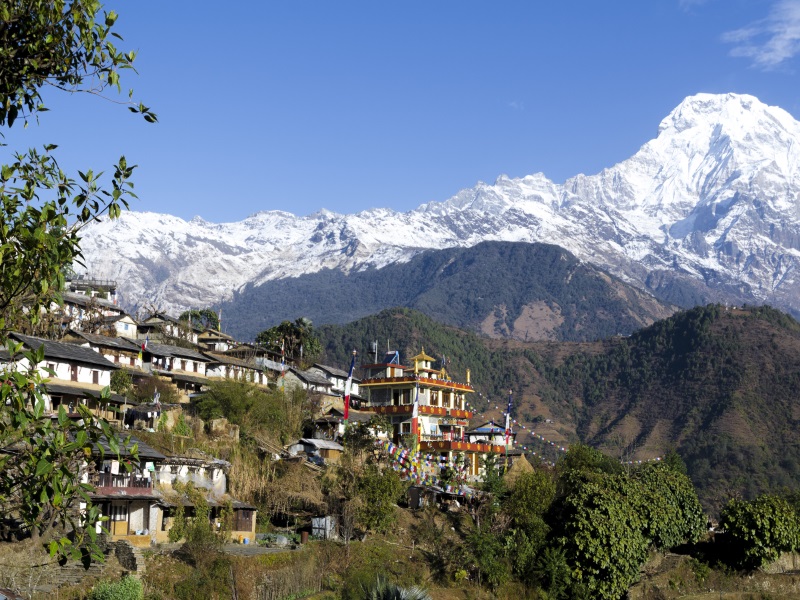 Available
Until November 2022

Explore a land of exotic wonders on a tour of India and Nepal.
See India's delightful, bewildering capital city, New Delhi, the beautiful Taj Mahal and Rajasthan's pink city of Jaipur.
Catch a glimpse of the tigers of Ranthambhore and enjoy a camel-cart ride on the edges of Sariska National Park. Cross into timeless Nepal and see its populous capital Kathmandu and idyllic Pokhara in the foothills of the Himalayas.
What You'll Love
Two safaris in search of Ranthambhore's tigers
The Taj Mahal at sunset
A guided tour of Nepal's captivating capital, Kathmandu
The sights of New Delhi, and a rickshaw ride through the hustle and bustle of Old Delhi
Chand Baori, Abhaneri's astonishing stepwell
Amber Fort and Jaipur's exquisite Palace of the Winds
Dinner with a local family in Jaipur
Staying in cottage accommodation at Vanaashrya
Two days in Chitwan National Park
Sunrise over the Annapurna Massif
A day in Pokhara, including a visit to the Gurkha Memorial Museum and a cruise on Lake Phewa15 nights' dinner, bed and breakfast accommodation in a series of four-star and five-star standard hotels in Delhi (2 nights), Agra (1), Ranthambhore (2), Jaipur (2), Vanaashrya (1), Kathmandu (3), Pokhara (2) and Chitwan (2)
Nine lunches
Return flights from your chosen airport to Delhi and between Delhi and Kathmandu
Comfortable, air-conditioned coach travel throughout
Fully escorted by a friendly, experienced Tour Manager in India and Nepal
Alternative Departures
Single supplements apply. Offer subject to availability.
Itinerary
Day One: Fly to Delhi
Your holiday to India and Nepal begins with an overnight flight from the UK to Delhi.
Day Two: Visit Qutb Minar
Arrive in Delhi, meet your Tour Manager and transfer to your hotel for lunch. This afternoon, explore the ruins of the Quwwat-ul-Islam mosque and the ornate Qutb Minar tower.
Day Three: Delhi guided tour and Agra's Taj Mahal at sunset
This morning a guided tour of the Old City will reveal Jama Masjid Mosque and Raj Ghat, Gandhi's cremation site. You'll also see the Red Fort and take a rickshaw ride through the narrow lanes of Chandni Chowk. Later, you'll see some of the city's Imperial highlights including the India Gate war memorial, the vast boulevard of the Rajpath and Parliament House.
Later we'll plot a course for Agra, India's City of Love and site of the exquisite Taj Mahal. Built as a monument to undying love by grief-stricken Shah Jahan, after the death of his beloved wife, the Taj is seen in all its glory at sunset. Your guided tour of Agra will also take in the royal pavilions, palaces and courtyards of majestic Agra Fort.
Day Four: See the baoris at Abhaneri
Today you'll visit Abhaneri, a small town famed for its amazing baoris (stepwells) and the mighty Harshat Mata Temple. Discover the architectural beauty of the Chand Baoli stepwell and its intricate carved panels.
Leaving Abhaneri you'll travel to Ranthambhore National Park, one of the prime examples of Indian conservation and your base for two nights. Once the hunting ground of Indian princes, this national park stands atop a 600-metre-high hill range and plays host to a number of India's elusive and endangered tigers.
After lunch you're free to relax for the afternoon, then in the evening enjoy the 'tiger talk' with a local naturalist, in preparation for tomorrow's adventure.
Day Five: Safari in Ranthambhore National Park
This morning you'll enjoy the first of two guided tours in search of some of the park's most revered inhabitants; striped hyenas, sambar deer, sloth bears and of course tigers (and maybe even a leopard). After lunch there will be another chance to see these and many other incredible creatures at close quarters, on your second guided tour into the park.
Day Six: Optional Ranthambhore Fort excursion
An optional excursion this morning brings the chance to visit Ranthambhore Fort (please note that on some occasions this excursion may operate on day four). We'll then travel through Rajasthan to Jaipur, India's pink city, for a two-night stay. Settle into your heritage hotel in downtown Jaipur, and enjoy the on-site facilities, including a cooling outdoor pool.
Day Seven: Visit Amber and tour Jaipur
Visit Amber, ancient capital of the Rajput Empire, with its magnificent palaces and temples dominated by the stronghold of the Amber Fort. Take time to marvel at the royal halls and the splendid views from the ramparts.
This afternoon enjoy an included sightseeing tour of Jaipur, introducing the Palace of the Winds, the City Palace and the amazing astronomical observatory built by the city's founder Jai Singh II.
Dinner tonight is with a local family in Jaipur.
Day Eight: Visit Bhangarh en route to Vanaashrya
This morning you'll head north to Vanaashrya. En route you'll make a stop at the atmospheric ruined fort of Bhangarh, dating from the 17th Century, where you'll enjoy a welcome tea or coffee. After a relaxing afternoon, hop onto a camel cart and visit the local village before a pre-dinner cookery demonstration with the chef. You'll spend the night in your private, air-conditioned, cottage designed to give a sense of the India of the past.
Day Nine: Visit the Heritage Transport Museum
En route back to Delhi, for your final night's stay in India, we'll make a stop at the intriguing Heritage Transport Museum, which showcases the development of road, rail and air in India.
Day 10: Fly to Kathmandu
This morning you'll transfer to the airport for the short flight to Kathmandu in Nepal. On arrival your local guide and coach will be waiting to to take you to your hotel for the first of two nights in the Nepalese capital.
Dinner this evening will be at at the legendary Rum Doodle restaurant in the company of a Sherpa or Everest summiteer who will answer all of your questions about the world's ultimate climb.
Day 11: Sightseeing tour of Kathmandu
Today you'll enjoy an included guided sightseeing tour of ancient Kathmandu, a colourful, bustling and intoxicating city set amid the green foothills of the majestic Himalayas. Highlights include the UNESCO-listed Old City and the temples and pagodas of Durbar Square. You'll also take a walking tour through the royal city of Patan and visit Boudhanath, one of the largest Buddhist stupas in world.
Day 12: Travel to Pokhara
Leaving Kathmandu, today, you'll journey through the Himalayan foothills to slow-paced Pokhara. The city sits on the shores of Lake Phewa and boasts views of the snow-capped Annapurna range and triangular Fishtail Mountain. Enjoy a relaxing evening in preparation for an early start.
Day 13: Climb Sarangkot Hill and explore Pokhara
Wake before dawn to drive a short way to Sarangkot Hill. Climb to the viewing platform, approximately 45 minutes up an at times steep but safe walk from which the breathtaking panorama of the world's highest mountain range unfolds with the rise of the sun.
You'll return to the hotel for breakfast before a fascinating day of visits to beautiful Davis Falls, the Tibetan Refugee Camp and the Gurkha Memorial Museum, as well as a cruise on Lake Phewa.
Day 14: Travel to Chitwan National Park
This morning your coach will take you west to Chitwan National Park and the Jungle Villa resort, your home for two nights, close to the park's headquarters. Enjoy lunch on arrival, before an afternoon ox-cart ride to a local Tharu village – an indigenous population with unique culture.
Day 15: Spot wildlife in Chitwan National Park
Rise early this morning to join a guide for a canoe trip up the Rapti River, home to gharial and marsh mugger crocodiles, and rare bird species. After a visit to the Crocodile Breeding Centre return to the hotel for breakfast, followed by an exciting safari, hoping to see one-horned rhinoceros, elephants, sloth bears, wild boar and – for the very fortunate – Bengal tigers.
This evening enjoy a traditional tribal dance show.
Day 16: Return to Kathmandu
Returning to Kathmandu, you'll spend a last evening in the Nepalese capital and enjoy your final dinner at a traditional restaurant with a cultural dance show.
Day 17: Fly home
Transfer back to the airport and board your flight back to the UK via Delhi, with memories from your tour of India and Nepal lasting a lifetime.
---
India and Nepal – Tigers, Taj & Temples
FROM
£3140.00
Departing From
Glasgow
Other UK airports also available
Departure dates
20th September 2022
4th October 2022
8th November 2022
28th February 2023
3rd October 2023
7th November 2023