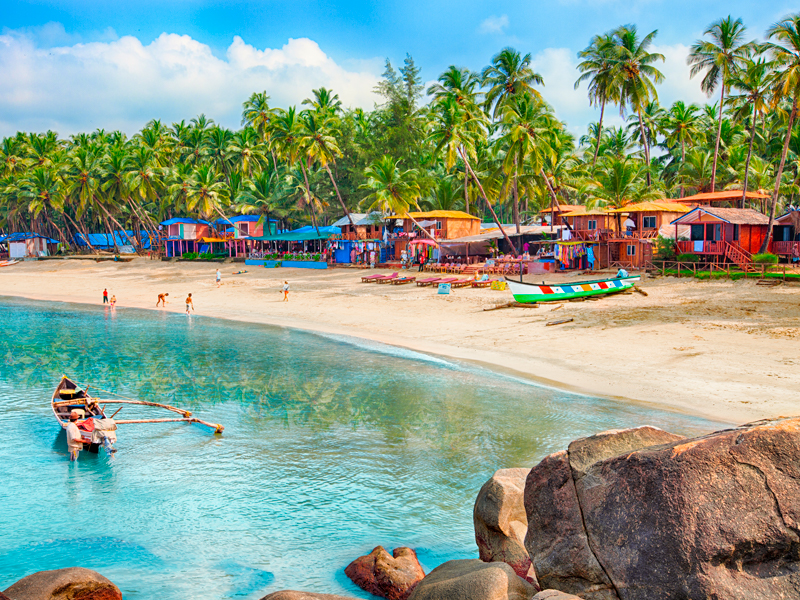 Immerse yourself in Indian culture on this once in a lifetime trip to Kerala and Goa.
On this 15-night guided holiday, we'll visit regional villages and markets, sample local cuisine and enjoy some relaxation time on golden, sandy beaches.
Our tour begins in Kerala, known for its diverse landscape changing from mountains and deep valleys to open coastal plains and tranquil backwaters.
We'll explore all of these sites and more as we travel through the region.
After exploring Kerala, we will make our way north to Goa, the sun-soaked state famous for its beaches, seafood and laid-back tropical atmosphere.
Here, we'll be able to relax on Goa's golden sandy beaches and admire the unspoiled, palm-fringed coastline.
What You'll Love
Discover the vibrant, exotic landscapes & history of India on this guided group holiday to Kerala & Goa
Experience the local culture in Cochin with a heritage walk & an authentic Kathakali dance performance
Explore the city of Munnar & enjoy an excursion to the nearby Mundackal Tea Plantation
Spot local wildlife like tigers, elephants & bison on an excursion to Periyar National Park
Spend the night on a traditional, thatch-roofed houseboat in the Kerala backwaters
Savour local flavours with a cooking class in the lakeside town of Alleppey
Soak up the sun in Goa with plenty of free time to enjoy the beach & a full-day tour of Old Goa
Includes 12 nights on a half board basis, 1 night on a full board basis (3, 4 & 5*)
Returns flights and transfers included
Subject to availability. Single supplements apply. To check latest availability, call 0131 608 1238 quoting "DC Thomson Travel"
Itinerary
Day 1 – Travel to India
Depart on your overnight flight to India, Cochin.
Day 2 – Cochin
Upon arrival in Cochin you will be met by your guide and transferred by coach to your hotel in Cochin. You will have the morning at leisure to settle in to your hotel and get to know your surroundings.
Enjoy a welcome gathering with your local expert guide, where you will learn about the history and culture of Kerala before dinner at your hotel.
Day 3 – Tour of Cochin
Depart your hotel for a Heritage walk of Fort Kochi, exploring the nooks & crannies of this coastal town. You will see the age-old Chinese fishing nets still in use, the historic St. Francis Church and the Santa Cruz Basilica, with ample time for photo opportunities. You will then take a short drive to Mattanccherry to visit the Dutch Palace & Jewish Synagogue.
Day 4 – At Leisure
You will have the afternoon to spend at your own pace in Cochin. Your guide will be delighted to suggest activities to suit your individual interests.
After dinner at your hotel, your guide will accompany you to an Indian dance drama known as Kathakali. The colourful costumes, dramatic makeup, subtle facial expressions and the expressive music combine to form an unforgettable performance.
Day 5 – Travel to Munnar
Upon arrival in Munnar, you will have the rest of the day to spend at your leisure as you unwind in the tranquility of Kerala's hills. Munnar is situated at the confluence of three rivers and is South India's largest tea growing region. Take an evening walk through the colourful local market of Munnar, with food stalls, selling, homemade chocolates, vegetables, fruits and fish market.
Upon arrival in Munnar, you will have the rest of the day to spend at your leisure as you unwind in the tranquillity of Kerala's hills. Munnar is situated at the confluence of three rivers and is South India's largest tea growing region.
Day 6 – Munnar
Embark on a morning tour of Munnar. During the tour you will visit a tea plantation and the Munnar Tea Museum (closed Mondays). There will also be a visit to Srishti Welfare Center, you will see the eco-friendly techniques used by the ladies in Munnar to create natural dyes from plants, bark and roots. They use these for fabrics, paper bags, envelopes, bookmark making.
Enjoy an afternoon to spend at your leisure. You might like to shop for local tea or locally grown spices or explore one of the nearby waterfalls. Your local guide will be on hand to offer some suggestions to suit your taste.
Day 7 – Travel to Thekkady
After breakfast you will transfer to your hotel in Thekkady the drive today will take approximately four and a half – five hours (80km). En route from Munnar to Thekkady you will enjoy breathtaking views of the emerald hills and witness the harvesting of cardamom, rubber and other local spices.
Embark on a guided tour of Periyar Spice Garden and see many different varieties of spices growing in their natural environment. You will have the opportunity to taste some spices if you wish!
Day 8 – Thekkady
This morning you will enjoy an excursion in the vast Periyar National Park, a wildlife sanctuary that is home to tigers, elephants, lion-tailed macaques, leopards and the picturesque Periyar Lake. Experience a leisurely boat ride across the lake as your local guide points out exotic birds and other wildlife. Keep your eyes peeled for the elusive tiger!
You will have the afternoon at leisure to take in the mountain air and relax in the surroundings of your hotel.
Day 9 – Travel to Kumarakom
Transfer to Kumarakom. Today the transfer will be approximately four and a half hours (120km) to Kumarakom, beside the Vembanad Lake. On arrival you will board a deluxe traditional, thatch roofed 'Kettuvallum' or houseboat for an overnight journey through the backwaters of Kerala. Both lunch and dinner will be included on the houseboat.
Visit a traditional Keralan village before returning to your unique accommodation. You can enjoy the time on board relaxing and cruising through the waterways lined with coconut groves and rice fields as daily life carries on at the water's edge.
Day 10 – Travel to Alleppey
Following breakfast you will disembark the houseboat and transfer to your hotel Alleppey.
Upon arrival in Alleppey you will have the remainder of the day at leisure. Enjoy the tranquil atmosphere on the shores of the Vembanad Lake, the longest lake in India.
Day 11 – Alleppey
You will have the morning and afternoon to explore Alleppey at your own pace. Your guide will be on hand to suggest optional activities to suit your interests or you can simply unwind and avail of the hotel facilities.
This evening you will attend a cooking class hosted by the Hotel Chef. Kerala is home to some of the best quality spices in the world and the influence of these spices is quite visible in the local cuisine. You will learn how to prepare a couple of popular dishes and later on will be able to enjoy these dishes as your main meal of the day!
Day 12 – Depart for Goa
Say farewell to Kerala as you transfer to Kochi airport for your internal flight to Goa (via Bangalore or Mumbai depending on your chosen date). The journey will take approximately two and a half hours (65km).
Upon arrival in Goa you will transfer to your hotel with guide assistance. The remainder of the day will be at leisure so you can settle in to your new surroundings.
Day 13 – Old Goa
Today you will enjoy sightseeing in Old Goa, which is the ancient capital of Goa and well-known for its churches. You will visit The Basilica of Bom Jesus, which is the best-recognised church in Goa. Completed in the year 1605, it houses the sacred relics of St. Francis Xavier, who came to Goa in the year 1542 and is now the patron saint of the state's Christian community. You will also visit the Se Cathedral, which is said to be the largest church in Asia. Inside the Cathedral are eight chapels and six side altars, as well as the main altar that is dedicated to Saint Catherine.
Day 14 – Goa at Leisure
Indulge in a full day of relaxation in Goa. You will have ample time to unwind by the hotel pool or visit one of Goa's beaches.
Day 15 – Return Home
After a leisurely breakfast transfer to Goa airport to board internal flight to Mumbai. Upon arrival in Mumbai airport, you will connect with your overnight flight back home to Dublin.
Day 16 – Arrive Home
Arrive home following your once-in-a-lifetime trip to Kerala & Goa.
---
India – Classic Kerala & Goa
FROM
£2649.00
Departure dates
7th November 2022
4th February 2023
21st October 2023