India – Splendours of Delhi, the Taj Mahal & Rajasthan – Solo Traveller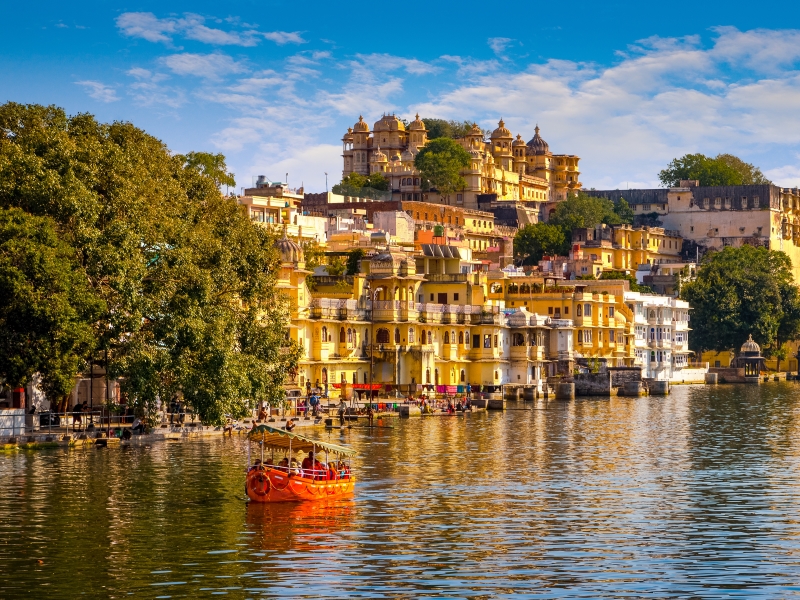 Embark on this 11-night India solo traveller holiday, and discover the very best of this spectacular destination, with visits to iconic sites including the Taj Mahal and the magical city of Udaipur, which is known as the "Venice of the East."
Our Indian trip will start in Delhi, where we'll see Qutub Minar, the world's tallest brick minaret and later that evening, we'll get to know our fellow travellers over dinner and a welcome drink.
We'll continue our holiday by exploring ancient palaces and monuments, proud fortresses, mosques and bustling cities. We'll take a rickshaw ride through Old Delhi's vibrant streets and awaken our senses with a kaleidoscope of colour and sound in its buzzing markets.
In Agra, we'll be in awe of the most famous monument to love, the Taj Mahal*. We'll also visit the Amber Fort in the Pink City of Jaipur and, of course, we'll have plenty of time at leisure to discover India at your own pace or with your fellow travellers.
Discover the splendours of India with us on this solo traveller holiday of a lifetime.
What You'll Love
Visit some of the most iconic sites of India on this spectacular 11-night guided holiday
Meet other like-minded solo travellers & enjoy the comfort of your very own hotel room
Take an exciting rickshaw ride through Delhi, a guided visit to Old Delhi & an excursion to Qutub Minar.
Watch the sunrise over the Taj Mahal, one of the world's biggest monuments to love
Visit the "pink city" of Jaipur for a guided full day city tour including the Amber Fort
Explore the imposing Mehrangarh Fort and the impressive Ranakpur Temple on a city tour of Jodhpur
Enjoy a boat cruise around Udaipur's mesmerising Lake Pichola
Includes 10 nights on a half board basis (4 & 5* hotels)
Return flights & transfers
Subject to availability. Single supplements apply. To check latest availability, call 0131 608 1238 quoting "DC Thomson Travel"
Please Note: 10 nights accommodation in India and 1 or 2 overnight flights. In order to preserve the beauty and integrity of the iconic monument, the Taj Mahal, cleaning and restoration work is ongoing at this site. Some phases of the restoration involve scaffolding and mud treatment,  thus a clear view of the entire monument may not be possible.
Itinerary
Day 1 – Travel to India
Depart on your flights to Delhi, for a once in a lifetime experience to India.
Day 2 – Delhi & New Delhi
Upon arrival in Delhi you will be met by our local representative before being transferred to your hotel, you will spend the next two nights in Delhi.
You will take an afternoon guided excursion to the Qutub Minar, the world's tallest brick minaret standing 100 metres tall. Return to your hotel in the evening for dinner.
In the evening there will be an opportunity to join your fellow travellers at a 'welcome' meeting followed by your evening meal. Dinner is included each night of your stay in India.
Day 3 – Old Delhi
After breakfast depart to see all the sights and sounds of bustling Old Delhi, beginning with a cycle rickshaw ride through the city. After your ride, visit Raj Ghat, the memorial site of Mahatma Gandhi, where you can see an eternal flame burning at the spot of his cremation. From here you will move on to the Jama Masjid mosque and view the beautiful 17th century place of worship, which is home to an ancient Qur'an written on deerskin. There will be time to pick up some souvenirs and local bargains at the bustling and colourful market of Chandni Chowk. Later visit New Delhi to see Hamayun's Tomb, a beautiful 16th Century building and the tomb of the Emperor Humayun. After drive past the India Gate (war memorial dedicated to the Indian fallen soldiers), the president's residence and an interesting blend of Victorian architecture. Return to your hotel in the evening, spend a relaxing evening at leisure.
Day 4 – Agra
Transfer from your hotel to Agra by coach, the journey will take approximately four hours (210km) where you will spend one night in Agra.
In the afternoon you will enjoy a guided tour of the Agra Fort, a UNESCO World Heritage Site and one of the finest Mughal forts in India. Built in the 11th century, era marked by invasions and battles, this red stone-fortified castle was the site of the India Rebellion of 1857. Return to your hotel where you will enjoy your evening at leisure.
Day 5 – Taj Mahal & Fatehpur Sikr
In the morning you will visit the Taj Mahal where you will enjoy sunrise at the one of the world's biggest monuments to love. The morning is an ideal time to photograph this spectacular building when the lighting is at its most dramatic. This famous mausoleum, built by the Mughal emperor Shah Jahan, in memory of his favourite wife, is a highlight for many visitors to India and it is easy to see why. Return to your hotel for breakfast.
After breakfast depart for the "Pink City" Jaipur. Today's journey is a full day and will take approximately seven hours (235km) with comfort stops on the way. En-route you will visit the deserted red sandstone "Ghost city" of Fatehpur Sikri (located 40km from Agra). Fatehpur Sikri was built by Emperor Akbar in 1569 and it served as the capital of the Mughal Empire from 1571 to 1585. Arrive in the evening to your hotel in Jaipur, where you will spend the next two nights.
Day 6 – Jaipur
Enjoy a full day guided tour of Jaipur – the Pink City. Visit the Amber Fort, a spectacular Hindu fort overlooking Lake Maota, before visiting the City Palace Museum, to see the beautiful former seat of the Maharaja of Jaipur.
See the awe inspiring Jantar Mantar sun dial, and finally Hawa Mahal, also known as the Palace of Winds.
Day 7 – Jodhpur
Today, you will transfer to Jodhpur, the second largest city in Rajasthan, the journey will take approximately seven hours (330km), including comfort stops. On arrival check into your hotel where you will spend the next two nights.
The evening is at leisure, your local guide will be happy to suggest places to see and visit depending on your interests. Jodhpur is sometimes referred to as the 'Blue City' due to the brightly painted houses around the Mehrangarh Fort and was named as Lonely Planet's most extraordinary place to stay in 2014.
Day 8 – Tour of Jodhpur
Enjoy a guided tour of Jodhpur, the home of the Rathore rulers of the princely state of Rajasthan. Here you will visit Mehrangarh Fort, an imposing structure sitting on a hill, which was seen in the film The Dark Knight Rises. The tour will also bring you to Jaswant Thada, a beautiful monument built entirely out of white marble.
Enjoy the afternoon at leisure.
Day 9 – Udaipur
Today, you will transfer to Udaipur, also known as the city of the lakes. This beautiful city has been described as the "Venice of the East" and its centrepiece is the Lake Palace, which sits in the middle of Lake Pichola. En-route to Udaipur there will be a stop in Ranakpur, at one of the largest and most beautiful Jain temples in India. Today's journey is a full day and will take approximately six hours drive (269km) before reaching Udaipur, where you will spend the next two nights.
Day 10 – Tour of Udaipur
Today you will have a guided morning excursion to the City Palace Museum and the spectacular garden of Saheliyon-ki-Bari, which is brimming with lotus ponds, marble elephants and gushing fountains.
Later in the afternoon enjoy a boat cruise on the serene and beautiful Lake Pichola (boat ride is subject to availability of water in the lake).
Day 11 – Transfer to Delhi
Following a morning at leisure, you will be transferred by coach to Udaipur airport for your flight to Delhi. Upon arrival in Delhi airport you will be brought to your hotel for your last night. Enjoy your final evening with some last-minute souvenir shopping, soak up the atmosphere, relax and unwind, after your guided tour of India and all its splendor.
Day 12 – Return Home
Your Splendours of India tour finishes today. Transfer by coach to Delhi Airport for your return flights home.
---
India – Splendours of Delhi, the Taj Mahal & Rajasthan – Solo Traveller
FROM
£2149.00
Departure dates
9th September 2022
7th October 2022
21st April 2023
10th September 2023
6th October 2023