Indian Rail Journeys – Amritsar Shimla & the Taj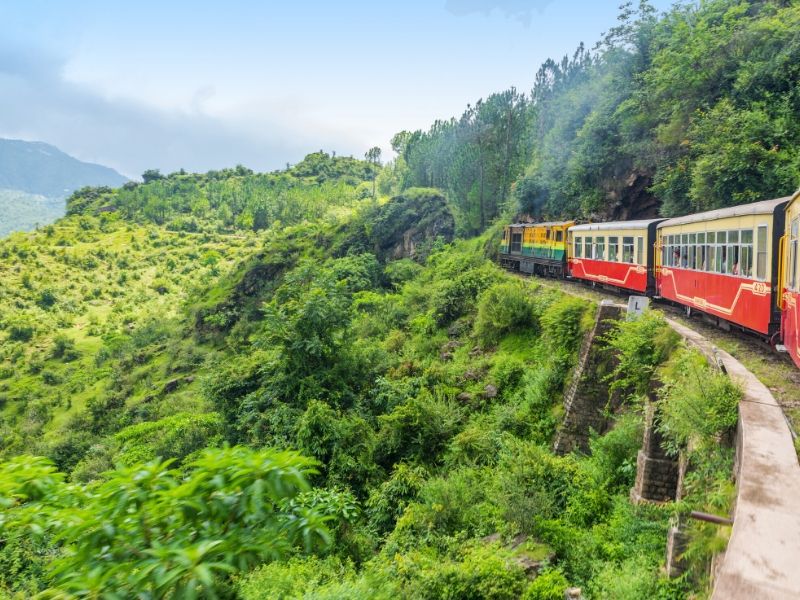 Our Indian Rail Journeys tour explores Rajasthan's timeless glories, the Golden Temple, Ranthambhore's tigers and the Raj-era elegance of India's most famous hill station.
This exciting Small-Group Tour combines the classic sights of India's capital, 'City of Love' Agra and 'Pink City' Jaipur with the majesty of Amritsar's gilded island temple, adds in Ranthambhore's famed tigers, and ends with a journey back in time to Shimla, the quintessential colonial haven high in the Himalayan foothills. With accommodation ranging from home-stay warmth and welcome to historic Heritage Hotels and five-star comforts, and with a host of additional highlights, this is a wonderful Indian adventure.
What You'll Love
Stay at some wonderful boutique 'home-stay' and Heritage hotels
Discover Old and New Delhi and enjoy a rickshaw ride
A guided tour of Agra, 'City of Love' and the 'Taj'
Discover deserted city Fatehpur Sikri
Go in search of Ranthambhore's tigers on two safaris
Guided tour of 'Pink City' Jaipur
Rajasthani folk evening and Gala Dinner
Visits to Amritsar's Golden Temple by day and night
Visits to the Jalinawaila Wala Bagh memorial park and IndoPakistani border closing ceremony
Journey by 'Toy Train' to Shimla
Stay in Shimla's famed, Raj-era, Oberoi Cecil Hotel
Guided visit to Tara Devi shrine and Shimla walking tour
13 nights' carefully chosen dinner, bed and breakfast accommodation and four lunches and a High
Tea, plus one night on the aircraft
Return scheduled flights to Delhi and an internal flight from Delhi to Amritsar
Air-Conditioned rail travel from Delhi to Agra and from Chandigarh to Delhi
Coach travel and transfers throughout
Fully escorted by a friendly, experienced tour manager
Alternative Departures
Single supplements apply. Offer is subject to availability.
Itinerary
Day One – Fly to India
Fly overnight from the UK to Delhi.
Day Two – Arrive in Delhi
Upon arrival this morning, meet your Tour Manager and transfer to your welcoming, family run, boutique-style 'homestay' hotel. Meet your fellow guests over dinner with your host family.
Day Three – Included guided city sightseeing
Today, enjoy a guided tour of some of the Indian capital's major sights, including the historic Red Fort, Jama Masjid Mosque and Raj Ghat, Gandhi's cremation site, as well as the Raj-era grandeur of New Delhi, where highlights include India Gate. Complete the day with an exhilarating rickshaw ride.
Day Four – Express train to Agra
Board the Gatimaan Express early this morning to journey to Agra, home to the exquisite Taj Mahal. Visit majestic Agra Fort then take in the glorious 'Taj' sunset. Enjoy dinner with your host family in your home-stay hotel.
Day Five – Via Fatehpur Sikri to Ranthambhore
Cross from Uttar Pradesh into Rajasthan, calling en route at deserted Moghul city Fatehpur Sikri. Enjoy lunch at a luxurious heritage hotel just outside walled Bharatpur, before continuing to famous tiger sanctuary, Ranthambhore National Park for a two-night stay. This evening, enjoy a 'tiger talk' with a local naturalist before dinner.
Day Six – In search of tigers
Enjoy today's two canter (open air vehicle) safaris in the company of a knowledgeable guide. With luck you may also see the tigers and other species in their natural environment. Lunch is included today.
Day Seven – Travel to Jaipur
Rest and relax, or join the morning optional excursion to Ranthambhore Fort, with its stupendous views of the park below (please note, there is a 273-step climb to the fort).
After lunch, journey to 'Pink City' Jaipur, for two nights in an elegant, historic Heritage hotel, with dinner in sumptuous surroundings.
Day Eight – Included city sightseeing
Join your tour manager for a visit to Amber's vast fort, climbing jeep to visit the Royal Halls and to take in the magnificent views. This afternoon, take in the City Palace complex and drive by the 18th-century 'Palace of the Winds'.
Day Nine – Rural village experience
Make the short journey after breakfast from Jaipur to the extravagant haveli hotel in Rajasthani village Shahpura. Rest and relax in the former maharaja's palace and, with a guide, experience local life in the village. This evening, enjoy a traditional Rajasthani folk dance performance and a Gala Dinner.
Day 10 – Fly to Amritsar to Dehli
Journey back to Delhi for the afternoon flight to Amritsar. Visit the traditional Punjab village of Sadda Pind to enjoy high tea. After dinner, join the throng for the extraordinary Palki ceremony at the Golden Temple, as Sikhism's Holy Book, is carried on a causeway over the sacred lake the nearby sanctum on a human conveyor belt. Perhaps visit the Old Town's bustling bazaar before returning to the hotel.
Day 11 – Included visits to Amritsar and Wagah
Today brings another opportunity to visit the jewel-encrusted Golden Temple, which is open to all, and which provides welcome, shelter and food each day for up to 35,000 pilgrims from across the globe. You'll also visit the poignant Jalinawaila Wala Bagh memorial park, which commemorates one of the bloodiest days in Indian history, and this evening, make the short journey to the Indo-Pakistani border crossing at Wagah, to witness the once-seen-never-to-be-forgotten nightly closing ceremony.
Day 12 – Journey up to Shimla
Journey into mountainous Himachal-Pradesh and Kandaghat, to board the famous 'toy train', the that winds its scenic way up to Shimla, where the magnificent Oberoi Cecil Hotel waits to welcome you for a two-night stay in the famous hill-station.
Day 13 – Included sightseeing
Make the short scenic journey into the hills, to the shrine of Tara Devi, a tranquil place amongst groves of trees and shrubs, from where, on fine days, there are spectacular views of the surrounding Himalayas. Return to Shimla for a guided tour, including the Viceregal Lodge, former British summer retreat where the map of Indian Partition was drawn up, the open space of the Ridge, with its very English Christ Church and the shops of Mall Road. Enjoy a second dinner at the hotel.
Day 14 – Return to Dehli by train
Bid farewell to the former colonial haven, and back down to Chandigarh to the Shatabdi Express train for the three-and-a-half-hour journey back to Delhi and a farewell dinner in your home-stay hotel.
Day 15 – Fly back to the UK
After breakfast, transfer back to Delhi Airport and your return flight to the UK, arriving late this afternoon.
---
Indian Rail Journeys – Amritsar Shimla & the Taj
FROM
£2925.00
Departing From
Edinburgh
Other UK airport also available