Into the Midnight Sun 2021 Cruise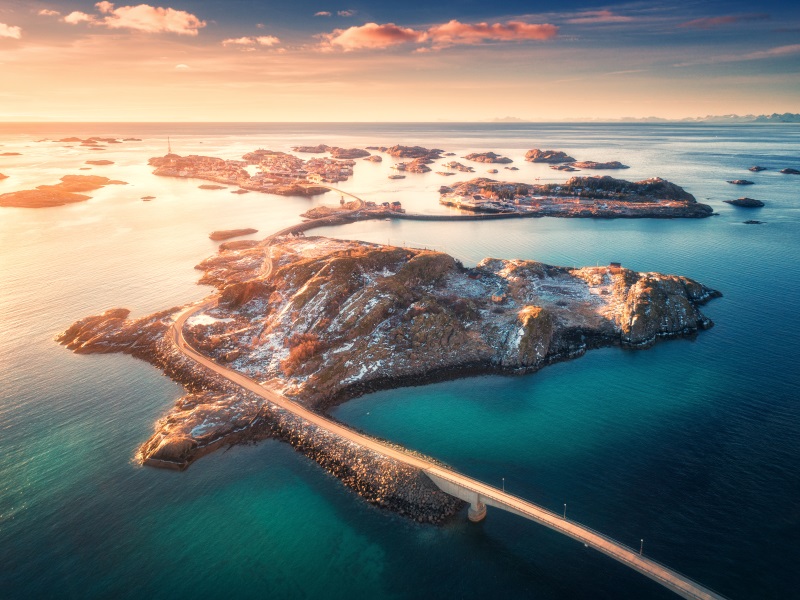 Available
Until July 2021
Cruise deep-cut fjords along the fabled Norwegian coast. Sail across the Arctic Circle where the midnight sun shines 24 hours a day. Then follow the path of Vikings from the remote beauty of North Cape to the windswept Shetland and Orkney Islands of Scotland. Enjoy an overnight stay in the former Hanseatic League city of Bergen and visit the Scottish capital Edinburgh, where medieval glory mingles with classic beauty.
Read more about this cruise in this article here.
Ports of call:
Bergen, Norway
Geiranger, Norway
Lofoten (Leknes), Norway
Tromsø, Norway
Honningsvåg (Nordkapp), Norway
Shetland Islands (Lerwick), Scotland
Orkney Islands (Kirkwall), Scotland
Edinburgh, Scotland
London (Greenwich), England
Price Includes
Return flights from regional airports throughout the UK; including Aberdeen at no extra cost
15 day cruise visiting 3 countries and 9 ports in a private veranda stateroom
9 guided tours
All onboard meals in a choice of restaurants, including man alfresco dining venues
Specially selected  wine, beer and soft drinks with lunch & dinner onboard
All port charges
Free tea, coffee and snacks any time onboard
Free Wi-Fi onboard
Free 24-hour room service
Free use of spa facilities
Subject to availability. Single supplements apply.
To speak to an adviser regarding more information for this cruise or to book this cruise, please call 0800 1707 233 and quote *DC THOMSON TRAVEL*
Into the Midnight Sun Cruise Itinerary
Days 1 & 2 – Bergen, Norway
When you arrive in Bergen, encircled by majestic mountains, fjords and glaciers, you'll quickly understand how its setting inspired the Viking sagas. With your ship berthed next to Bryggen wharf, a UNESCO World Heritage Site, you can easily stroll along its waterfront once you've settled in to your veranda stateroom. This evening mingle with the locals and dine ashore, as we will be spending the night in port.

Day 3 – Geiranger, Norway
Cruise into the tiny village of Geiranger via the Geirangerfjord, one of Norway's most spectacular fjords. If you would like magnificent bird's-eye views of this magical setting, join an included tour to Eagle's Bend, perched 2,000 feet above the village. It is a thrilling drive marked by 11 hairpin turns and incredible panoramas.
Immerse yourself in the great outdoors on an optional tour to witness spectacular waterfalls or journey through the fjords by kayak.
Day 4 – At Sea
Day 5 – Lofoten (Leknes), Norway
Experience the distinctive beauty of the Lofoten Islands today, where the sculpting power of nature comes into sharp focus. Soaring, jagged peaks overlook sheltered bays in this remarkable archipelago of six main islands. Traditional rorbus, charming fishing cottages, seem to hover over the waters on stilts, and the streets of its capital, Svolvaer, are stunning and scenic, a delight to explore.
Day 6 –  Tromsø, Norway
Enjoy the lovely setting of Tromsø's historic center, spread over a scenic island. On an included tour, admire its blend of wooden structures and neoclassical buildings. You'll visit the stunning Arctic Cathedral with its striking triangular shape, the city's most recognizable symbol.
You might also learn about arctic exploration and dogsledding. Meet the owners and residents of the Tromsø Wilderness Center and hear about their exciting expeditions.
Day 7 – Honningsvåg (Nordkapp), Norway
Pay a rare visit to the remote port of Honningsvåg. From this tiny outpost town on the island of Magerøya, journey to the top of North Cape, or Nordkapp, on an included tour. This dramatic rocky plateau looks over the Barents Sea from a height of 1,000 feet.
Alternately, set out on a wildlife expedition to the Gjesvaerstappan Nature Reserve, or spend time with the local Sami people and enjoy a warm welcome.
Days 8 & 9 – At Sea
Day 10 – Shetland Islands (Lerwick), Scotland
Admire the rugged beauty of one of Scotland's remote island outposts today. Set out to explore the island and meet its famous residents—Shetland ponies.
Perhaps visit the remarkable archaeological site of Jarlshof—evidence of a thriving Viking presence. Or, sail the seas on board a replica Viking longship and try your hand at rowing for a true Viking travel experience.

Day 11 – Orkney Islands (Kirkwall), Scotland
Today, immerse yourself in the rich history of the Orkney Islands, ruled by the Vikings from the 9th to 13th century. See the Standing Stones of Stenness, a 5,000-year-old circle of stones, and explore this ancient monument.
Visit the well-preserved Stone Age settlement of Skara Brae, or for a true taste of Scotland, take a trip to the world's most northerly whisky distillery.
Day 12 – Edinburgh, Scotland
Today, you'll take in the medieval and neoclassical beauty of Scotland's capital, gracefully set among rocky hills and gracious green ribbons of park. On an included tour, browse the Royal Mile—the famed avenue connecting the hilltop Edinburgh Castle and the Palace of Holyroodhouse. You might elect to explore Edinburgh Castle more closely, including a visit to the Crown Jewels. Or, venture to medieval St. Andrews, birthplace of golf.

Day 13 – At Sea
Day 14 & 15  – London (Greenwich), England
Discover the celebrated Royal Borough of Greenwich—part of which, Maritime Greenwich, is a UNESCO World Heritage Site. London is just a short drive away, so you can take in the regal city and all its splendor. See the Tower of London, Parliament and Big Ben, Westminster Abbey, Buckingham Palace and St. Paul's Cathedral. Or venture into the countryside to visit Windsor Castle, one of the royal residences. Alternately, step off the ship to tour Greenwich, its excellent National Maritime Museum and the Royal Observatory from where the world's clocks are set.
---
Into the Midnight Sun 2021 Cruise
FROM
£5290.00
Departing From
Aberdeen
Edinburgh
Glasgow
Other UK airports also available
Departure dates
8th June 2020
13th June 2020
27th June 2020
28th June 2020
12th July 2020
24th May 2021
14th June 2021
17th June 2021
1st July 2021
12th July 2021