Japan – Land of the Rising Sun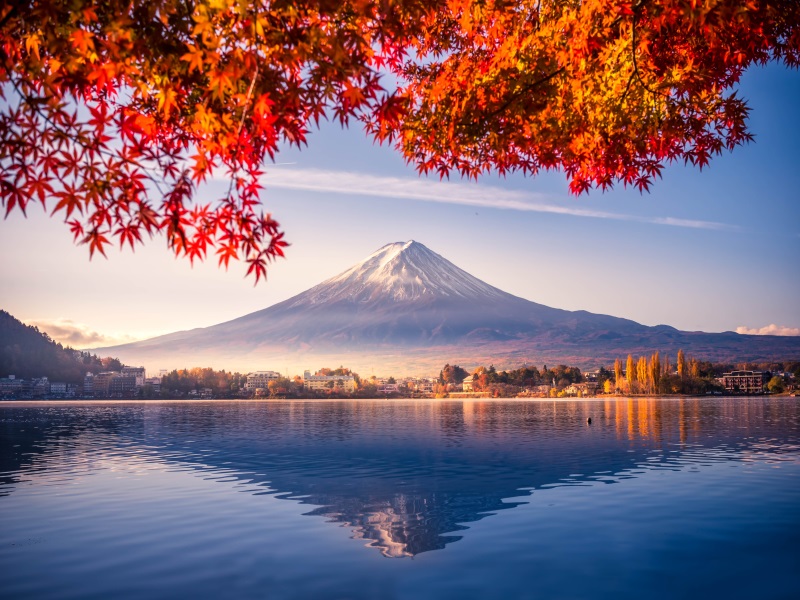 Available
Until November 2021
Japan – an ancient culture of emperors, fierce shoguns, samurais and brutal martial arts. Yet it's also a place of gentle geishas, colourful kimonos, exquisite garden design and Zen Buddhism.
How did a country so deeply rooted in such diverse heritage become one of the most modern and advanced economies on the planet? Pondering such questions is what makes a trip to Japan so incredibly rewarding. Having travelled there once, you'll feel almost hypnotically drawn back to this truly enigmatic country.
Our tour covers three of Japan's capitals, both past and present. You'll ride on a high speed bullet train past iconic Mt. Fuji, one of the most instantly recognisable places on the planet. You'll have the option to stay at a typical Japanese inn, bathe in a hot spring, and see the spot where the first atom bomb was detonated. With longer stays in both Tokyo and Kyoto, you'll have a unique opportunity to get right under the skin of this extraordinary country.
So place preconceptions aside and visit Japan on the tour of a lifetime. Prepare for wonderful service, the world's politest people and a true assault on the senses. Immerse yourself in this extraordinary culture of contrasts, where the neon lights and gadgetry of huge futuristic cities live side by side with thousand-year old ceremonies, shrines and hot spas.
Price Includes
Return direct scheduled flights with premium economy upgrades available at a supplement
Stay in hand-picked four-star accommodation, including all local taxes, with breakfast and three meals
See the famous sights of Tokyo including the Meiji shrine, Omotesando Street, fashion-setting Harajuku and the Akihabara electronic town
Enjoy astonishing views of Mount Fuji from Lake Kawaguchi and the hot-spring, mountain spa resort of Hakone
Travel at 189 mph on the incomparable high-speed bullet trains
Reflect on the horrors of war at Hiroshima's Peace Park and museum
Explore Kyoto on a guided tour, experiencing the former imperial capital and the essence of traditional Japan
Discover the 'Way of Tea' with a Japanese tea ceremony
Discover Nara, Japan's first capital with its huge bronze Buddha, on a guided tour
The services of our experienced tour manager
Subject to availability. Single supplements apply.
For more information or to book, please call 01283 742300 or click here.
---
Japan – Land of the Rising Sun
FROM
£3649.00
Departing From
London Heathrow
Other UK airports also available
Departure dates
9th March 2021
17th March 2021
24th March 2021
31st March 2021
1st April 2021
7th April 2021
14th April 2021
15th April 2021
12th May 2021
26th May 2021
2nd June 2021
1st September 2021
16th September 2021
29th September 2021
6th October 2021
20th October 2021
3rd November 2021