Kenya Grand Safari – Stay at Treetops with Mombasa Beach Extension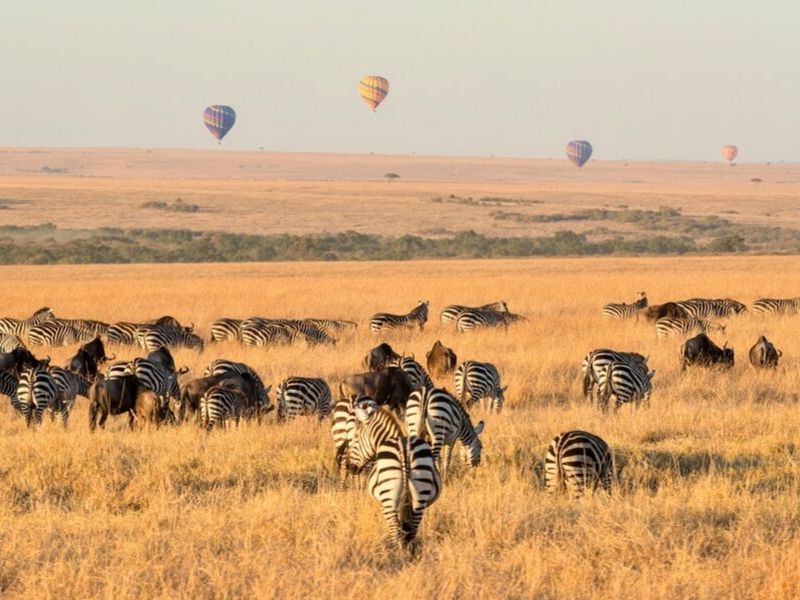 Available
Until November 2023

Enjoy close-up encounters with some of the world's greatest wildlife on this small group tour of Kenya, and cap your stay with a wonderful few days of total relaxation at a beach resort on the edge of the Indian Ocean.
Beginning in Nairobi, you'll travel to a quartet of protected national parks and reserves, passing through the beautiful forested highlands and the Great Rift Valley along the way. You'll get to spend a night at famous Treetops, go on game drives in the Samburu National Reserve and the world-famous Maasai Mara, and visit a local Maasai village, all while looking out for East Africa's 'Big Five' on this once-in-a-lifetime safari holiday.
What You'll Love
Six game drives in search of the Big Five
Staying in famous Treetops game lodge
Relaxing in a beachfront resort in Mombasa
Visiting a Maasai village
Journeying through the Rift Valley to renowned Lake Nakuru National Park – a giraffe and rhino sanctuary
Spending two nights in the famed Maasai Mara National Reserve
Visiting historic Nyahururu – formerly 'Thompson Falls'
Exploring Nairobi – Kenya's engaging capital
Six nights' full-board accommodation at game lodges
One night's bed and breakfast accommodation (plus lunch) in Nairobi
Four nights all-inclusive accommodation at the Voyager Resort Hotel, North Mombasa
Three game drives in the Samburu National Reserve
Three game drives in the famed Maasai Mara National Reserve
A boat ride on Lake Naivasha
Return flights to Nairobi (returning from Mombasa via Nairobi)
Travel by six-seater safari minibuses throughout
Fully escorted by friendly, experienced drivers and safari guides
Alternative Departures
Single supplements apply. Subject to availability.
Itinerary
Day One – Travel to Kenya
Travel to the airport today for your overnight flight from the UK to Nairobi.
Day Two – Travel to Treetops lodge in Aberdare National Park
After arriving in Nairobi early this morning, travel north on a scenic journey to the eastern fringes of the Aberdare National Park. Here you'll enjoy lunch and an overnight stay at Treetops, a stilted lodge that has welcomed the British Royal Family in its past and is regarded as one of the most atmospheric game-viewing locations in the world. Head to the lodge's impressive viewing platform to see animals visit the watering hole at night.
Day Three – Journey to Samburu National Reserve
Leaving Treetops after breakfast we'll drive to Samburu National Reserve.
Enjoy lunch, and take in the beauty of rugged Samburu, home to an array of wildlife including elephant, cheetah, leopard, crocodile, reticulated giraffe, blue-legged Somali ostrich and the 'giraffe-necked' gerenuk gazelle. Go in search of these local residents on your first game drive this afternoon, then return to the lodge in time for dinner and a first night under the starlit Kenyan sky.
Day Four – Enjoy game drives in Samburu
Enjoy a day exploring the reserve. Set off on morning and afternoon game drives, choosing either to return to the lodge for lunch or to spend the full day out and take a packed lunch with you.
Day Five – Travel through the Rift Valley to Lake Nakuru National Park
Settle in for a spectacular journey today, as we travel via Kenya's highest town, Nyahururu (formerly Thompson's Falls), en route to the Great Rift Valley. By lunchtime we'll arrive in Lake Nakuru National Park, set around the picturesque shores of the soda lake. Look out for grazing black and white rhino, Rothschild giraffe, buffalo and leopard, as well as an array of colourful birdlife on this afternoon's game drive, then enjoy a relaxing evening at Lake Nakuru Lodge.
Day Six – Continue through the Rift Valley to the Maasai Mara
As we continue our journey through the Rift Valley, we'll make a call at Lake Naivasha for a boat cruise on its rippling waters. Marvel at wallowing hippos on the shores and spot countless bird species circling the lake, then re-join the safari vehicle and continue south towards the Maasai Mara.
Considered the ultimate safari destination, the Mara is hailed as one of the greatest spots in the world for game viewing. From July to September it becomes the stage for the great wildebeest migration, a phenomenal spectacle that takes place annually, but even outside these months the wildlife viewing opportunities are unparalleled. Look out for giraffe, zebra, hippo, buffalo, elephant, ostrich, lion, cheetah and much more on our afternoon game drive, then continue to the Keekorok lodge for a two-night stay.
Day Seven – Game drives in the Maasai Mara
Spend the day exploring the reserve, setting off on morning and/or afternoon game drives in the Mara's vast grasslands. We'll also pay a visit to a Maasai village for the chance to meet locals and perhaps buy handmade souvenirs. This evening, spend a final night in the bush as you enjoy dinner and share memories of the trip with your fellow travellers.
Day Eight – Travel back to Nairobi
After breakfast, we'll travel back to Nairobi. Upon arrival, enjoy lunch at the famous Carnivore restaurant (vegetarian options are available), then pay a visit to the African Fund for Endangered Wildlife's Giraffe Centre, which houses protected Rothschild giraffes. Your final night will be spent at the sumptuous, five-star Fairmont Norfolk Hotel in Nairobi, where you'll be treated to some last-minute luxury at the end of your safari adventure.
Day Nine – Travel to North Mombasa
After an early breakfast, you'll say goodbye to those of your new friends who are heading home, and then relax as we transfer you south east to the Kenyan coast and the beachfront Voyager Resort Hotel – your base for the next four nights.
Days Ten – Twelve – Relax by the beach
Complete your Kenyan adventure with a relaxing, all-inclusive stay right on the edge of the Indian Ocean. Your resort hotel boasts an infinity pool overlooking the blue waters of the ocean, comfortable rooms, three restaurants and bars, and a programme of optional activities (especially on the water) for you to book if you choose.
Day Thirteen – Travel back to the UK
After an early breakfast, you'll return to Jomo Kenyatta International Airport and check in for you flight home, via Nairobi arriving back in the UK late the same afternoon.
---
Kenya Grand Safari – Stay at Treetops with Mombasa Beach Extension
FROM
£3681.00
Departing From
Aberdeen
Edinburgh
Glasgow
Other UK airports also available
Departure dates
12th July 2022
4th October 2022
11th October 2022
1st November 2022
15th November 2022
10th January 2023
7th March 2023
2nd May 2023
9th May 2023
30th May 2023
6th June 2023
13th June 2023
12th September 2023
26th September 2023
3rd October 2023
10th October 2023
7th November 2023
14th November 2023