Lake Bled & Beautiful Slovenia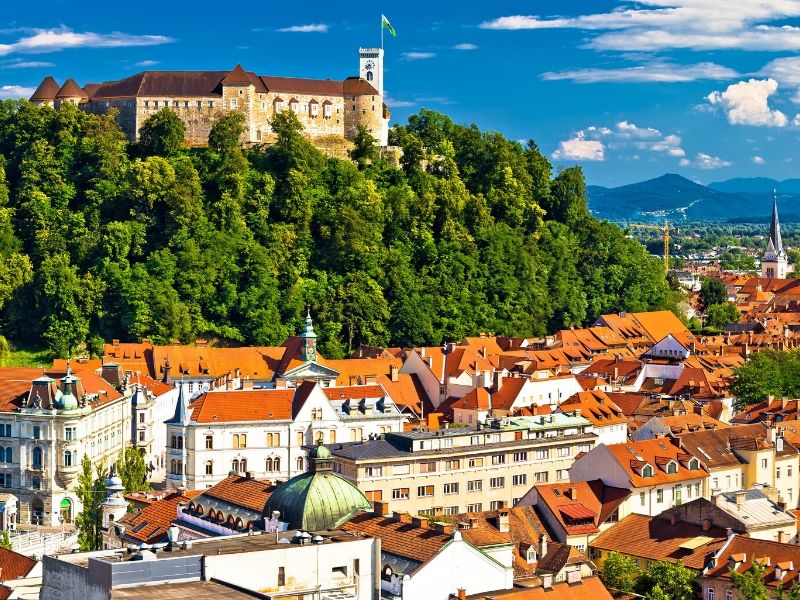 Available
Until October 2022

Some of Europe's most picture-postcard-perfect lakes and mountains scenery and one of its most attractive cities, discovered and explored.
Based close to the shores of one of Europe's most beautiful and most celebrated lakes, this great value break, in addition to a guided introduction to Bled, includes a visit to laid-back, riverside Ljubljana, one of Europe's most delightful capitals, and a day amongst the rolling, verdant hills of the beautiful limestone Karst region, with its caves and cliff-side castle. There's also a chance to join a fascinating optional excursion to celebrated alpine retreat Kranjska Gora and the beautiful Triglav National Park.
What You'll Love
Five nights' carefully chosen dinner, bed and breakfast accommodation at the four-star Hotel Kompas, Lake Bled
Return flights to Ljubljana or Venice
Coach travel and transfers throughout
Fully escorted by a friendly, experienced tour manager
A tour of Bled town and boat ride to Bled island
A full day in Ljubljana
Entrances to Postojna caves and Predjama Castle
Single supplements apply. Offer subject to availability.
Itinerary
Day One – Journey to Lake Bled
The holiday begins with the flight into Venice or Ljubljana, where you'll meet your tour manager and board the coach for the scenic transfer on to beautiful Lake Bled and your hotel. Dependent upon your arrival time, enjoy a first evening in this super resort town, perhaps taking a stroll along the lakeshore. Set at the foot of the Julian Alps, Lake Bled, surrounded by forested slopes and with its idyllic offshore island crowned by an exquisite Baroque church, is a treasure waiting to be discovered and explored. Enjoy a first dinner at the hotel, in its splendid setting.
Day Two – Included introduction to the lake
An included guided tour this morning introduces Slovenia's most celebrated – and one of Europe's most idyllic – destinations. Ringed by forested hills and looking out across the usually still waters to an off-shore island crowned by its Gothic church, Bled is a wonderfully appointed resort town surrounded by the delights of nature, and offering a wealth of attractions for the visitors it draws from all over the world. Take in the view from the lakeshore, before an included boat ride across to the charming island with its Baroque church. Ring the wishing bell for good luck and enjoy views back across the lake from the bell tower.
Day Three – Baroque gem Ljubljana
Today's included tour is to the beautiful Slovene capital, a Baroque gem that was named 'Green Capital of Europe' in 2016. Straddling the River Ljubljanica, with its shady, willow-lined riverside walkways and its stunning, elegant Triple Bridge, Ljubljana boasts an enchanting Old Town watched over by the majestic castle, from the observation tower of which – a 150-step climb up – there are panoramic views over the city and the Julian Alps beyond. A compact, delightful, walkabout university seat, the city boasts a wonderful covered market selling craft-ware and local produce, a beautiful, twin-towered cathedral and a wide selection of museums and galleries to suit most interests. Above all, the city is a place in which to rest and relax, joining the laid-back inhabitants in watching the Slovenian world go by. After a delightful day, you'll return to the hotel in time for dinner.
Day Four – Postojna Caves and Predjama Castle 
Join today's final included excursion, crossing the rolling, fertile plains of the Karst region, which has lent its name to anywhere in the world where underground streams and caves are found. Visit one of the world's most famous caves, the giant chasm at Postojna, travelling by train some two miles underground, then walking with a personal 'audio-guide' through a wonderfully illuminated nether world of stalactites and stalagmites, where the strange 'human fish' – a tiny amphibian – lives out its sightless life. After a fascinating visit you'll journey on to historic Predjama Castle, magically built into a sheer cliff face, and with its upper floor stairwells carved from the bedrock. You'll return to enjoy another evening in Bled.
Day Five – At leisure or optional excursion to Triglav National Park and Kranjska Gora
Spend the day enjoying the delights of Bled, whether resting and relaxing, visiting the historic castle overlooking the lake or hiring a bicycle. An optional excursion heads into beautiful Triglav National Park and to the colourful resort town of Kranjska Gora, one of Slovenia's favourite watering holes. Perhaps take a cable car to the heights above for views of the surrounding Alps, and the still waters of the park below. However you spend your day, enjoy a last evening in Bled's delightful surroundings.
Day Six – Fly back to the UK
Bid farewell to Lake Bled and the hotel, and transfer back to the airport for the return flight, at the end of a marvellous few days.
---
Lake Bled & Beautiful Slovenia
FROM
£972.00
Departing From
Bristol
London Gatwick
London Heathrow
London Luton
Manchester