Lake Garda, Venice and Verona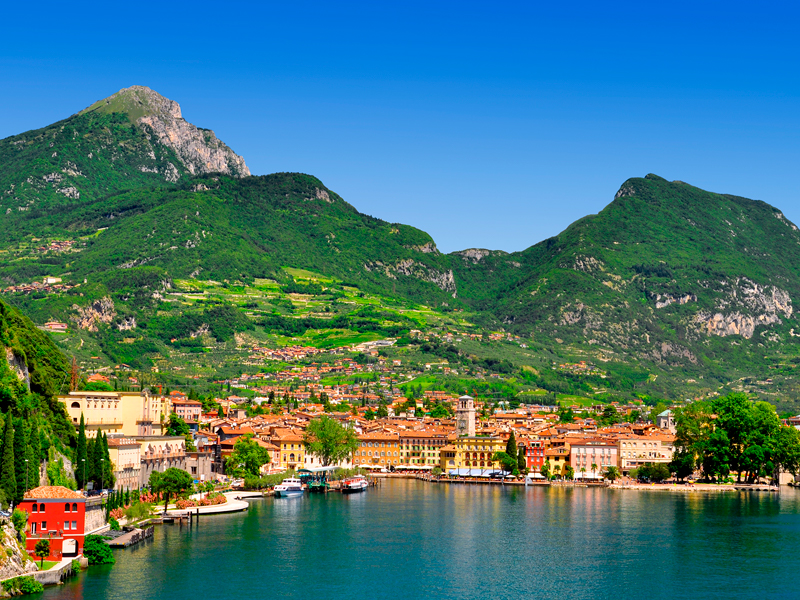 Visit Lake Garda and immerse yourself in an Italian holiday full of relaxation, beauty and culture amid a stunning natural backdrop.
While Lake Garda is renowned for its magnificent landscape it also has a rich culture and intriguing past. History enthusiasts will enjoy exploring the quaint medieval villages that dot the lake and there are many attractions of both historical and cultural significance to visit in the region.
On this fantastic 7-night Italy tour, we'll have plenty of time to soak up the relaxing, tranquil atmosphere of Lake Garda, experiencing the quaint towns of Riva del Garda, Limone and Malcesine.
We will also enjoy full day excursions to explore the enchanting warren of canals and squares that make up the city of Venice and the charming UNESCO World Heritage Site of Verona.
What You'll Love
Explore Lake Garda on this 7-night Italy tour.
Stay in the beautiful lakeside town of Riva del Garda, Limone or Torbole (3 or 4* Half Board).
Enjoy incredible scenery on a half day boat tour of the lake or a full day trip to the medieval city of Bolzano.
Uncover ancient canals & beautiful architecture on a guided day trip to Venice.
Visit the real-life setting of Shakespeare's Romeo & Juliet on an excursion to the medieval city of Verona.
Relax with plenty of free time to swim, shop or explore the charming towns around Lake Garda.
Return flights & transfers
Subject to availability. Single supplements apply. To check latest availability, call 0131 608 1238 quoting "DC Thomson Travel"
2022 Stays in the Grand Hotel Liberty will be on a Bed & Breakfast basis. Optional upgrade to half board available (March to June) subject to availability.
Itinerary
Day 1 – Travel to Italy
Upon arrival in Italy, you will be met in the arrivals area of the airport by our local representative who will accompany you to your hotel. As you travel to your hotel, your guide will share some information about the local region, suggest activities for you to enjoy and answer any questions you may have
Day 2 – Boat Trip Around Lake Garda
After breakfast, join your guide for a short walking tour of Riva. Following this, you'll board a private boat for a unique sightseeing tour. Your first stop will be at Limone, a small village backed by lemon groves, with waterside cafes and cobbled streets lined with shops. Afterwards, with fantastic panoramas and a spectacular mountain backdrop, travel onwards for a visit to picturesque Malcesine, famed for its medieval Scaligero Castle.
The boat will then return to Riva del Garda, but if you wish to stay on, you may return by public bus or boat later in the afternoon (this will be at your own expense). If remaining in Malcesine, we recommend a trip in the cable car which will take you 1,800 metres above sea level, with spectacular views. Please note that this schedule refers to summer season only, and is weather-dependent. During winter months, there will be an excursion to Bolzano, in the scenic southern Tyrol.
For holidays based in Limone, a coach transfer has been arranged from your hotel to Riva del Garda, where there will be a short walking tour and some free time before beginning your boat tour.
Day 3 – At Leisure or Optional Excursion
Today, you will have a full day to relax and enjoy Lake Garda's charms. Shop, sightsee at your own pace or sit by the lake and take in the incredible views. You can take a water taxi across the lake to explore at your leisure and your local guide will be happy to suggest activities to suit your interests and advise which highlights are a must see.
Your local guide will offer an optional excursion to the Italian Alps with a traditional lunch included. See optional excursions list below for further information.
Day 4 – Venice
On today's full day excursion you will explore the enchanting warren of canals, alleys and squares that make up the fascinating city of Venice. Known as 'La Serenissima' or The most Serene,Venice is a prized jewel in Italy's glorious crown. Witness its famous landmarks such as St. Mark's Square, the stunning Gothic building of Ca' d'Oro, and the imposing Palazzo Ducale. Admire 16th and 17th century art in the Galleria Franchetti and take a photograph on the Ponte di Rialto. You'll have free time to admire the piazzas, bridges and ornate dwellings that adorn the quaysides of Venice's extensive network of canals, before returning to your hotel in Lake Garda.
Please note that for holidays departing in July and August, this excursion will depart your hotel in the late morning, stopping for a light lunch (included) en route, before travelling onwards to Venice in the afternoon and returning to Lake Garda in the evening.
Day 5 – At Leisure
Today, you will have the day at leisure. In the heart of Riva del Garda is the Piazza III Novembre, surrounded by 14th century porticos and the Apponale Tower, a former defence tower and World War I prison. This square is a beautiful place to explore during your free time. Don't forget to check with your local guide who will be delighted to suggest further activities to suit your interests.
Day 6 – Verona
Following breakfast, you will depart by coach for Verona, via the east side of the lake or the motorway. Either way, the journey time is generally about 60 minutes. Verona is very popular among tourists as well as being a significant commercial hub, given its position half way between Venice and Milan. It is a UNESCO World Heritage Site due to the importance of its historical buildings and is probably best known today for the Roman amphitheatre, now home to the world famous Verona Opera festival, which runs from late June to early September. Also of interest is Juliet's balcony – the fact that the balcony was added to the house in the 20th century doesn't deter the hundreds of thousands of visitors that flock to see and photograph it every year.
Day 7 – At Leisure
Spend your last day enjoying the beautiful lakeside setting, shopping for last minute souvenirs or enjoying a coffee, gelato or glass of wine at a local cafe.
Day 8 – Return Home
You will be transferred to the airport with guide assistance for your flight home.
---
Lake Garda, Venice and Verona
FROM
£1018.00
Departure dates
28th June 2022
6th July 2022
17th August 2022
13th September 2022
28th September 2022
4th October 2022