Lake Maggiore, Orta & the Matterhorn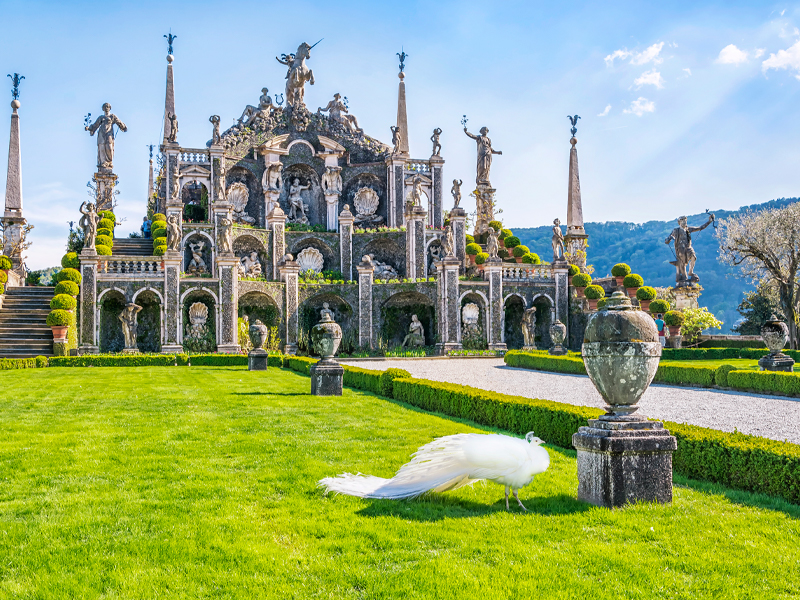 Available
Until September 2022
Discover Lake Maggiore – this wonderful combination of truly awesome Swiss mountain scenery and the tranquillity of the crystal clear Italian Lakes in a montage of splendour, cries out to be explored.
Lake Maggiore itself straddles both Italy and Switzerland, and we stay in Stresa, a very stylish typical Italian town and once a favourite haunt of Hemingway, Chaplin and many others. We explore not only Lake Maggiore, but the equally beautiful Lake Como as well, plus the hidden gem that is Lake Orta, probably one of the most entrancing places you will ever visit.
With the arc of the majestic Alps stretching out along the horizon you will enjoy probably the finest mountain scenery in the world during your visits to Switzerland, chic Locarno and dramatic Zermatt, nestling famously at the foot of the mighty Matterhorn, the world's most charismatic peak. Then there are the delightful lost valleys, tumbling glacier streams and classic chalet scenes all blended together to offer a truly inspirational tour.
What You'll Love
Enjoy peace of mind with Flexible Booking*
Happy by day two or we'll bring you home with a full refund
Return flights & transfers
Seven nights in a choice of conveniently located four-star to four-star superior accommodation including all local taxes, with breakfast and dinner
Cruise to the enchanting islands visiting Isola Pescatori and Isola Bella, with a guided tour of its 17th century baroque villa with entrance fees included
Full day tour travelling through the Simplon Pass to Zermatt in the Swiss Alps seeing the Matterhorn, probably the world's most instantly recognisable peak
Full day tour to shimmering Lake Como, described by Wordsworth as 'a treasure the world keeps to itself'
Full day tour visiting Cannobio and Locarno with a journey on the famous Centovalli railway
Visit to one of Italy's most romantic lakes, charming Lake Orta and the delightful 14th century medieval village Orta San Giulio
Option to join a complimentary guided walk
Services of an expert tour manager
Subject to availability. Single supplements apply.
*Full terms and conditions can be viewed here. 
Itinerary
Day 1 – Arrival in Stresa
You should arrive at the airport to take your flight from your selected airport, and on arrival you transfer to the delightful town of Stresa on the peaceful shores of charming Lake Maggiore
Day 2 – Lake Maggiore & Borromean Islands 
Unmistakably Mediterranean in character, Maggiore's shores are lined with oleanders, palms and deeply aromatic verbena with the still waters reflecting the azure blue sky above.
Just offshore is one of the real gems of northern Italy, the stunning Borromean Islands, once owned by a Milanese Count who, in the 17th century, created the most amazing 'belle époque' villa here of which we have a guided tour this morning. Isola Bella, as it is called, is a stunning achievement, with its staterooms crammed with fine furniture, sculpture and art with intricate parquet flooring and elegant pastel-coloured plasterwork and frescoes adorning the high ceilings, it's simply stunning. Even more impressive though, are the astonishing grounds, featuring ten interlocking terraces imaginatively planted with orange and lemon trees, plus magnolias and a host of other fragrant and colourful shrubs and plants. Marble statues and unique, white peacocks add the final touches to this dramatic display. Previous distinguished visitors include Queen Caroline of England, wife of George IV, plus Napoleon and Josephine.
In complete contrast, the narrow cobbled streets, picturesque harbour and charming buildings of the fascinating Isola dei Pescatori, the second island we visit, reflect its 10th century origins and centuries old fishing tradition after which it is named. This is the perfect place for a relaxing lunch in one of the excellent lakeside restaurants – many with enchanting secluded terraces – before we cruise back to Stresa during the afternoon.
Day 3 – Centovalli Railway 
Long and relatively narrow, Lake Maggiore beautifully straddles the Swiss-Italian border and this morning you enjoy a totally different view of the lake as we take a private boat to Cannobio, where you will have some free time before joining the coach to continue into Switzerland, to the chic resort of Locarno, nestling below the towering peaks of the Alps. During our journey you will see ever-grander snow-capped mountains, their colours gently changing from pinks to greens and blues, as the sun, arcing across the sky, casts its ever-changing shadows.
You snatch tantalising glimpses of lakeside life with the locals going about their daily lives, whilst birds of prey soar on the numerous thermals and colourful wildfowl rise and fall as the boat's wake radiates from the stern. Locarno is staunchly Swiss, but the twisting lanes and alleys of the historic centre bear more resemblance to Tuscany than Zurich, lending it a real charm enhanced by a fascinating history encapsulated in the mighty castle dominating from above. After some free time we board the narrow gauge Centovalli train for a spectacularly scenic ride as it winds its way through wild, romantic landscapes, pure mountain cascades, vines, chestnut woods and villages clinging to the mountainsides. Named after the so called 'hundred valleys' through which it passes, the train features specially designed panoramic carriages so you can sit back, enjoying the scenery in all its glory as it winds its seemingly impossible way around the valley sides. From Domodossola we return by coach to Stresa.
Day 4 – Lake Como
This morning we explore another of Northern Italy's most famous lakes and one of its most attractive too. Described by Wordsworth as 'a treasure the earth keeps to itself', a favourite of Shelley, Lake Como has attracted visitors for centuries in search of relaxation, culture and inspiration. The famous ancient Roman, Pliny wrote of its luxuriant beauty and it has inspired some of the best works of greats such as Verdi and Rossini to name but two.
You will be free to explore Como as you wish. Renowned for its lakeside parks, grand hotels and the Villa Olmo, Como town has been home to many eminent Europeans including Napoleon, Archduke Ferdinand and Garibaldi, the 'father of modern Italy.
Day 5 – Free Day
Today you can choose to relax in the hotel, perhaps take a swim in the pool or explore Stresa's many delights. The lakeside exudes an ambience of classic 'belle époque' gentility, owing its origin to the days of the 'Grand Tour' when Europe's 19th century aristocracy, having crossed the border from Switzerland, experienced their first taste of Italy. Literary aficionados may like to take a drink at the bar of the Grand Hotel featured in Hemingway's 'A Farewell to Arms', and frequented by the likes of George Bernard Shaw and Charlie Chaplin.
Complimentary Guided Walk
An increasing number of you want to stretch your legs whilst away so you may want to join a complimentary walk today. It's not arduous, it's best to have light walking shoes or good 'trainers' though.
Firstly we take the 8 minute local train to the tiny hamlet of Verbania Pallanza with our final destination being Lake Mergozzo wonderfully nestling on one of Italy's most gorgeous yet Lake Mergozzo. We follow a delightful track through an unspoilt oak forest teeming with wildlife with our naturalist guide describing the flora and fauna we encounter. It's always fascinating getting so far off the beaten track and after time for a coffee in tiny village of Mergozzo, Lake Mergozzo,we return to Stresa by train. It's a superb leisurely trip but places are strictly limited so please advise at time of booking if you wish to participate.
Please note that walks take place on a free day of the tour itinerary and are subject to weather conditions. Only available May – Sept.
Day 6 – Zermatt & the Matterhorn 
Today the views will take your breath away. We firstly climb the foothills of the Alps then cross the Swiss frontier and head into the high Alps themselves. We take the Simplon Pass, once used by the Romans to control their northern provinces with the first actual road constructed by Napoleon. Continuing, the scenery becomes ever more spectacular, with lush, wild flower-covered meadows studded with tiny shepherds' shelters sweeping through the dense forests, crowned by snow-capped mountains glistening in the sun. You could be lucky and catch a glimpse of the elusive ibex, chamois or even a golden eagle soaring high above. Marvelling at the engineering feats, the road traverses towering viaducts and jaw dropping precipices, we pass countless torrential mountain streams tumbling waterfalls before arriving at the legendary village of Zermatt, nestling at the foot of the mighty, instantly recognisable Matterhorn. Zermatt is iconically Swiss, a car-free jumble of chalets and ancient wooden farm huts strewn along the valley floor, towards pastures alive with the sound of cowbells and dramatic cable cars and soaring footpaths weave ever upwards to the majestic amphitheatre of the surrounding lofty summits.
The ultimate alpine peak, the Matterhorn is strangely shy until you reach the end of the village, turn a corner, and the Swiss national symbol is revealed in its unrivalled glory – truly, one of life's 'wow' moments! For an even better view take the cog railway to reach 3000 metres and the absolutely awe-inspiring mountain wonderland of glaciers and summits. Alternatively you can relax in one of the many delightful cafés or take a gentle ride in a horse drawn carriage as you wish.
Day 7 – Lake Orta
Our final day, and we experience one of the real highlights of the entire holiday. Orta is probably the prettiest of the Italian lakes, yet surprisingly one of the least known. What Orta does have is an exceptional dose of charm!
Surrounded on three sides by the deep blue water, the delightful lakeside village of Orta San Giulio is a haven from mass tourism and the only 'must see' sight is the village itself. The pebble studded lanes and stepped alleys, lined with a myriad of traditional food shops selling the gorgeous fresh produce for which Italy is so justifiably respected, lead down to the lakeshore and romantic main square.
Buildings with exposed 14th century half-timbers and shuttered windows wear the pastel ochre, magenta and pale blues so typically Italian, in a kaleidoscope of colour. Linger a while, watch the locals going about their daily lives chatting with acquaintances as they go. You cannot fail to be captivated by its perfectly medieval charms. San Giulio's basilica on the island is incredible; the inside entirely covered with spellbindingly preserved 14th century biblical frescoes and in places you can even see the earlier 12th century works underneath.
Before we return to our hotel we visit the monumental statue of San Carlo Borromeo, Archbishop of Milan and the only cardinal ever to refuse the offer of the papacy. This enormous 17th century bronze statue stands 114 feet high, was for centuries the tallest statue in the world and crowns a hill commanding wonderful views across Lake Maggiore and the surrounding countryside.
Day 8 – Return Flight
Today you are transferred to the airport, at the appropriate time, for your return flight home after a memorable and relaxing tour.
---
Lake Maggiore, Orta & the Matterhorn
FROM
£1329.00
Departing From
Edinburgh
Other UK airports also available
Departure dates
5th July 2022
2nd August 2022
6th September 2022
20th September 2022