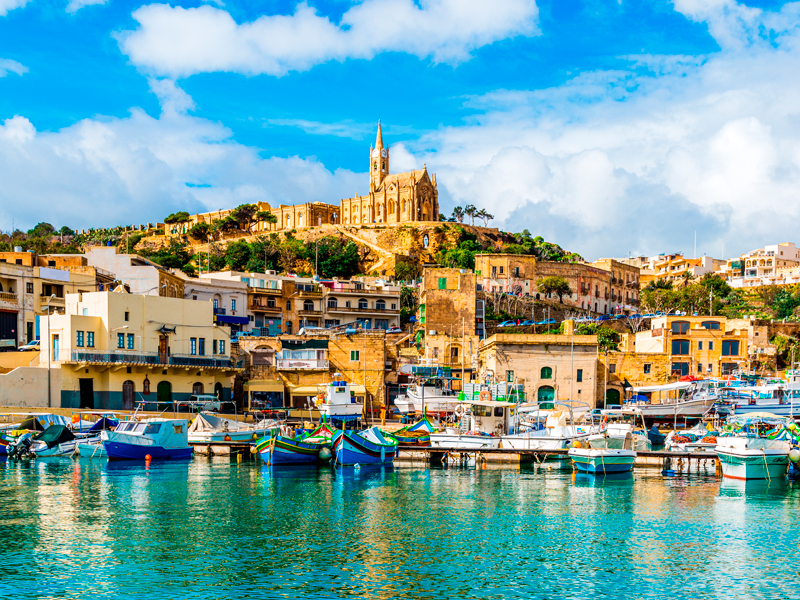 Discover Malta's magical blend of culture, cuisine, language and landscape on this 7-night holiday.
With its stunning coastline and sunny climate, it's no wonder Malta is a favourite destination for holidaymakers. But beyond beautiful beaches, Malta's colourful history and influences from its Mediterranean neighbours have resulted in a treasure trove of historic sites.
We'll explore all of these and more with excursions to the fascinating capital Valletta, medieval Mdina, the Three Cities and the nearby island of Gozo.
On guided day trips, we'll marvel at the beautiful 'Inland Sea' at Dwejra, the Citadel in Victoria and the prehistoric Ggantija Temples.
You'll also have plenty of free time to relax beside the crystal blue waters, sample local delicacies or discover more of what interests you with recommendations from your guide.
What You'll Love
Discover the stunning coastline & clear blue water of the Island of Malta on this guided group holiday
Stay 7 nights in the seaside village of Mellieha, Ghadira Bay or St. Paul's Bay (4* B&B)
Experience the island's ancient capital on a full day tour of the medieval city of Mdina
Enjoy a scenic boat ride through the historical harbours of the 3 cities: Vittoriosa, Senglea & Cospicua
Explore the island of Gozo on a full day trip including a visit to the famous 'inland sea' at Dwejra
Unwind with plenty of free time to relax at the beach or explore on your own with tips from your expert guide
Return flights and transfers
Subject to availability. Single supplements apply.
To view available dates and prices for this holiday CLICK HERE
Or call 0131 608 1238 quoting "DC Thomson Travel"
Itinerary
Day 1 – Travel to Malta
Arrive in Malta and transfer to hotel
On arrival in Malta, we meet with our local guide before transferring to our hotel (in Mellieha or St Paul's Bay, depending on the chosen date of travel.)
Breakfast is included for each day of stay in Malta, it may be possible to upgrade to half board at a supplement.
Day 2 – At Leisure
Free Time in Malta
We have a full free day to explore our surroundings and relax at our hotel. Our local representative will be pleased to offer recommendations for sightseeing, shopping, and entertainment options in the area.
Day 3 – Valletta
Guided excursion of Valletta and Sliema
We set off with our expert local guide to discover some of the highlights of Malta's vibrant capital city, Valletta. Our half day guided tour begins at the Upper Barracca Gardens, where we experience our first breath-taking view of the Grand Harbour. Next, we visit St John's Co-Cathedral and uncover incomparable treasures, including its beautiful marble inlaid floor, Flemish tapestries and, not least, the Caravaggio masterpieces which can be viewed in the Oratory.
Our guided tour continues as we walk past the famous Grand Masters' Palace and St. George's Square, before stopping at the Malta Experience where we enjoy the audiovisual show that depicts Malta throughout the ages.
Enjoy free time for lunch (not included).
After lunch there will be free time in the bustling seaside town of Sliema, to explore its seafront promenade, cafes and shops, before transferring back to our hotel in the afternoon.
Our evening is at leisure, to relax and take in the Mediterranean atmosphere.
Day 4 – Gozo
Guided excursion to Gozo & Ggantija Temples
Today, let's see more, on a full day guided tour to the island of Gozo. After a short ferry crossing, we fall in love with Mgarr harbour as we take some photos of the colourful boats resting on its blue waters. We continue to the Megalithic temples of Ggantija, the oldest free-standing monuments in the world. Next, we uncover Gozo's medieval capital Victoria, followed by the fjord-like bay at Xlendi and the inland sea at Dwejra.
We enjoy lunch (included) at a local restaurant, followed by free time to shop for local crafts, including handmade lace and knitted garments, or sit at a pavement café and soak up Gozo's serene atmosphere.
Later in the afternoon we transfer back to our hotel, where the rest of our evening is at leisure.
Day 5 – At Leisure
Time at Leisure
Today we can indulge in a lazy day and a stroll by the sea, or perhaps consider some additional sightseeing, which can be arranged through our local representative.
Day 6 – Mdina
Guided Tour of Mdina
Today we set off for a full day excursion to the fortified city of Mdina, in the central part of Malta. Known as the Silent City, due to its massive medieval walls and shady streets, it is rich in architecture and atmosphere. Leaving Mdina through the Greek's Gate, we stop at the Christian catacombs of St Paul in Rabat where we explore this archaeological site with its extensive system of underground galleries and tombs. We then continue to the cliffs at Dingli where we enjoy panoramic views, before stopping for lunch.
Lunch is included today at a local restaurant.
After lunch, we set off to visit the San Anton botanical gardens and take the opportunity to view the exterior of the Presidential Palace. We take some time to experience the crafts centre at Ta'Quail. Afterwards, we take in the beauty of Mosta, home to one of Europe's largest and most impressive domes.
After a fascinating day of sightseeing, we transfer back to our hotel for a restful evening.
Day 7 – The Three Cities
Guided half day tour of Vittoriosa, Cospicua and Senglea
Let's see more of Malta, as we set off for the Grand Harbour area where we'll get our first glance at Vittoriosa, Cospicua and Senglea, known as the Three Cities.
Comfortable walking shoes are recommended for our walking tour of Vittoriosa. Our expert guide will take us through the narrow, perfectly preserved streets, along the Fort St Angelo and out to the Vittoriosa waterfront.
We experience a traditional harbour boat cruise on a "Dghajsa". With cameras ready, we can create everlasting memories from wonderful sights as we cruise past the colourful harbour creeks.
After our boat tour, we visit Senglea Garden, situated at the tip of the peninsula. From this point we enjoy picturesque views of the Grand Harbour, an unmissable experience.
At Leisure
For the rest of the afternoon, we are free to explore independently or do a spot of shopping.
Let's enjoy a final evening in the company of new friends, and reflect on our memorable holiday in Malta and Gozo.
Day 8 – Return Home
Depart Malta
Today, we bid a fond farewell to Malta as we transfer to the airport for our homeward flight.
---
Malta & Gozo
FROM
£819.00
Departure dates
6th September 2022
4th October 2022
8th November 2022
22nd February 2023
18th April 2023
16th May 2023
6th June 2023
5th September 2023
3rd October 2023