Medieval Germany River Cruise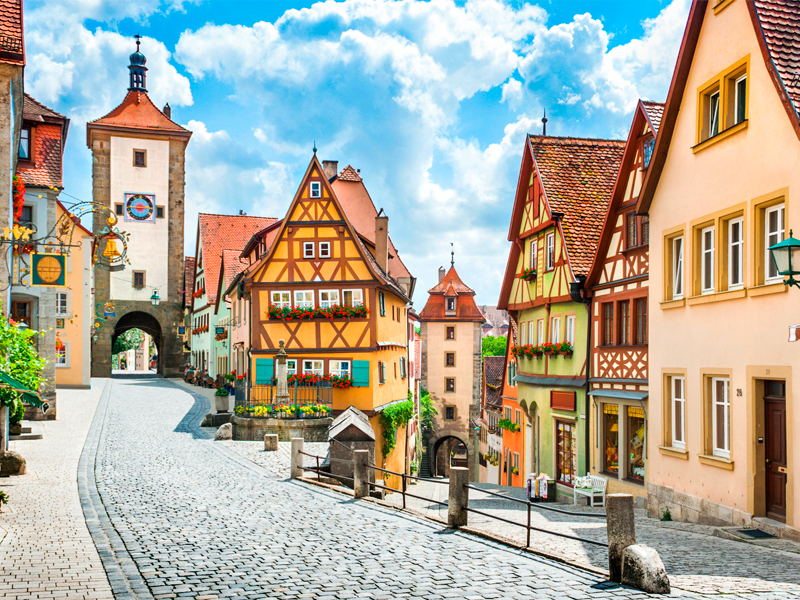 Available
Until September 2023
Explore Medieval Germany in its purest form, cruise the gentle meanders of the Main and mighty Danube discovering the aptly named Romantic Road, the twisting streets of medieval Bamberg, enchanting Rothenburg and fascinating Nuremberg.
Following embarkation in Mainz we enjoy a leisurely start with time to explore this pretty town, with its stunning Romanesque cathedral and timber-clad buildings, at the very scenic heart of the country's famous winelands. Our cruise along the Main, with its characteristic meandering bends, takes us firstly to idyllic Miltenberg, a fantastically well-preserved medieval village set against a spectacular backdrop of lush green forests and rolling hillsides.
Then it's on to delightful Wertheim, off the well-trodden tourist trail, its ancient castle standing proud over the neat, pretty houses and colourful market square below. Further delights are uncovered as we arrive in Wurzburg, the most elegant of Bavarian cities, crowned by the stunning Baroque palace, a relic of a bygone age. Take the Romantic Road to Rothenburg on our optional tour for spectacular views of the river below as it winds its way through this fairy-tale land. The beauty of Bamberg never fails to enchant as our cruise arrives in undoubtedly one of the most beautiful and historic towns in Europe.
Sitting atop lush green hills, the spires of the stunning cathedral stretch to the sky above, whilst below the winding streets and quaint squares are a delight to explore. More picture perfect views as we awake in historic Nuremberg, synonymous with the Second World War, but today an intriguing and stunning city once again with its ornate Gothic church and bustling market, a fitting finale to our magical cruise along one of Europe's most spectacular waterways.
What You'll Love
Enjoy peace of mind with Flexible Booking*
Happy by day two or we'll bring you home with a full refund
Seven nights on board in your choice of luxury cabin or suite, with river views
Return scheduled flights from 6 regional airports
Seven guided tours, including Bamberg, Würzburg, Nuremberg, Ochsenfurt, Miltenburg, Wertheim, and Mainz
All meals on board from dinner on your day of arrival through to breakfast on your day of departure, including a welcome dinner and the Captain's Dinner
Five-star service from an English-speaking crew and knowledgeable local guides
Complimentary on-board tea and coffee
Complimentary on-board Wi-Fi
Subject to availability. Single supplements apply.
*Full terms and conditions can be viewed on the Riviera Travel website here. 
Itinerary
Day 1 – Arrival in Mainz
Arrive at the airport for your flight to Frankfurt, where a comfortable coach awaits to take you to your five-star cruise ship in Mainz. The dedicated English-speaking crew is ready to welcome you, and there's an air of anticipation and excitement as you and your like-minded fellow cruisers acquaint yourselves with the luxury surroundings of the ship that will be your home for the next seven days. You'll soon be settled into your exceptionally well-equipped, spacious cabin and looking forward to a first-night dinner to start off your cruise in style.
Day 2 – Mainz
Whether you decide to take breakfast in bed or set yourself up for the day at the plentiful buffet, afterwards you can enjoy a morning exploring bustling Mainz on our guided tour. Dominating its skyline is the colossal six-towered 12th-century cathedral – Martinsdom – a pinnacle of German Romanesque architecture that houses a spectacular nave, many elaborate tombs and a peaceful colonnaded cloister. Also unmissable is Saint Stephen's Church, which features nine breathtaking stained glass windows, created by the artist Marc Chagall, that bathe the interior in magical blue light. Book-lovers will appreciate the Gutenberg Museum, located in a gorgeous 17th-century building in Mainz's Old Town, whose star attractions are two 1455 Gutenberg Bibles, among the first books ever printed.
Of course, Mainz is also at the heart of Germany's winelands, so it's a pleasure to seek out a traditional wine tavern in the pastel-painted, timber-crisscrossed buildings of the old town to sample a glass. If you prefer beer, the vaulted chambers of the Eisgrub-Bräu beer hall are a fine place for a mug of the local dark brew. Back on board your floating boutique hotel in the afternoon, find a relaxing seat in the lounge to take in the lovely views of lush woodland and fertile vineyards seamlessly idling by. As evening approaches, why not enjoy an apéritif in the bar before choosing a table in the restaurant to enjoy the chef's masterful creations for dinner?
Day 3 – Miltenberg & Wertheim
Today we're moored in Miltenberg, a beautifully preserved medieval village whose labyrinth of winding alleys and lanes begs exploration. And so, this morning we do exactly that, as our local guide shows us the highlights of this charming destination. Admire the impressive gatehouse which stands like a proud guardian of the village, and wander across the charming marketplace, lined by traditional fachwerk buildings instantly recognisable by their grids of timber framing.
The story goes that locals were allowed free wood from the surrounding forests, hence the abundance of this architectural style. Highlights of this beautiful square include the trickling fountain, ornately carved from stone and complete with dancing cherubs, and the intricately detailed Gasthaus Zum Riesen, which claims to be Germany's oldest tavern. In the afternoon we pass under Miltenberg's red-brick bridge and continue to Wertheim, navigating the gentle meandering bends typical of the Main River. Relax and take in the scenery while sipping your choice of tea or coffee or maybe something a little more fortifying from the bar.
Wertheim is completely off the main tourist trail, making it a delightful surprise, all the better for its untouched ambience. We pass the fishing boats riding at anchor while admiring the muted colours of the sage-green, pale lilac and buttercup-yellow houses opposite. This afternoon, enjoy a carefully planned walking tour around this wonderfully intriguing town. A russet-walled 12th-century castle overlooks the old town, surveying the church spires, turrets and patchwork of multicoloured buildings below. There's time to explore here and, as you wander the quaint and colourful market square, look out for the blink-and-miss-it Zobelhaus, a contender for the narrowest house in Germany. This evening you'll be served another delectable dinner, and overnight we cruise to Würzburg.
Day 4 – Würzburg
One of the delights of river cruising is indulging in complete relaxation, so this morning perhaps catch up on some reading or simply watch the world float by. This afternoon we arrive at elegant Würzburg, which contrasts with the quaint towns and villages you've encountered so far. We have a guided tour of this Bavarian city sitting resplendent on the banks of the Main, founded in the 10th century as the centre of the kingdom known as Franconia. The impressive Marienberg Fortress overlooks the neat blocks of grand pastel-coloured buildings punctuated by the spires and domes of the city's many churches. The jewel in Würzburg's illustrious crown is the Residenz, a magnificent Baroque palace that whisks you back to a more romantic age. Originally conceived to rival the Palace of Versailles in scale, it is now a UNESCO World Heritage Site, and features one of Germany's most spectacularly ornate staircases and dozens of interconnecting rooms adorned with gorgeous frescoes, priceless tapestries, sculptures and paintings. There's ample time to explore here as you wish before returning to the ship, enjoying another evening of exceptional cuisine and a drink in the bar as the pianist works his magic at the keyboard.
Day 5 – Rothenburg & Ochsenfurt
After breakfast we take a drive along the Romantic Road – the perfectly named route made up of a spellbinding procession of folkloric scenery, medieval towns, lofty castles and grand palaces, so picture-perfect they could all serve as film sets. We arrive at gorgeous Rothenburg, crowning a hill with glorious views over the meandering river below. The old town is cradled within immaculately preserved walls, and there's time to explore its narrow, cobbled streets lined with tall gabled half-timbered houses.
A short drive takes us to Ochsenfurt, nestled on the banks of the Main where our ship and another superb lunch await. This afternoon we explore this picturesque little town on a guided tour, with its romantic, half-timbered houses and ancient ramparts. Wander the old town, stopping to admire the façade of the town hall with its impressive mechanical clock and a lovely 13th-century church with its strikingly colourful interior before returning to the ship.
Day 6 – Bamberg
Another day dawns and this morning is free to enjoy the ship's five-star facilities while admiring the magnificent undulating landscape. The foredeck features exquisite outdoor furnishing and there's nothing quite as refreshing as the gentle breeze as we progress along the serene waters of the Main. Alternatively, why not find a quiet alfresco seat at the Lido Lounge at the stern of the ship and admire one enchanting vista after another?
We moor this afternoon in Bamberg, undoubtedly one of the prettiest small towns in the whole of Europe and so precious that UNESCO declared it a World Heritage Site. Planned by Emperor Heinrich II in the 11th century as a Franconian capital, it sits on seven lush green hills, a similar setting to the city whose grandeur it was meant to equal – Rome! You'll discover its history and many architectural highlights on our informative tour led by a local guide, which takes in the exquisite Old Town and impressive multi-spired cathedral. Perhaps the most noticeable and intriguing landmark is Bamberg's Old Town Hall, which sits on an island in the middle of the burbling river, flanked by bridges either side. From here you can also see 'Little Venice' – a delightful cluster of former fishermen's houses built along the waterfront, mostly dating from the Middle Ages. Leaving Bamberg, we join the Main–Danube canal, a superb feat of engineering guiding us to our next fascinating stop, Nuremberg.
Day 7 – Nuremberg
Of course, this Bavarian city is intriguing for its association with the Second World War, as the site of many pre-war Nazi rallies and, later, the war crimes trials. What's little known, however, is that Nuremberg also captivates visitors with its cobbled streets with classic half-timbered houses, an enchanting castle (rebuilt after wartime bombings) and many historic landmarks. These include the Church of Saint Lawrence, a stunning example of Gothic architecture, and the intricate Church of Our Lady, which features a working mechanical clock dating from 1506 and overlooks the bustling Hauptmarkt square, itself renowned for its intricate fountain resembling a Gothic church tower. Amid all this splendour, spare a moment to taste Nuremberg's famous gingerbread, perhaps stocking up with a packet to spice up the biscuit tin back home! Afterwards you return to the ship for your final dinner on board, perhaps selecting a local white from the wine list and, later, enjoying a coffee in the lounge with your travel companions while sharing memories of your exploration of Germany's medieval heart.
Day 8 – Return Home
Today you return to Munich airport for your return flight.
---
Medieval Germany River Cruise
FROM
£1909.00
Departing From
Edinburgh
Other UK airports also available
Departure dates
31st August 2022
28th September 2022
23rd May 2023
20th June 2023
30th August 2023
27th September 2023