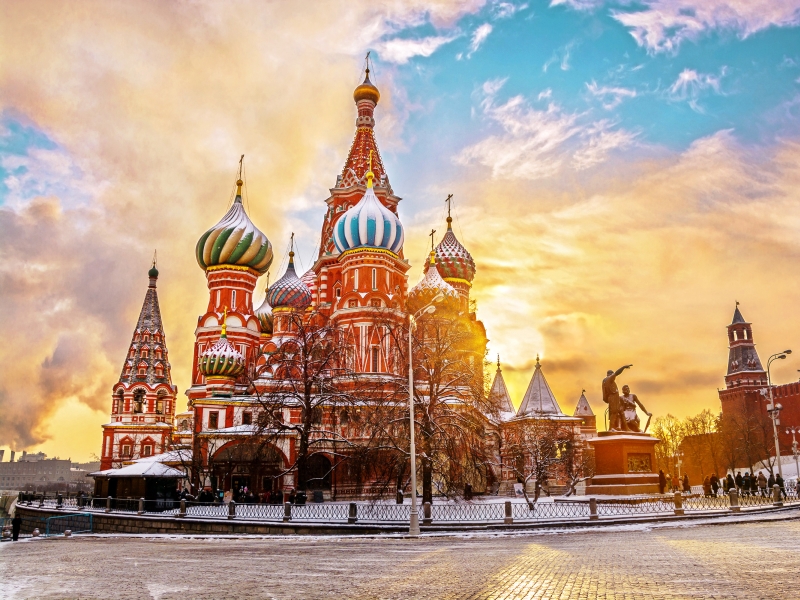 On this 9-night holiday, you will experience two of Russia's most captivating cities, where some of the world's most famous art, literature and history has been created. Your journey will begin in the capital, Moscow, and from there you will travel to the country's second largest city, St. Petersburg, situated on the Baltic Sea.
In Moscow, you will see some of the the iconic squares and palaces that are so symbolic of the city. You will see Red Square, an enormous plaza that houses St. Basil's Cathedral, amongst others. Other highlights include the Kremlin, a huge compound of government buildings containing the seat of the president and the Kremlin Armoury, home to some of the most valuable jewels in the world.
St. Petersburg has more of a Scandinavian feel than the capital and is home to the Winter Palace, the former residence of the Russian monarchs. In the nearby town of Tzarskoye, you can also visit the Catherine Palace, which boasts some of the most opulent architecture and interior design you are ever likely to see. Book now with Travel Department to experience everything that "The Land of the Tsars" has to offer.
Please note: For some departure dates the Peterhof Palace excursion will take place on Day 9 instead of Day 10. Also some of our departures, 25th June, 6th August and 11th October 2020, is a reversed itinerary. The first five nights will be in St Petersburg followed by four nights in Moscow.
Price Includes
Flights from Edinburgh to Moscow returning from St. Petersburg (via Frankfurt)
4 nights in Moscow with a morning guided sightseeing tour of Moscow to include Red Square, St. Basil's Cathedral, Bolshoy Theatre and Victory Park
A full day excursion visiting the Kremlin, the Armoury Chamber and the Cathedral of Christ the Saviour
A full day excursion to Sergiev Posad to include the Trinity Lavra of St. Sergius
5 nights in St. Petersburg with a half-day sightseeing tour of St. Petersburg to include the Winter Palace, the Church of Our Saviour on Spilled Blood, Nevsky Prospect and the Peter and Paul Fortress
A half day excursion to include Catherine's Palace and Pushkin Park
A half day excursion visiting the Hermitage Museum
A morning excursion to the Peterhof Palace and Park
To view available dates and prices for this holiday CLICK HERE
Flights from Belfast International also available
Or call 0131 516 7439 quoting "DC Thomson Travel"
---
Moscow and St Petersburg
FROM
£1849.00
Departure dates
27th August 2020
17th September 2020