Walk & Discover: North Yorkshire & the Heritage Coast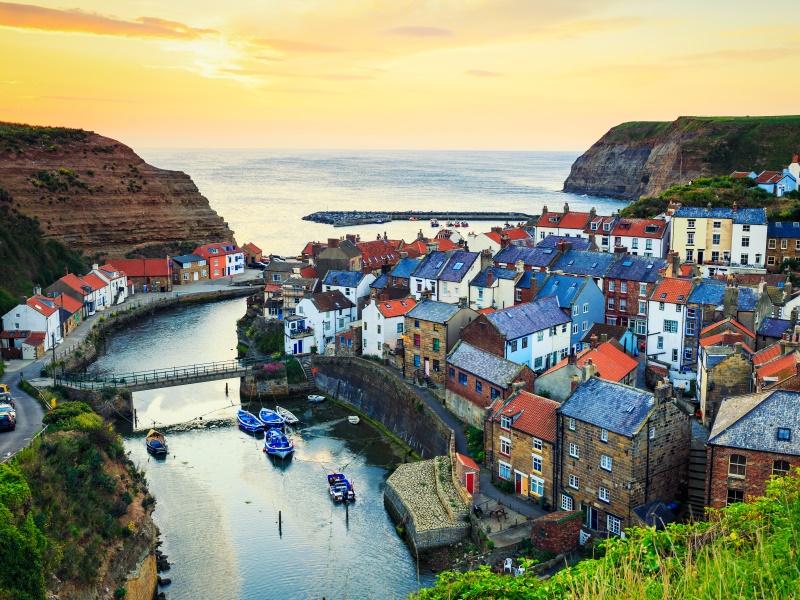 Available
Until October 2022
Discover the best of North Yorkshire on this carefully crafted tour, which brings together the rich and natural beauty of the coastlines, cobbled streets and lush national parks, with historic visits and time-honoured British tradition.
Your journey begins in picturesque Harrogate, your base for the tour, with a traditional afternoon tea at the iconic Betty's Tearooms.
Over the next few days, it's onward to the breathtaking North Yorkshire Moors National Park and Heritage Coastline – with chance to stop for fish and chips in Whitby.
You'll also step back in time in historic York, Fountains Abbey and Harewood House to round off an unforgettable taste of this welcoming Northern county.
Plus of course our guided walks, where a local expert will lead you on two easy to moderate walks to take in the sea air of Staithes and the idyllic Yorkshire Dales from Burnsall to Grassington.
What You'll Love
Change your booking free up to 45 days before travel*
Four nights in 4 star accommodation
Daily breakfast and two dinners (and a choice to book a hotel dining package for 2 nights from £55 per person)
Afternoon tea in a private room at the iconic Betty's Tearooms
A scenic drive to Whitby with free time to explore
A guided walking tour of historic York
Visit UNESCO listed Fountains Abbey and Studley Water Garden
Experience "The North Yorkshire Moor Railway" from Whitby to Pickering
Discover the hidden treasures of Harewood House
Two included guided walks from Burnsall to Grassington and Staithes to Port Mulgrave
The services of a Riviera Travel tour manager/ walking guide
Subject to availability. Single supplements apply. Click here for departures exclusively for solo travellers. 
*Full terms and conditions can be viewed here. 
Itinerary
Day 1
Arrive at your four-star hotel in the charming city of Harrogate and make yourself at home. There is plenty of free parking at the location for those who have driven by car, with a nearby train station if you prefer to make your way by rail. Or if you'd like us to help arrange train tickets or even arrange a private car, our team are on hand to help personalise your experience.
This afternoon, we visit the iconic Betty's Tearooms for a delectable private afternoon tea in the Imperial Room.
First opened in 1919, the story of Betty's doesn't start in Harrogate as you might think but in Switzerland. Fritz Bützer was the orphaned son of a baker, who despite a very difficult start in life decided when he was a young man to leave Switzerland, after training as a confectioner and chocolatier, and seek a new life in England.
After working at a Swiss-owned confectioners, he fell in love with his landlady's daughter, and married and with the families help the first Betty's opened for business!
Afternoon tea at Betty's has been popular since the 1920's and a selection of delicious sandwiches, cakes and of course Betty's own tearoom blend tea will be served while you get to know your fellow travellers.
They're also famous for their Fat Rascals, fruity scones with a cherry topping, so look out for those in their working bakery.
Day 2
The day begins with a drive to the attractive coastal village of Staithes, just above Whitby. With its sheltered harbour, surrounded by higgledy-piggledy cottages, the village used to be one of the most important fishing ports in the North East at its height 120 boats supported 300 families. Although not so busy now, the sea faring tradition is still strong – particularly for lobster fishing. The young Captain James Cook also lived there for a while as an apprentice shopkeeper, he must have nurtured a love of the sea from seeing the fishermen working!
Today we enjoy the path less travelled with a guided walk. We amble through the village to the next village of Port Mulgrave walking some of the Cleveland Way, along the cliff tops, through quiet fields lanes and woodlands before circling back to Staithes, accompanied by a local walking expert.
We then drive through the North Yorkshire moors park to Whitby where there is a chance to explore at leisure. There are plenty of things to see and explore here, from the ruins of Whitby's iconic Abbey, which inspired Bram Stoker to write "Dracula", making Whitby the place where count Dracula came ashore. The views from the headland are stunning.
With its cobbled lanes leading to the traditional harbour, it's the perfect place to wander and explore the many shops and workshops that sell the famous Whitby jet, a semi-precious organic gemstone that can be polished to a mirror finish. The history of Whitby jet actually goes back to the bronze age, Romans in Britain used it in magical amulets but it was made most famous during the Victorian period when it was used as a mourning stone, these days it's made into traditional and more modern jewellery. It's also home to the Captain Cook memorial museum, where you can learn about the famous explorer's life. If that's not your thing, then maybe enjoy some of the world-famous fish and chips Whitby has to offer by the harbourside washed down with a locally brewed beer?
We leave Whitby on the what has been described as one of the world's greatest heritage railway experiences "The North Yorkshire Moor Railway" from Whitby to Pickering. We travel through the North Yorkshire National park, bordered by the Cleveland Hills to the North, the Hambleton Hills to the West, the Vale of Pickering to the South and the magnificent coast to the East, the beauty of the landscape, history and nature combine to create something truly special. The line itself passes through the beautifully restored stations of Grosmont and Goathland, famously used for the Harry Potter films and in the long running TV series Heartbeat. (On some occasions, this day may operate in reverse).
Day 3
A circular walk which takes in coastal views of Port Mulgrave before looping back through beautiful fields to the charming hamlet of Dalehouse.
Your journey begins in Staithes, a welcoming fishing village bursting with character – it's a steep climb from the harbour to the top but the views are worth it.
We take the Cleveland Way National Trail for incredible cliff side vistas, before an ascent through quiet lanes and woodland paths.
Easy walk – Duration: 2.5 hours / Distance: 4 miles / Terrain: paths along the cliff side, fields and woodland.
Day 4
After breakfast, this morning we head west of Harrogate to the market town of Grassington, recently used as the location for the latest series of "All Creatures Great and Small". Its attractive location by the river Wharfe, surrounded by the Yorkshire Dales, makes it a perfect spot to start today's circular walk through the countryside with our local walking guide.
Returning to Grassington there is time to explore before we visit our next destination UNESCO listed Fountains Abbey and Studley Water Garden. The Abbey was once one of the largest Monasteries in the country, there is a chance to explore and find out what life was like for the monks who lived there, they were the ones who originally changed the course of the River, their work continued by John and William Aislabie in the 18th century when they designed the water gardens, which were later granted heritage status in 1986. We then return to the hotel, where your mind might wander to your dinner reservations in stunning Harrogate.
Burnsall to Grassington Walk
Our spectacular walk begins on a riverside path, passing limestone cliff towers and deep pools – the stepping stones in particular are bound to spark some nostalgia. We see evidence of the beauty of nature and engineering entwined, as we spy waterfalls and weirs along the path. As we ramble past Ghaistrill's Strid, you might even spy brave swimmers and snorkelers plunging into the natural rocky pools. We then arrive in the small market town of Grassington, with its quaint stone cottages and cobbled market square.
Easy walk – Duration: 2 hours / Distance: 3.5 miles / Altitude gain: 330ft (100m) / Terrain: riverside and farmland paths, tracks and woodland.
Day 5
Known as one of England's greatest treasure houses, this morning we visit Harewood House.
Built by the 1st Baron of Harewood Edwin Lascelles, no expense was spared when he employed some of the finest craftsmen of the time, including the architect John Carr, interior designer Robert Adam and "Capability" Brown's to design the landscapes which you can admire from the award winning terrace.
The interior of Harewood House features rare Chippendale furniture: looking around it's not surprising that Chippendale received his largest ever commission when he designed for Harewood.
You'll also spot Renaissance masterpieces, works by Reynolds and Gainsborough, as well as many other antiques and paintings. After time to explore the house, including below stairs and gardens, we return to Harrogate to depart the tour.
---
Walk & Discover: North Yorkshire & the Heritage Coast
FROM
£639.00