Hidden Secrets of Northern Cyprus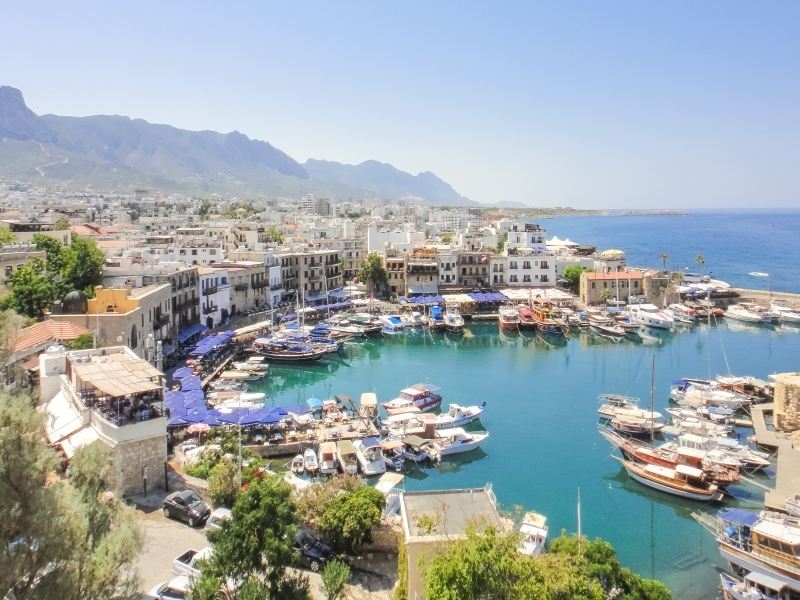 Available
Until March 2022
Savour rest and relaxation, and step back in time, as you explore the beautiful, unspoilt north of Aphrodite's Isle.
Discover a historic region of this idyllic island in the sun – inhabited since earliest times, dotted with the relics of ancient civilisations, and uniquely shaped by the changing tides of history. From your base in delightful Kyrenia, one of the Mediterranean's most alluring locations, set against a backdrop of rugged hills and fringed by deep blue waters, you'll enjoy included visits to Lawrence Durrell's beloved Bellapais, to divided Nicosia, ruined Famagusta and the scenic Karpaz peninsula on this wonderful tour of Northern Cyprus.
---
Northern Cyprus Available Departures:
Fly direct from Edinburgh – departs various dates until March 2022 – from £845pp
Fly direct from Glasgow – departs various dates until March 2022 – from £905pp
Dates and prices on this page are based on departures flying from Edinburgh and Glasgow only
---
Northern Cyprus Tour Highlights
Exploring Kyrenia's harbour and monumental castle
Fascinating, divided Nicosia and walled Famagusta
The spectacular Greek and Roman ruins at Salamis and Soli
Visits to idyllic Bellapais, and its Gothic abbey
The imposing hill-top ruins of St Hilarion Castle
The unspoilt landscape of the Karpaz peninsula
Explore the ghost city of Varosha, a poignant reminder of the recent past
Tour the Roman ruins at Salamis
Discover Guzelyurt (literally "beautiful place") and ancient Soli on an optional excursion
Price Includes
Seven nights' half-board accommodation at your chosen hotel (upgrade hotel available)
Tours of Kyrenia, Nicosia, Salamis and Famagusta
Trips to St Hilarion and Bellapais and the Karpaz peninsula
Return flights to Cyprus
Comfortable, air-conditioned coach travel and transfers
The services of a friendly, experienced tour manager
Single supplements apply. Subject to availability.
Northern Cyprus Itinerary
Day One – Fly to Cyprus
Fly from the UK to Larnaca or Paphos and transfer north to Kyrenia and your chosen hotel.
Day Two – Included guided tour of Kyrenia
Explore the delightful port town of Kyrenia, in the company of your tour manager. Here, the natural, horseshoe-shaped harbour looks out over pristine azure waters, flanked by shops and cafés and all watched over by an imposing medieval castle. It's a picture-perfect scene mostly unchanged down the years despite the trappings of modernity. Within the massive castle walls you'll find a fascinating shipwreck museum, and a gallery of archaeological finds from the surrounding area.
This afternoon, return to your hotel to relax, or explore the town under your own steam. Why not visit a museum or gallery, or take a seat in one of the harbour's delightful fish restaurants – perfect places in which to pass the hours?
Day Three – Included Famagusta tour
A fascinating day awaits, today, as you journey to the island's east. Your first call is at the monastery of St Barnabas, where the side chapel of the twin-domed church is said to hold the tomb of the early Christian martyr. This is followed by a visit to the extraordinary Roman ruins of the ancient coastal city of Salamis. The remains, which include colonnades, a magnificent theatre and a bathhouse, were part of a much larger settlement that still lies submerged beneath the blue waters and sand dunes.
You'll then head to the fascinating city of Famagusta, once one of the world's richest, and today a living museum. Here ruined churches, the Lala Mustapha Pasha mosque (once the city cathedral) and Venetian Palace rise in amongst the city's modern cafes and shops, as described in Victoria Hislop's novel, The Sunrise. Most unforgettable is the Ghost City of Varosha, left abandoned since 1974, and a poignant reminder of the island's past troubles.
Day Four – Included Nicosia city tour
The highlight of today's fascinating included excursion will be your visit to historic Nicosia, capital of Cyprus for more than 12 centuries, and separated into a Turkish north and Greek south since the Green Line was first drawn, in 1963.
Enjoy a guided tour of Lefkosa, the northern territory, where highlights include the ancient Buyuk Han, once the largest caravanserai (roadside inn) on Cyprus, the colourful covered bazaar and the cathedral/mosque of Selimiye/St Sophia. After crossing into the southern territory, Lefkosia, you'll have free time to explore the narrow streets that shelter within the Venetian walls of the old town. Why not visit tiny St John's Cathedral or one of the various museums of Cypriot history and culture before we return to Kyrenia?
Day Five – Optional Guzelyurt and Lefke excursion
Today you're free to enjoy the hotel and its surroundings, or to head into Kyrenia once again. Many, however, will want to join our optional excursion to the green, citrus-grove surrounded town of Guzelyurt. The town's name means "beautiful place" in Turkish, and you'll have time to see its archaeology museum and church of Agios Mamas. The enjoyable day will also include visits to the fascinating excavated city of Soli, with its Roman and Byzantine remains, and to the Green Line border town of Lefke, with its former copper mines and citrus groves.
Day Six – Included St Hilarion and Bellapais excursion
Today's included tour heads first towards the magnificent mountain-top castle of St Hilarion, with its preserved fortifications and spectacular views of the coastline and the surrounding Five Finger Mountains. In the foothills below lies the beautiful village of Bellapais. Set beneath the preserved ruins of its Gothic abbey, this idyllic spot was celebrated writer Lawrence Durrell's home for three years to, and he chronicled his stay here in his novel Bitter Lemons. Wander the ruins of the Abbey, stepping back in time as you soak up its unique atmosphere, then return to Kyrenia for the rest of the day.
Day Seven – Included Karpaz Peninsula tour
Our last scenic excursion takes you to the unspoilt Karpaz, or Karpasia, peninsula, a rugged spit of land fringed by some of the island's most stunning beaches and bluest waters. Dotted with ancient villages and home to herds of wild donkeys, the peninsula is also where the remote monastery and shrine of Apostos Andreas boasts a famous 'holy well'. As well as a visit to an ancient olive press, today will include a chance to enjoy a dip (weather permitting) in the sea at one of the island's finest bathing spots.
You'll return to Kyrenia at the end of a wonderful day, to enjoy a final dinner at the hotel.
Day Eight – Fly back to the UK
Bid farewell to your Cypriot hosts, and return to the airport to check in for your flight home.
---
Hidden Secrets of Northern Cyprus
FROM
£845.00
Departing From
Edinburgh
Glasgow
Other UK airports also available
Departure dates
1st September 2021
8th September 2021
15th September 2021
22nd September 2021
29th September 2021
6th October 2021
13th October 2021
20th October 2021
6th November 2021
20th November 2021
4th December 2021
22nd January 2022
19th February 2022
12th March 2022
19th March 2022