The Peak District – Chatsworth & Buxton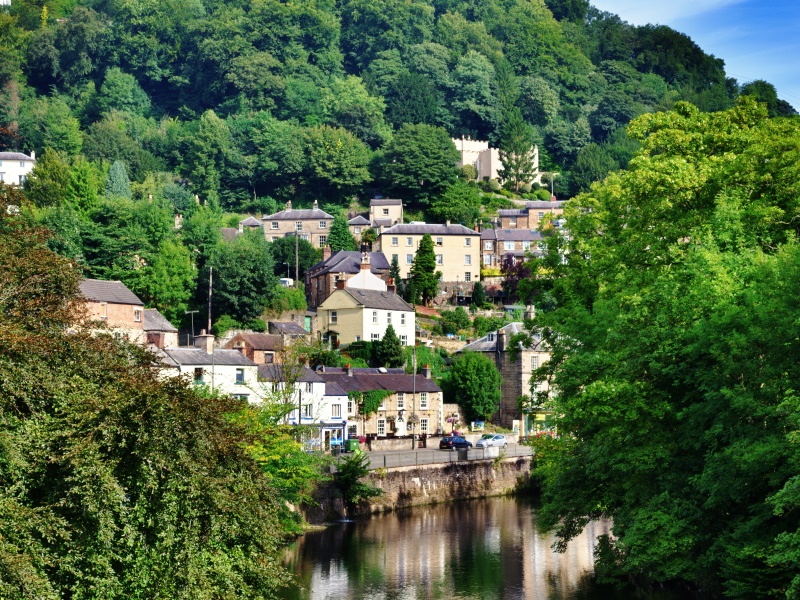 Experience the best of the Peak District, embracing the history, heritage and scenery that make up the heart of Derbyshire.
From a base of the historic spa town of Buxton, we visit iconic stately homes, take nostalgic rail journeys and walk with nature, as well as heading to charming Bakewell, Matlock Bath and Dovedale.
Home to the Bakewell tart, stunning spa towns and arguably the most impressive stately home in England, our fascinating tour highlights what makes the Peak District such a special place to visit. Brimming with beautiful Recency, Georgian and Victorian architecture, the tour is based in the historic spa town of Buxton.
From here, you'll experience the likes of Chatsworth House and its splendid gardens, before heading to the characterful town of Bakewell.
We'll also experience the Peaks from a variety of angles, whether a walk on the Dovedale stepping stones, a wander around historic Ilam park, up high on the Heights of Abraham cable car or by train on the beautifully restored Peak Railway.
What You'll Love
Enjoy peace of mind with Flexible Booking*
Four nights in three-star or four-star accommodation with breakfast and dinner
Explore Chatsworth House and experience its beautiful gardens
Discover the elegant spa town of Buxton on a guided tour
Visit the Heights of Abraham hilltop park, reached by cable car
Enjoy a journey on the nostalgic Peak Rail heritage line
See Bakewell, idyllically located on the banks of the River Wye
Explore the Peak District's unspoilt countryside with an included walk from Ilam Park to Dovedale
Enjoy afternoon tea in a traditional country house hotel
The services of our experienced and insightful tour manager throughout
Subject to availability. Single supplements apply.
*Full terms and conditions can be viewed here. 
Itinerary
Day 1 – Arrival in Buxton & Guided Tour
Arrive at your historic hotel in the spa town of Buxton in a way to suit you. If you require assistance with any travel arrangements, be sure to get in touch with our Travel Concierge who will be happy to help with the likes of rail bookings, private transfers and even pre and post hotel stays should you wish to extend your time in the wonderful Peak District.
Affectionately known as the gateway to the Peak District National Park, this afternoon we take in the history and highlights of Buxton on a guided walking tour. The town became especially famous for its natural warm-water springs in Victorian times, which ensured its popularity amongst health tourists. At every turn, you might spy the beautiful contrasts of Recency architecture, Georgian terraces and Victorian attractions which make up its distinct character.
Some of the main highlights, which we will see on our guided tour, include the Buxton Opera House, Pavilion Gardens and the Devonshire Dome, which was once the largest unsupported dome in Europe, built in 1779.
After our tour, they'll be time to get acquainted with this charming town, so why not return to the stunning Pavilion Gardens, a great spot for a leisurely stroll along the river Wye. In addition to a wide range of cafes and shops, there is plenty to keep busy during your free time in Buxton, including Poole's Cavern, a limestone cavern just outside the town centre. Tonight, our thoughts turn to dinner plans, as we enjoy dinner at the hotel's restaurant.
Day 2 – Chatsworth House & Bakewell
After breakfast, we drive to one of the most iconic stately homes of the Peaks, some might even say of England, Chatsworth House. Our journey takes us through lush Derbyshire countryside as we head to the impressive home of the Cavendish family, who have owned the property since 1549. With its grand state rooms and opulent halls, they'll be plenty of time to explore the extravagant interior with our expert guide before heading out to look upon the acres of rolling parkland.
The tranquil grounds are a great place for a stroll, allowing you to discover beautiful water features, giant sculptures and floral arrangements.
This afternoon, a picturesque town to rival beautiful Buxton awaits as we continue to nearby Bakewell for lunch and free time. Located on the banks of the river Wye, this is a pleasant place for a relaxing stroll with its pretty stone buildings and arched medieval bridge.
They'll be plenty of time to explore this quaint town is best known for its delicious Bakewell Pudding, which is thought to have been created by mistake by a local cook in the 19th century. Unlike the better-known cherry-topped Bakewell tart, the celebrated pudding is made with a puff pastry base before being filled with a signature almond mix. After timepottering around Bakewell's streets,we return to Buxton in the late afternoon.
Day 3 – Heights of Abraham, Matlock Bath & the Peak Rail
This morning we experience the 'village in the sky' as we drive to Matlock Bath for a cable car journey to the Heights of Abraham, soaring over a deep limestone gorge in the Derwent Valley.
At the top, there is a hilltop park as well as famous caverns set within 60 acres of woodland, with a few cafes and a restaurant.
The caves were a hive of lead mining for hundreds of years starting from Roman times, but as deposits became to dwindle, the caves were converted into a tourist attraction as the miners found this was a more profitable way of running them. The attraction has been open since Victorian times, allowing visitors to retrace the miners' footsteps, with plenty of free time for you to explore as you wish.
Next, it's onward to Matlock Bath with time for a spot of lunch. It's been a popular destination since the late 17th century when the spa waters were discovered, with its attractive riverside gardens, wooded hillsides and rocky limestone crags. Our next stop will be a real treat for those who enjoy all things rail, as we board the heritage Peak Railway.
This beautifully restored section of the former Midland Railway stretches 4 miles from Matlock to Rowsley has a true nostalgic feel. After a brief trip down memory lane, we head back to Buxton by coach.
Day 4 – Ilam Park, Dovedale & Afternoon Tea
There's still lots more to discover of the Peak District and its natural beauty and today we do just that. This morning we take a scenic drive to the southern edge of the Peak District to visit Ilam Park and Dovedale, taking in the beautifully unspoilt countryside views along the way.
As we reach the delightful village of Ilam, it's hard not to admire the Alpine-style cottages before heading to Ilam Park itself which we will explore, all set within a wonderful background of lush green hills surrounding the Tudor Gothic Hall. We have time to relax and explore Ilam' National Trust Park.
Day 5 – Return Home
After breakfast, return home with delightful memories of Derbyshire, perhaps taking a stroll around the Pavilion Gardens or booking in at a local thermal spa.
---
The Peak District – Chatsworth & Buxton
FROM
£699.00
Departure dates
16th August 2022
16th September 2022
9th October 2022