Pompeii, Capri and the Bay of Naples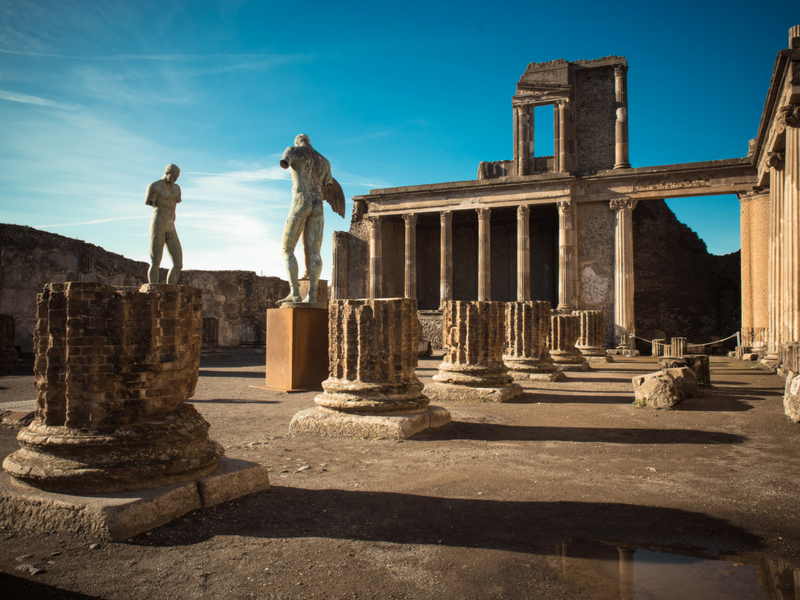 Available
Until October 2022
The Sorrento peninsula and the Bay of Naples is simply one of the most beautiful corners of Europe, attracting visitors for centuries in search of its outstanding scenery, tranquillity and some of the most wondrous 'sights' from throughout history.
Indeed in the immediate area we have a selection of places to see and visit which stand comparison with almost anywhere in the world.
Explore the legendary Amalfi coast, with every guidebook proclaiming Europe's most beautiful, and when you see it, you cannot disagree! Limestone mountains covered with pine forests plunge dramatically into the calm blue Mediterranean.
Next it's Capri, which possesses a deserved reputation as a veritable Garden of Eden – it is no surprise why so many celebrities live here.
The Bay of Naples' skyline is dominated by the majestic and still active volcano Vesuvius, rising loftily to over 4000 feet and it has erupted in spectacular fashion several times in its history. The most famous of course, was in 79AD when Roman Pompeii, together with many of its inhabitants, were entombed and whose state of preservation today is little short of remarkable.
All in all there can be few places you will find which combine together so much of interest in an area of such outstanding natural beauty as the Bay of Naples.
Pompeii, Capri and the Bay of Naples Price Includes
Flexible Booking Policy*
Covid Cancellation protection included as standard
Happy by day two or we'll bring you home with a full refund
Flights & transfers
Seven nights in a choice of conveniently located 3-star to 4-star accommodation inclusive of all local taxes, plus breakfast and dinner (stays at the Hotel Mediterraneo are on a bed-and-breakfast basis)
Full-day visit to the stunning island of Capri
Tour of the ancient Roman town of Herculaneum with a local guide – entrance fees included
Full-day guided tour of Pompeii and the Naples Archaeological Museum – entrance fees included
Walking orientation tour of Sorrento
Full day tour of the breathtaking Amalfi coast
Services of an Expert tour manager
Subject to availability. Single supplements apply.
*Book a new holiday with Rivera Travel and you can enjoy the flexibility to change your booking before travel, with no fees and no questions asked. You can change your booking up to 45 days before departure for 2021 holidays. New bookings for 2022 can be changed for free up until 31 December 2021. Full terms and conditions can be viewed here. 
Itinerary
Day 1 – Arrive in Sorrento 
Arrive at the airport for your flight to Naples. On arrival we transfer by coach to Sorrento, where you have a choice of carefully selected hotels to stay for seven nights.
Day 2 – Walking Tour of Sorrento 
Morning
Our first day in this centuries-old resort is at a suitably relaxed pace, beginning with a short walking tour. The Romans appreciated Sorrento's many qualities and the area is dotted with the remains of elegant shops selling luxury leather goods and shoes, and cosy restaurants nestling in tall buildings with faded facades in typically Mediterranean shades of ochre, yellow and magenta.
The region has a long history of lemon cultivation, with highly prized Sorrento lemons given their own protected IGP (Indicazione Geografica Protetta) status in the same way as Parma ham or balsamic vinegar from Modena. Sixty percent of lemon production goes into making limoncello liqueur, but in Sorrento it seems that anything can be made from the local citrus fruit, including soaps, cosmetics and, of course, ice-cream.
Afternoon
The rest of the afternoon is free to explore at your own leisure.
Day 3 – Pompeii 
Most people know the story of Pompeii and its fate, but today this site is so much more than a collection of ruins. Our guided tour of the Roman town highlights its astonishing state of preservation – even if you aren't especially interested in history, you can't fail to be impressed by its scale – streets, temples, baths and even the amphitheatre remain largely intact. Much of our knowledge about the Roman way of life, their habits, social structure, class system and domestic arrangements has come from Pompeii. Many buildings still have murals and mosaics, while others inscribed with graffiti describing political events, romantic entanglements and even gossip of the time. You can even see traffic-calming measures and a one-way system! Although endlessly fascinating, Pompeii is also slightly eerie, particularly when you see the pained facial expressions of Vesuvius's victims preserved for eternity.
Day 4 – Free Day
Today is a free day to spend at leisure in Sorrento, perhaps to browse the numerous boutiques or enjoy a leisurely lunch in one of the many restaurants that Sorrento has to offer.
Day 5 – Capri
The island of Capri is renowned the world over, and today we take a short boat ride to discover its charms. It has long been the most desirable part of the Bay of Naples, attracting Roman emperors – Tiberius made it his home and ruled the empire from here – writers such as DH Lawrence and George Bernard Shaw, Hollywood stars and numerous other luminaries who have sought inspiration here. It's easy to see why Capri is so adored; as we approach you'll see small fishing boats bobbing on the water, with whitewashed shops and restaurants lining the busy quayside against a backdrop of towering cliffs.
The main town is perched on a hill looking down on the quaint harbour below and you'll have some free time to explore the island, maybe join a boat trip around the island, explore the island at your own will or make your way to the famous Blue Grotto – the large sea cave that takes its name from the incandescent blue light that bathes the cavern.
Day 6 – Naples & Herculaneum 
Today we drive north around the bay to the cosmopolitan city of Naples, whose UNESCO-listed historic core is recognised for its wealth of monuments. During our walking tour of the old town, a local guide will share fascinating stories about the city's millennia of history, the local culture and, naturally, the street food, which we'll also get to sample. Piazza del Gesù Nuovo, Naples' beautiful main square, is flanked by the Gothic Santa Chiara basilica, which is a rare example of medieval architecture in Naples, and the stunning Gesù Nuovo church, whose 15th-century façade is studded with small pyramids – a style typical of the Venetian Renaissance but less known in the south.
The past is very much still alive as we stroll along Via dei Tribunali, the main east-west street during ancient Greek and Roman times; today it remains the beating heart of old Naples and where pizzerias and family-owned shops jostle for attention amidst centuries-old ruins. Another highlight is San Gregorio Armeno, the city's delightful Christmas street filled with colourful shops dedicated to the festive season – at all times of the year. We'll witness firsthand the lively symphony of locals chattering with shopkeepers, enjoying cups of strong coffee and going about their day. Naples is renowned for its ancient charms, but its exciting modern face has also gained quite a reputation – since parts of the city have been rejuvenated, it's now one of Italy's must-see destinations.
There's free time after the tour, so why not try an authentic Neapolitan pizza which the city is so famous for. Naples' magnificent cathedral is worth a visit even if it's just to marvel at its gleaming neo-Gothic façade. Fans of the poet Dante Alighieri won't want to miss Piazza Dante, where his statue stands proudly overlooking the locals who often meet here. Beneath the square, a metro station doubles as a contemporary art gallery with world-class installations.
Later we visit Herculaneum – known locally as Ercolano – located in the shadow of mighty Mount Vesuvius. Like Pompeii, it was buried under scalding mud and ash when the volcano erupted in AD79, smothering everything from complete streets and houses to small metal objects and textiles, and sealing them in an airtight tomb. It wasn't until the first major excavation commenced in the 18th century that the hidden secrets of this ancient settlement were revealed. Our local guide will bring the history of Herculaneum to life. As you walk around this wonderfully preserved UNESCO World Heritage Site you'll appreciate just how much volcanic waste had to be excavated to uncover what we can see today. It may be less well known than Pompeii, but the state of preservation of the buildings at Herculaneum is generally far superior, so it's certainly worth the visit.
Day 7 – Amalfi Coast 
Morning
Today you'll have a chance to experience the sublimely beautiful Amalfi coast at first hand as we wind around spectacular pine-clad cliffs that tumble down into the turquoise Mediterranean. Our coastal drive takes us above the exclusive resort of Positano … haunt of celebrities. We arrive in Amalfi, a picturesque village in a gorgeous setting, and perhaps the highlight of the coast, possessing charm in abundance and perhaps the highlight of the coast. Just inland is the stunning village of Ravello, with its awe-inspiring location perched like an eagle's nest on a shelf above Amalfi affording amazing views. It has an ambience all its own, with an enchanting main square, a 13th-century cathedral and the Villa Rufolo, which was once the centre of a city-state and is now an interesting collection of medieval buildings, statues and terraced gardens (it was also the inspiration for elements of Wagner's opera Parsifal).
Afternoon
We arrive back in Sorrento mid-afternoon, with the rest of the day free.
Day 8 – Return Flight 
---
Pompeii, Capri and the Bay of Naples
FROM
£1049.00
Departing From
Glasgow
Other UK airports also available
Departure dates
10th September 2021
8th October 2021
6th May 2022
17th June 2022
2nd September 2022
14th October 2022