Prague, Budapest and Vienna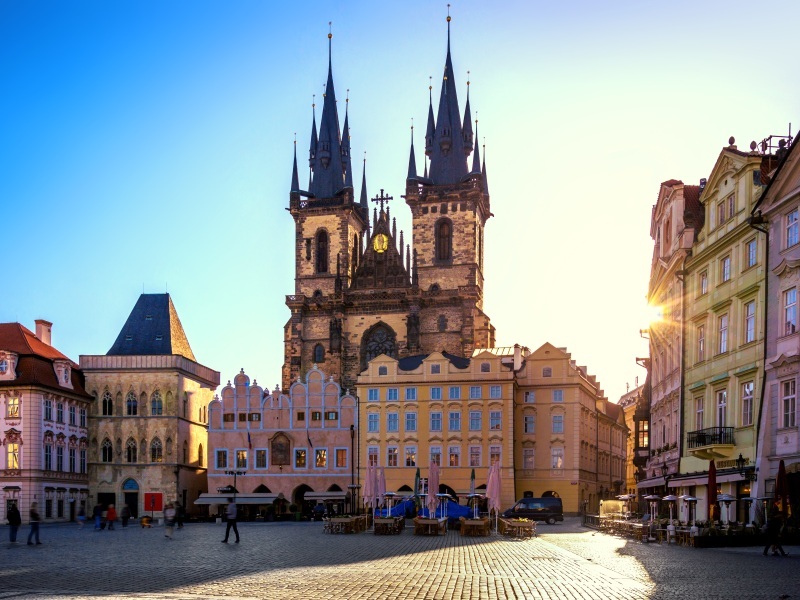 Available
Until November 2021
Explore a trio of Europe's most vibrant and colourful cities, their scenic surroundings and the glorious "Blue" Danube.
Beginning in the breathtaking Bohemian capital of the Czech Republic, Prague, this hugely popular holiday takes you through the heart of Bohemia. Visit magnificent Vienna, home to stunning palaces, vibrant culture and the very best coffee and cake. See the cosmopolitan Slovakian capital, Bratislava, and the majestic "twin city" of Budapest, which sits astride the mighty River Danube. An opportunity to discover the rebuilt Baroque city of Dresden, on an optional excursion, completes your wonderful tour.
---
Prague, Budapest and Vienna Available Departures:
Fly from Edinburgh – various dates available until November 2021 – from £959pp
Dates and prices published on this page are for the departures flying from Edinburgh only
---
Prague, Budapest and Vienna Tour Highlights
An included walking tour of Prague
Journey through beautiful, forested Bohemia
See the Ringstrasse buildings and the Hofburg Palace in Vienna
Pay a visit to cosmopolitan Bratislava en route to Hungary
See Budapest's traditional thermal baths and majestic Parliament building
The stunning views if Budapest offered on a Danube river cruise
Price Includes
Enjoy an included tour of historic Prague
See the Charles Bridge's blackened statues and Old Town Square's fascinating astronomical clock
Journey through beautiful, forested Bohemia
Pay an en-route visit to cosmopolitan Bratislava
Explore twin city Budapest, with its style and traditional thermal baths, on a guided tour
A river cruise in Budapest, with stunning views of the vast Gothic Parliament
Hungary's Gothic parliament buildings grace the Danube
A guided tour brings to life Imperial Vienna
See the Ringstrasse buildings and the Hofburg Palace – home to the Spanish Riding School
Seven nights' carefully chosen bed and breakfast accommodation in four-star hotels in Prague (3 nights), Budapest (2) and in Vienna (2)
Return flights from your chosen airport to Prague
Comfortable, air-conditioned coach travel and transfers
Fully escorted by a friendly, experienced Tour Manager
Single supplements apply. Subject to availability.
Prague, Budapest and Vienna Itinerary
Day One – Fly to Prague
Your tour manager will meet you when you arrive, and you'll be transferred to your first hotel. Depending on the time you arrive, you may like to head out for your first exploration of the Czech capital. A delightful walkabout city, Prague is crammed with bars and restaurants.
Day Two – Included walking tour of Prague
Get to know this, one of Europe's most beautiful capitals, which has miraculously survived the turbulent centuries unscathed. Join our guide for a walking tour that will introduce the exquisite Old Town (Staré Mesto), the city's heart since the 13th-century, then cross the River Vlatva by the famous cobbled Charles Bridge, with its blackened statues, into the steeply sloping left bank. Here, the Hradcany district is dominated by the imposing mass of Prague's ancient castle. Beneath this magnificent building, home to great St Vitus' Cathedral and the historic Royal Palace, are the narrow, sloping cobbled streets of Malá Strana, the Little Quarter.
After the tour, you'll have the rest of the day free to explore at your leisure. And, this evening, why not join our optional buffet dinner river cruise?
Day Three – Optional tour of Dresden
Continue exploring the fascinating city of Prague at your leisure today, or join our optional excursion to the former Eastern German city of Dresden on the River Elbe. The restored glories of this Baroque city – which was almost destroyed by Allied bombs during World War Two – include the stupendous Frauenkirche, which lay in ruins from 1945 until its rebuilding following Reunification, the surrounding Altstadt, Baroque Theaterplatz, the Residenzschloss – seat of Saxon kings and home to a priceless jewel collection – and the pavilions and courtyards of the Zwinger buildings.
On the Elbe's northern bank, Neustadt and neighbouring Aussere Neustadt brim with life, and are home to several fascinating museums. Don't miss the view of the Altstadt from Neustadt's riverside meadows.
After a fascinating day, return to Prague to spend a last evening.
Day Four – Travel through Bohemia to Vienna
Take your leave of Prague, and head south into a rolling, romantic region of dense forests, medieval towns and hill-top castles. By early afternoon you will have crossed into Austria, and will arrive in the great Imperial city of Vienna. Enjoy a guided introduction to the magnificent seat of the Hapsburg Empire, with its imposing Baroque palaces and cathedral. The world famous Hofburg Palace is home to the Spanish Riding School, the Vienna Boys' Choir, several museums and the Austrian President, while the Old Town (Innere Stadt) is a labyrinth of streets humming with the buzz of shops and cafés.
Vienna is famous as the home of the Kaffeehaus, and you should definitely set aside some time during your visit to sit and enjoy coffee and cake in one of these celebrated Viennese meeting places.
Day Five – Optional visit to the Schonbrunn Palace
This morning, explore Vienna once again, or join our optional excursion to the Schönbrunn Palace. An Imperial summer home and one of Austria's greatest treasures, this magnificent building once echoed with the music of the young Mozart.
Day Six – Continue to Budapest via Bratislava
Bid farewell to the Austrian capital, and cross into picturesque Slovakia, heading to its wonderful capital, Bratislava. Delightfully set on the River Danube, close to the point where Austria and Hungary converge, Bratislava is a cosmopolitan mix of Central European influences that boasts glorious Baroque palaces and some stunning churches.
After a fascinating few hours in the city, re-board the coach and continue your journey into Hungary and its glorious, Danubeside capital, Budapest, where you'll spend your last two nights.
Day Seven – Included Budapest tour and Danube cruise
Enjoy this morning's introductory tour of the "twin" city set astride the river. The western half is Buda, an elegant hillside city of opulent buildings, while its eastern opposite is Pest, a bustling hive of museums, galleries, thermal baths, restaurants and bars. Discover the former's castle district, with its delightful medieval houses and the fascinating medieval frescoes of the Matyas Church, and soak up the spectacular views from Fishermen's Bastion.
In Pest, the vast Gothic Parliament lining the river and the grandiose Heroes Square, with its imposing columns and statues, are just two of the highlights. Later this afternoon, you'll enjoy an included river cruise, while this evening, you'll have the chance to join an optional folklore evening of traditional Hungarian music and food.
Day Eight – Fly back to the UK
Transfer to the airport to check in for your flight home after a fascinating tour through central Europe.
---
Prague, Budapest and Vienna
FROM
£959.00
Departing From
Edinburgh
Other UK airports also available
Departure dates
9th September 2021
16th September 2021
23rd September 2021
30th September 2021
7th October 2021
14th October 2021