Puglia, Lecce & Vieste – Undiscovered Italy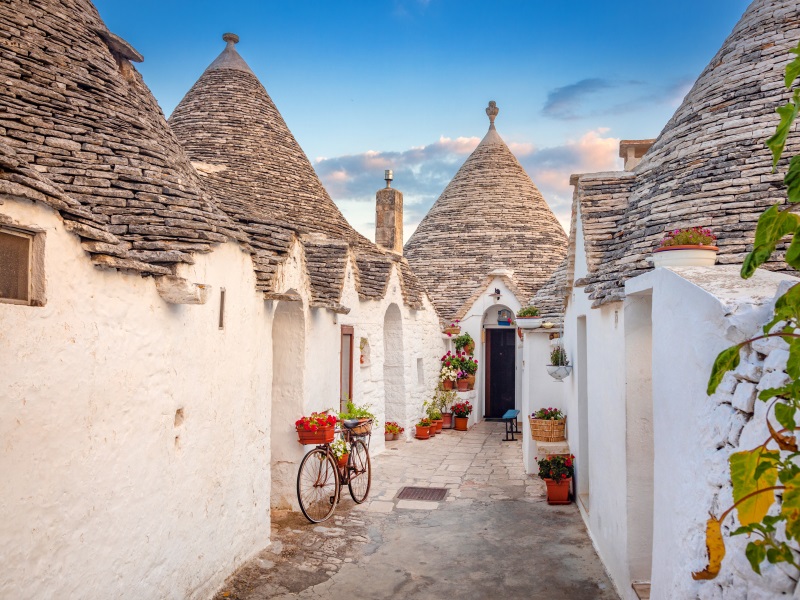 Available
Until October 2022
Puglia, little-known, ruggedly beautiful, fringed by the sea – where the magnificent architecture of Lecce and Bari, coastal charm of Vieste, 'hobbit'-like conical trulli and local cuisine offer a delightfully different experience of Italy.
Blessed with abundant sunshine and fringed by the bountiful waters of the Adriatic and Ionian Seas, Puglia is a land of plenty.
Here in the deep southeast of Italy, nature and history are powerful influences, the locals still wink cheekily at authority and the relaxed and communal way of life is in harmony with the sunny climate. Famed for its passionate embrace of life, simple cuisine, flavoursome wines, historic cities and charming coastal villages, it's a delightful place to get away from it all.
What You'll Love
Enjoy peace of mind with Flexible Booking*
Happy by day two or we'll bring you home with a full refund
Seven nights in conveniently located 4-star accommodation inclusive of all local taxes, plus breakfast, one lunch, and six dinners (two dinners at carefully selected local restaurants)
Return flights & transfers
Guided tour of Lecce, one of Italy's finest baroque towns, often compared to Florence
Visit Alberobello with the unique trulli houses, set amidst stunning Tuscan-like countryside
Guided tour of Matera, the amazing medieval cave village and UNESCO World Heritage Site
Guided tour of Bari's old town, once home to ancient Greeks, Saracens and Normans, with a remarkable Romanesque cathedral
Learn the fascinating craft of pasta-making and enjoy a light lunch at a family-run osteria
Services of an expert tour manager
Subject to availability. Single supplements apply.
*Full terms and conditions can be viewed here. 
Itinerary
Day 1 – Arrival in Lecce
Arrive at the airport for your flight. On arrival, we transfer by coach to the four-star Hilton Garden Inn in Lecce for two nights. This fine modern hotel is a short walk from the Old Town and features a restaurant, bar, outside terrace and spa. Its elegant rooftop swimming pool (open in the summer months, weather permitting) has panoramic views over Lecce. Some of our tours stay at the four-star Grand Hotel Tiziano.
Day 2 – Tour of Lecce
Lecce is known as the 'Florence of the South' for good reason – its architecture is outstanding and around every corner are buildings of beauty and interest waiting to be discovered. Our walking tour begins at the imposing Porta Napoli gate, where we meet our local guide, and from there we explore the vibrant Jewish quarter before taking in the Basilica di Santa Croce. A remarkable example of creativity, this Baroque church has an intricate facade, and are so many beautiful details in the stonework you could lose hours gazing at them.
The tour continues through the Old Town, rich with history, and we pause at a bank that has more to its history than money – it was once used to store olive oil. Another surprise awaits at the picturesque Piazza Sant'Oronzo, a bustling square set on the site of a partially exposed Roman amphitheatre. Built in the 2nd century, the amphitheatre seated over 25,000 people and it's possible, looking down across the sweeping bleached stone seating, to envisage crowds gathering two millennia ago to enjoy all sorts of entertainment.
We then amble down shop-lined streets to the elegant Piazza Duomo, where Lecce's cathedral awaits. Built in 1144, its imposing exterior is only matched by its breathtaking interior featuring 12 side chapels containing paintings by a variety of artists.
This afternoon you are free to explore. Lecce hums with life with a distinctly southern Italian feel, so soak up the ambience of its streets, relaxed cafés and refi ned boutiques while taking in all its baroque magnificence. In the evening we dine in an excellent restaurant, once a Roman granary, where you can enjoy the local cuisine.
Day 3 – Olive Oil Mill & Alberobello
Puglia is renowned for its olive oil production and we see olive trees everywhere in the region when travelling, so we explore a small, family run olive oil mill and find out more about olive oil production and enjoy a tasting. As we continue our drive you'll begin to notice whitewashed stone huts with conical roofs – these are trulli, Puglia's signature dwellings. In this corner of Puglia, the countryside blooms with patches of oak forest bisected by dry stone walls – almost reminiscent of rural Tuscany.
We arrive in Alberobello, a UNESCO World Heritage site. Remarkably, some parts of Alberobello are almost exclusively composed of trulli, creating an otherworldly feel – no wonder some compare it to a 'hobbit' town. For many, this is a highlight of the tour and we have time to explore, discovering how trulli were built, their intriguing origins and why many are adorned with Christian, pagan or celestial symbols.
We then continue to Matera, where we stay two nights with breakfast and dinner at the four-star MH Matera.
Day 4 – Matera
This morning we have a guided tour of Matera, which is notable as one of the first permanently inhabited places in Italy and also a UNESCO World Heritage site. At its heart are the original troglodyte cave dwellings dating back over 9,000 years; astonishingly, people still live in them today. Everything you would expect in a conventional town is here, with churches, shops and artisan workshops all hewn from the naked rock. Is there anywhere else you can walk along a street that is the roof of the house below?
We return to our hotel this afternoon to relax – the perfect opportunity to sun yourself by the pool. Or you may choose to stay in Matera and visit its many fascinating buildings – the 13th-century Romanesque cathedral is well worth your time. This evening, we complete a memorable day enjoying regional dishes at our dinner in a restaurant in Matera's Old Town.
Day 5 – Bari
Nestling on the Adriatic, Bari was a thriving walled port even before the Romans arrived and was briefly the capital of Byzantine Italy. During Norman times it was thought to be as significant as Venice. This morning we have a guided tour of the Old Town where there is so much to discover, such as the imposing medieval fortress and the massive Romanesque cathedral with its 11th-century frescoes, while opera lovers may know that Bari is home to the magnificent Teatro Petruzzelli. For many, though, the focal point is the Basilica di San Nicola, whose 900-year-old vaulted crypt is the final resting place of Saint Nicholas, Patron Saint of Russia – better known to us as Father Christmas.
As we explore Bari's tightly knit streets, look down its side streets to take in other aspects of traditional life, from shops displaying freshly caught sea bass, cuttlefish or lobster to stalls creaking under the weight of locally grown olives, tomatoes and peppers, and families eating meals with their windows and doors open. Here and there, you may come across chattering matriarchs sitting outside their doorsteps making, hand-rolling and cutting different types of pasta, a practice unchanged through time.
Leaving Bari, we call at the picturesque fishing port of Trani, then the landscape changes as we climb the Gargano peninsular coastal road. The warm air is heavy with Mediterranean aromas of pine and wild flowers, and we soon arrive in the coastal town of Vieste. We stay for three nights with breakfast and two dinners, at either four-star hotel – the Palace Hotel Vieste or the Hotel Degli Aranci, both situated a short stroll from the beach next to the Old Town.
Day 6 – Free Day in Vieste
Phoenician in origin, Vieste is one of Italy's most attractive coastal towns, situated on a rocky promontory overlooking turquoise waters with beaches either side. An enchanting jumble of white, flat-roofed buildings perched on cliff edges and dominated by its simple 13th-century cathedral, it's an ideal place for your free day to relax. You may choose to amble through ancient alleyways, walk barefoot along the beach past the giant chalk stack – a remarkable geological landmark – enjoy a lunch of local seafood or just find a quiet spot to wile away the hours with a book.
Day 7 – Peschici & Rustic Lunch
This morning we take drive to nearby Peschici, a small fishing village located on a promontory overlooking the Bay of Peschici. The walled old town, with its whitewashed buildings, is a maze of narrow streets lined with small shops, perfect for a leisurely stroll. The Medieval Castle, dating back from 970, has panoramic views over the surrounding coastline. We have free time here to explore and perhaps have a coffee whilst enjoying the relaxed atmosphere. We will then continue to a rural restaurant located just outside Peschici, where we will enjoy a light lunch of rural specialities typical of this part of Puglia, and discover the art of hand making pasta in a short demonstration by an expert.
We return to Vieste in the afternoon with the rest of the day at leisure.
Day 8 – Return Flight
Transfer to the airport for your flight home.
---
Puglia, Lecce & Vieste – Undiscovered Italy
FROM
£1419.00
Departing From
Edinburgh
Other UK Airports available