Puglia, Leece & Vieste – Undiscovered Italy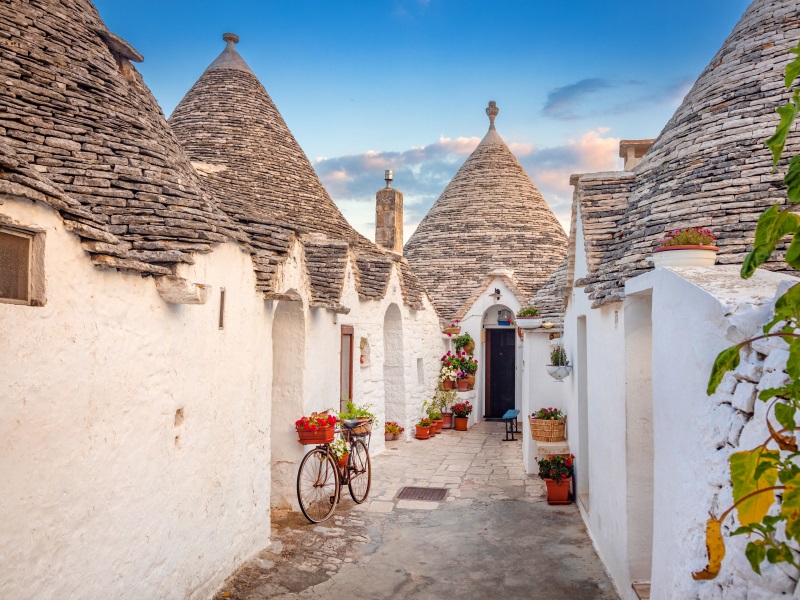 Available
April - October 2020
Puglia, little-known, ruggedly beautiful, fringed by the sea – where the magnificent architecture of Lecce and Bari, coastal charm of Vieste, 'hobbit'-like conical trulli and local cuisine offer a delightfully different experience of Italy. Blessed with abundant sunshine and fringed by the bountiful waters of the Adriatic and Ionian Seas, Puglia is a land of plenty.
As you explore, it becomes evident that Puglia is not the Italy of the north. Its rugged limestone landscape is carpeted with olive groves and dotted with villages of white, flat-roofed houses resembling those of Greece and its islands, while the beauty of the forested Gargano Peninsula stands comparison with the more famous Amalfi coast. But there are many features unique to this area, none more so than the trulli, the cone-shaped houses that have become unofficial symbols of Puglia.
Here in the deep southeast of Italy, nature and history are powerful influences, the locals still wink cheekily at authority and the relaxed and communal way of life is in harmony with the sunny climate. Famed for its passionate embrace of life, simple cuisine, flavoursome wines, historic cities and charming coastal villages, it's a delightful place to get away from it all.
Tour Highlights
Return travel from a selection of regional airports and transfers to and from your hotel included
Seven nights in conveniently located 4-star accommodation inclusive of all local taxes, plus breakfast, one lunch, and six dinners (two dinners at carefully selected local restaurants)
Guided tour of Lecce, one of Italy's finest baroque towns, often compared to Florence
Visit Alberobello with the unique trulli houses, set amidst stunning Tuscan-like countryside
Guided tour of Matera, the amazing medieval cave village and UNESCO World Heritage Site
Guided tour of Bari's old town, once home to ancient Greeks, Saracens and Normans, with a remarkable Romanesque cathedral
Tour the beautiful national park and crusader church of Monte Sant'Angelo, one of Europe's most important medieval pilgrimage sites and where Archangel Michael appeared
Learn the fascinating craft of pasta-making and enjoy a light lunch at a family-run osteria
Services of an experienced tour manager throughout
Subject to availability. Single supplements apply.
For more information or to book, please call 01283 742300 or click here.
Please note, price based on flying from London Gatwick. Other airports and dates available, click here to view more.
---
Puglia, Leece & Vieste – Undiscovered Italy
FROM
£919.00
Departing From
London Gatwick
London Heathrow
London Stansted
Other UK airports also available
Departure dates
20th April 2020
24th April 2020
27th April 2020
2nd May 2020
5th May 2020
18th May 2020
26th May 2020
29th May 2020
13th June 2020
30th June 2020
1st September 2020
7th October 2020
22nd September 2020
28th September 2020
2nd October 2020
7th October 2020
16th October 2020