Rhine River Cruise to Switzerland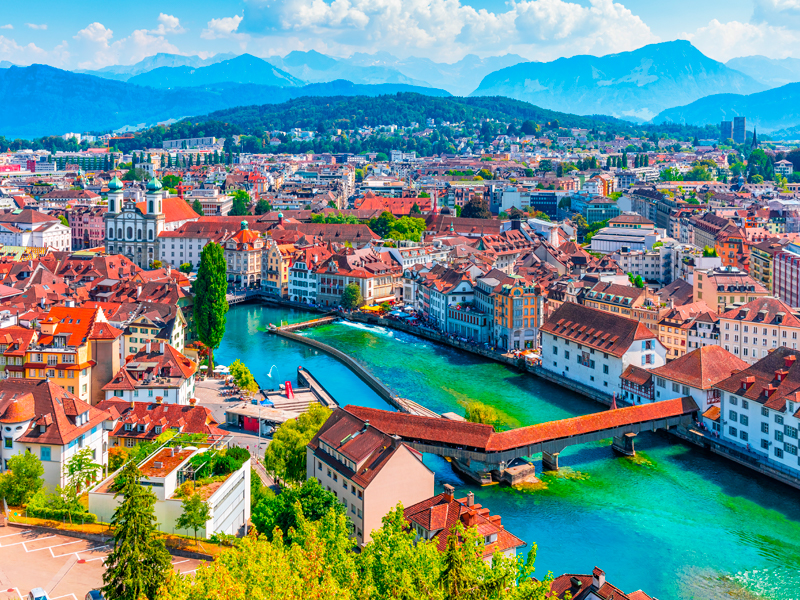 Available
Until September 2023
On our journey through the Rhine valley, we visit historic Koblenz where we have time to explore the old town at the confluence of both the Rhine and Moselle rivers.
Next, we continue our navigation through the dramatic Rhine Gorge where the sheer valley walls tower over 400m above our heads and onto Rudesheim, where we enjoy another evening complemented with an excellent dinner on board.
As the Rhine widens and the landscape becomes less rugged, our cruise continues south, stopping in fascinating Rudesheim onto medieval Speyer with its stunning Romanesque Basilica that dominates this pretty town.
Next day we arrive at the city of Strasbourg where you enjoy a walking tour of the old town. Continuing, we drive through the typical rolling tree-clad massif of the Black Forest onto the charming town of Titisee, nestling on the shores of its namesake lake. Our final destination is Switzerland where we moor in Basel.
Experience the most breathtaking Alpine scenery on earth on a mountain rail journey into the spectacular Bernese Oberland, seeing the majestic Eiger and Jungfrau, then discover Switzerland's most attractive city, magnificent Lucerne, on our included tour.
What You'll Love
Enjoy peace of mind with Flexible Booking*
Happy by day two or we'll bring you home with a full refund
Seven nights on board in your choice of luxury cabin or suite, with river views
Return scheduled flights from 7 regional airports or seats on Eurostar from London St Pancras International and TGV
Seven visits and tours including guided tours of Strasbourg, Koblenz, Rüdesheim and Speyer, a drive through the Black Forest to Titisee, a full-day excursion to Lucerne and the Bernese Oberland, and a visit to Breisach
Live classical quartet recital on board
All meals on board from dinner on your day of arrival through to breakfast on your day of departure (except one lunch), including a welcome dinner and the Captain's Dinner
Five-star service from an English-speaking crew and knowledgeable local guides
Complimentary on-board tea and coffee
Complimentary on-board Wi-Fi
Subject to availability. Single supplements apply.
*Full terms and conditions can be viewed on the Riviera Travel website here. 
Itinerary
Day 1 – Arrival in Cologne
Arrive at the airport for your flight to Düsseldorf or Cologne, or take the Eurostar to Brussels from London St Pancras International. On arrival, transfer by coach to your cruise ship moored in the heart of picturesque Cologne. The dedicated English-speaking crew will welcome you aboard your first-class floating hotel, ensuring you settle into your luxurious, well-equipped cabin and familiarise yourself with the ship.
Day 2 – Koblenz 
As you wake to a sumptuous breakfast, the delights of this river cruise begin to emerge as we drift past the first rolling hills of the Rhine Valley. The forested Siebengebirge – Seven Mountains – a cluster of ancient volcanic hills that inspired many of the Brothers Grimm's legends, including 'Snow White', act as the overture for even more dramatic scenery upstream.
We cruise past the famous ruined bridge at Remagen, which was captured intact by the Allies towards the end of the Second World War, allowing thousands of troops to cross into Germany's heartland. Pretty waterfront towns and carefully tended vineyards come into view as we glide gently into our mooring to visit delightful Koblenz for a guided tour.
Founded by the Romans, this historic city is beautifully located at the confluence of the Rhine and its sister river the Moselle. Discover Koblenz's maze of medieval buildings in the Altstadt – old town – which is studded with a fine array of traditional shops and classic Rhineland cafés. As you wander, historic buildings appear seemingly at every turn; see a former mint, the Four Towers – 17th-century houses with striking turrets set at a crossroads – and many fascinating squares and churches, including the 9th-century Basilica of Saint Kastor.
Wherever you wander you're never far from a riverbank, and it's worth crossing the 14th-century stone Balduin Bridge across the Moselle for fine views back across the spires of the Altstadt. Tonight, enjoy a meticulously prepared dinner on board, and afterwards perhaps a quiet stroll along the riverside promenade to the Deutsches Eck – 'German Corner' – where the great rivers Rhine and Moselle meet.
Day 3 – Rhine Gorge & Rüdesheim
Slipping our mooring at Koblenz we proceed upstream on the Rhine and soon encounter the impressive Marksburg Castle, a fortress dating back to the 13th-century. We then weave through the huge looping bend – one of the most impressive on the river – at Boppard, a wonderfully picturesque town known as the 'Pearl of the Rhine'. Journeying further, you explore the most famous of all the river's reaches and a real highlight of the cruise, the dramatic Rhine Gorge: steep vineyards give way to almost vertical rocky outcrops towering more than 600 feet above the sweeping valley sides. Sailing past Saint Goar and the many ruined castles, there's a real sense of the myths surrounding this historic river coming alive around you.
After lunch we moor in Rüdesheim, a classic Rhine wine village with crooked houses sloping down from wooded hillsides and terraced vineyards. During this afternoon's delightful walking tour, witness the bustling marketplace, the half-timbered Klunkhardshof and Bromserburg Castle, which dates from 1275. After dinner this evening, another sumptuous affair prepared by your chef, maybe sample a small Asbach – the famous brandy distilled in Rüdesheim – while watching the last of the ferries crossing the river in the moonlight glow.
Day 4 – Speyer
Still sailing upstream, the landscape becomes much wider and flatter, with gently rolling hills and vineyards that are home to the Liebfraumilch wines. Occasionally the excited chatter of birdlife breaks out as we pass oxbow lakes, long deserted by the river flow, which are now havens for over a hundred bird species.
Today we berth in historic Speyer, founded by the Celts and one of Germany's oldest cities, celebrated for its illustrious past, for an afternoon walking tour. The breathtaking Imperial Cathedral, a UNESCO World Heritage Site, is among the largest Romanesque churches in the world; it's also one of the finest. Its beautiful four-roomed crypt is the resting place of many Holy Roman emperors and German kings. Another landmark is the magnificent neo-Gothic Gedächtniskirche, built at the turn of the 20th-century to commemorate the 1529 'Protestation at Speyer', a significant event when a group of Martin Luther's followers protested against his imperial ban – henceforth Luther's religious followers were known as 'Protestants'. There's free time to explore here before stepping back on board for another splendid dinner.
Day 5 – Strasbourg 
This morning we cruise gently upstream, passing through two spectacular locks, whose elaborate engineering never ceases to fascinate. Why not find a comfortable chair and catch up on some reading, play chess or watch the rolling kaleidoscope of scenery from the Sun Deck?
We soon arrive in France and moor in Strasbourg, capital of the Alsace region. This afternoon we have a walking tour of its picturesque Old Town, bisected by canals and made up of a maze of narrow streets lined with timber-framed houses and sculptured portals. Unforgettable sites include the stupendous Gothic Notre-Dame Cathedral, multi-towered Ponts Couverts – covered bridges – and the pretty Petite France quarter of pastel-coloured former artisans' houses lining the canals. Don't be surprised if you're tempted to linger a while in a typical Alsatian café to sample some of the region's world-famous wines – a crisp Riesling or that particular speciality of Alsace, spicy Gewürztraminer. Back on board this evening there's a truly memorable occasion – the 'Captain's Dinner', featuring delicious specialities of the countries and regions we visit during our cruise.
Day 7 – Bresiach & Black Forest 
Your final day cruising is spent gliding through the dramatic scenery of the rift valley separating the Vosges and Black Forest mountains. We arrive at the ancient town of Breisach, whose historic heart is surrounded by stone ramparts and dominated by the impressive Saint Stephan's Cathedral.
Later you drive through some of Central Europe's most stunning scenery – the Black Forest Mountains. This is a fabled landscape of rugged valleys, white-water rivers, cascading waterfalls and rolling hillsides covered with huge, densely packed pine trees – exactly as you expect it to be. Our destination is the idyllic village of Titisee, nestling on the shores of its crystal-clear lake.
Rejoining the ship, we resume our stately passage upriver. As the sun sets and the riverside lights begin to twinkle there are wonderful views over the imposing Vosges massif. You enjoy this evening's dinner en route to Switzerland and our next mooring at Basel.
Day 7 – Lucerne & Bernese Oberland 
Today we take the short drive to Lucerne, often considered Switzerland's most beautiful city, spectacularly situated among stunning mountain views. It has been attracting well heeled visitors for two centuries, including our very own Queen Victoria. Highly recommended is an invigorating stroll along the Chapel Bridge, a unique covered wooden walkway crossing the lake, supported by stilts and lined with colourful flower-filled window boxes. Not only is it the city's most iconic structure, it's a superb way to absorb Lucerne's regal atmosphere.
As you enter the Bernese Oberland in central Switzerland, the views become quite literally breathtaking! This is the grand alpine heart of Europe with some of the finest mountain scenery on earth, described by the composer Mendelssohn as 'the most wonderful of all in this unbelievably beautiful country'. On viewing the legendary snow-capped peaks of the Eiger, Mönch and Jungfrau you'll be quite simply awestruck. We then ascend by mountain railway for more extraordinary vistas, with the crystal-clear lakes reflecting the meadows and forests below. This truly magical landscape is sure to enchant you. Later we'll descend again by mountain railway before returning to the ship. Please note, temperatures will be significantly lower at altitude, even during the summer months, so it's advisable to pack suitable clothing. Lunch is not included on this full day excursion; however the ship will offer a packed lunch.
Day 8 – Return Home
Today we transfer either to the airport for your flight home or the railway station to take the TGV to Paris, connecting with the Eurostar service to London St Pancras International.
---
Rhine River Cruise to Switzerland
FROM
£2089.00
Departing From
Edinburgh
Other UK airports also available
Departure dates
4th July 2022
2nd August 2022
9th August 2022
24th August 2022
1st May 2023
22nd May 2023
21st June 2023
30th August 2023
20th September 2023