Rhine, Moselle and Main 2020 River Cruise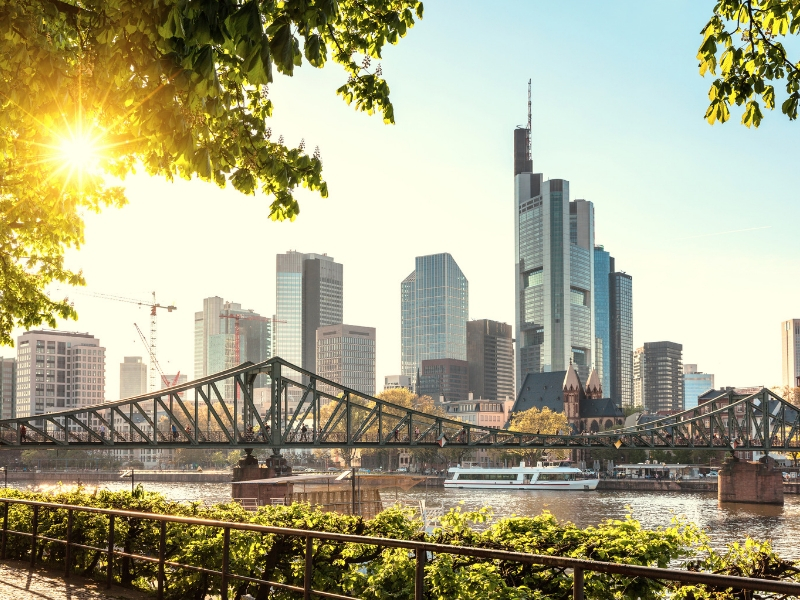 Available
June - September 2020
Discover the Rhine, Moselle and Main rivers on this wonderful 15 day river cruise.
Cruise the length of the Rhine and on two of its biggest tributaries – the Moselle and Main – revealing the characteristic sights of their banks – Rhine castles, Moselle vineyards, Main towns and lively Frankfurt
Price Includes
Return flights from Edinburgh, Glasgow or Aberdeen, other UK airports available
VIP door-to-door service
Wine, beer and soft drinks with lunch and dinner
41 meals: 14 breakfasts, 13 lunches and 14 dinners
Captain's dinner and drinks reception
Saga Cruise Host
Saga Cruise Assistant on board
Complimentary Wi-Fi on board
Entertainment and activities on the ship
Excursions included: Coach and walking tour of Trier, Wine tasting in Traben-Trarbach, Tour of Frankfurt and Strasbourg tour and canal cruise
Terms and conditions apply. Subject to availability. Single supplements apply.
To speak to an adviser regarding more information for this cruise or to book this cruise, please call 0800 1707 233 and quote *DC THOMSON TRAVEL*
---
Rhine, Moselle and Main 2020 River Cruise Itinerary
Day 1: UK – Arnhem
Embark your ship and enjoy a welcome reception and dinner on board.
Cruise overnight towards Bonn.
Day 2: Bonn
Arrive in Bonn this afternoon and discover the highlights of the city on an optional walking tour with a local guide which includes a visit to the birthplace of Ludwig van Beethoven, now a museum dedicated to his life and work. Alternatively, explore at your own pace.
Early this evening you sail towards Winningen.
Day 3: Winningen to Cochem
Leave Winningen after breakfast and arrive in romantic Cochem on the Moselle mid-afternoon. An optional afternoon excursion visits the castle, followed by a wine tasting at a vineyard.
Depart this evening for Zell, where you arrive in the early hours.
Day 4: Zell to Bernkastel
Enjoy views of the old walls of Zell from the ship before sailing after breakfast to Bernkastel-Kues where Renaissance houses line the market square.
Arrive mid-afternoon and moor here overnight.
Day 5: Bernkastel to Trier
Set sail early this morning and spend an afternoon in Germany's oldest city, Trier, founded in 16BC by Emperor Augustus. Discover more on an included tour to see the Roman city gateway, Porta Nigra, and the cathedral.
Moor here overnight.
Day 6: Trier to Traben-Trarbach
Set off in the early hours and cruise to the twin villages of Traben-Trarbach which straddle the Moselle, arriving after lunch. Known as the 'capitals' of the wine region, they are home to many art nouveau buildings. Enjoy an included wine-tasting at a vineyard.
Cruise overnight to Koblenz, departing after dinner.
Day 7: Koblenz
Meaning 'merging of the rivers', Koblenz' rich history is reflected in a wealth of monuments and historic buildings. Arrive here after breakfast. An optional walking tour encompasses Ehrenbreitstein Fortress.
Set sail early evening and cruise overnight towards Frankfurt.
Day 8: Frankfurt
Today you have the whole day to discover this lively, cultural centre, the most international city in Germany thanks to its origins as a trading centre. Despite the dramatic skyline it's a small city – you can walk from one side to the other in twenty minutes! There are plenty of places of interest, from the cathedral to the restored timber-framed buildings of the city centre – Römerburg – as you'll discover on an included tour. You'll also visit the Goethe House and Museum, on the site of the birthplace of the greatest German literary figure of the modern era.
Set sail at dinner time and cruise through the night.
Day 9: Miltenberg to Aschaffenburg
Arrive early with time to stroll in the the medieval Bavarian town of Miltenberg.
Leave Miltenburg after lunch and cruise on to Asschaffenburg, arriving late afternoon and mooring here overnight.
Day 10: Aschaffenburg
Spend the morning in the city known as 'Bavarian Nice' thanks to its sunny climate and lively cultural scene. Admire Johannisburg Palace and the old quarter.
Depart late morning and spend the afternoon and evening cruising towards Strasbourg.
Day 11: Strasbourg
Arrive in Strasbourg after lunch and explore the capital of Alsace whose cobbled streets, half-timbered houses and Gothic cathedral can be seen on an included tour and canal cruise.
Depart this evening.
Day 12: Rüdesheim to Oberwesel
Arrive in the charming wine town of Rüdesheim for a morning exploring. Alternatively, join a fascinating optional excursion to Siegfried's Museum of Mechanical Music. Cruise to Oberwesel during lunch, arriving later in the afternoon. Best known for the production of Reisling, the town is surrounded by a medieval wall and defence towers with dramatic Schönburg Castle perched high above it.
You remain moored here overnight.
Day 13: Oberwesel to Andernach
Leave Oberwesel early morning and cruise through breakfast to spend the rest of the morning in Andernach, home to the world's tallest cold water geyser which you can see on an optional excursion.
During lunch you set off and spend the rest of the day and night cruising towards Amsterdam.
Day 14: Amsterdam
Arrive in Amsterdam late morning, perhaps enjoy an optional city coach tour and canal cruise this afternoon.
Moor here overnight.
Day 15: Amsterdam to UK
Disembark after breakfast for your return journey to the UK.
---
Rhine, Moselle and Main 2020 River Cruise
FROM
£2449.00
Departing From
Aberdeen
Edinburgh
Glasgow
Birmingham
Bristol
Cardiff
Durham Tees Valley
Humberside
Leeds Bradford
London Heathrow
Manchester
Newcastle
Norwich
Departure dates
15th June 2020
13th July 2020
7th September 2020