Rhine & Moselle River Cruise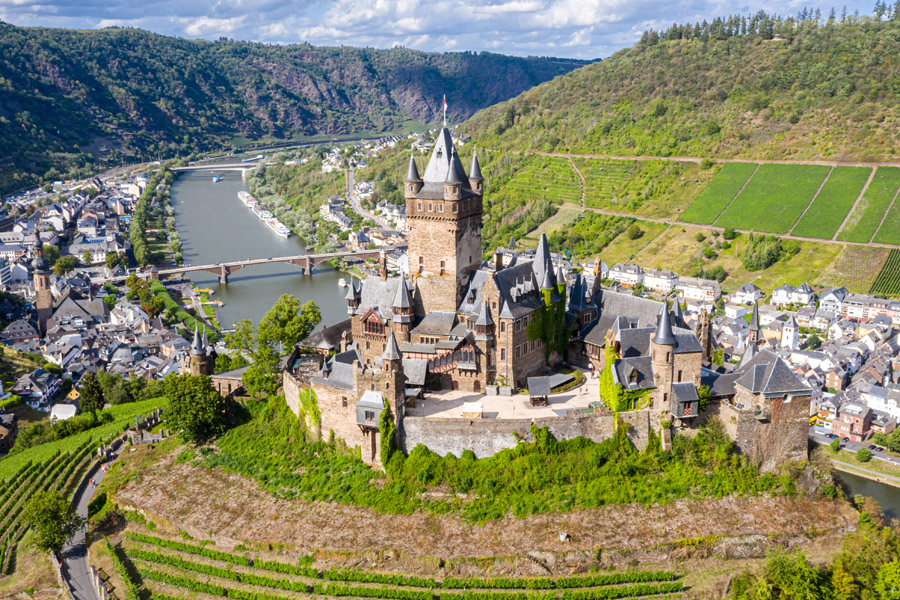 Relax aboard your floating hotel as you discover the quaint riverside settlements that hug the banks of the Rhine and Moselle.
Highlights include Andernach, a little gem that is home to the world's highest cold water spouting geyser as well as medieval fortifications such as the Round Tower and castle ruins with a well preserved keep.
We sail on to Cochem where snaking streets of wine taverns are tucked below imposing Reichsburg Castle and bustling Boppard with its chairlift that gently glides visitors up to a spectacular viewpoint.
Rudesheim boasts historical treasures while ancient Koblenz nestles at the confluence of the rivers, overlooked by a mighty statue of Kaiser Wilhelm
What You'll Love
Return coach travel from Inverurie, Aberdeen, Stonehaven, Forfar, Dundee, Perth or Edinburgh
On the Germany/France border, experience the beautiful Black Forest, visiting the pretty town of Baden-Baden before following the famous Schwarzwald Hochstrasse to Freudenstadt
Visit the popular German gems of Rudesheim, Heidelberg and its southern-most town Freiburg
9 nights' accommodation with dinner, bed and breakfast – 2 nights on the return ferry to Europe and 7 nights on board MV Esmeralda; lunch on board while river cruising;
Ferry crossings
Coach travel throughout
Services of an experienced tour driver
Sorry, there are no single cabins available on this ship. Offer is subject to availability.
Itinerary
Day One
We travel to our overnight ferry to Amsterdam, enjoying dinner, entertainment and breakfast on board.
Day Two
We make our way to Cologne to board MV Esmeralda, where we settle in to our cabins and explore the ship's facilities before dinner.
Day Three
We begin our cruise, passing Bonn and into the Rhine Valley with its vineyard slopes and romantic castles, reaching the Roman town of Andernach.
Day Four
We leave the Rhine at Koblenz, cruising upstream on the winding Moselle and stopping at popular Cochem, which is overlooked by stately Reichsburg Castle.
Day Five
We rejoin the Rhine to visit Boppard.
Day Six
Gliding between the steep slopes and craggy rocks of the Rhine Gorge, we pass historic castles en route to popular Rudesheim.
Day Seven
Returning through the Rhine Gorge, you'll have time to explore Koblenz Old Town.
Day Eight
Passing the remains of the famous bridge at Remagen, we return to Cologne where we have time to visit the majestic cathedral.
Day Nine
We head for our ferry to enjoy dinner, entertainment and breakfast on board.
Day Ten
We make our way home.
---
Rhine & Moselle River Cruise
FROM
£1249.00
Departing From
Inverurie
Aberdeen
Stonehaven
Forfar
Dundee
Perth
Edinburgh