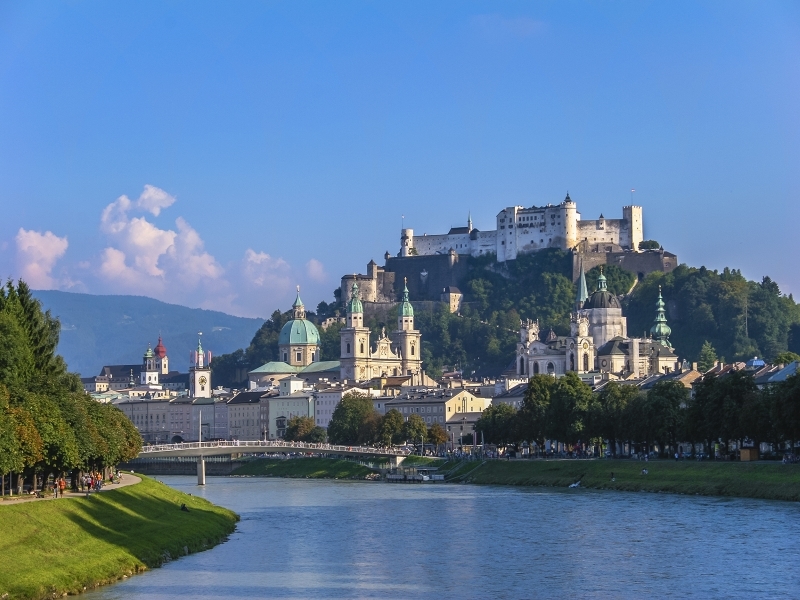 Join us on this 7-night holiday to two of Europe's most beautiful cities, Salzburg and Vienna.
Salzburg, which is Austria's fourth largest city and the setting for the 'Sound of Music' will be your home for the first 3 nights. Famous as the birthplace of Mozart, it's difficult to ignore Salzburg's musical history, as classical music seems to be the soundtrack to the city. An exceptionally pretty city, Salzburg's Baroque architecture is beautifully preserved, and visitors can enjoy the manicured parks and green areas as they explore the city.
For the second part of your holiday you will stay in Vienna, which is like taking a journey back in time to the days of the empire, when the city ruled not only Austria but a large part of central Europe. It is little surprise that today Vienna's historic centre is a UNESCO world heritage site. Examples of the city's illustrious history, including 27 palaces, lie on virtually every street corner.
History buffs, art lovers, shoppers and gourmets will not be disappointed in Vienna, with a vast choice of places to see and things to do.
Price Includes
Flights from Edinburgh to Munich, returning from Vienna
3 nights in Salzburg and 4 nights in Vienna
A half day guided walking tour of Salzburg
A half day tour of Vienna with entrance to Schonbrunn Palace included
A full day excursion to the Danube Valley including a visit to Melk Abbey
To view available dates and prices for this holiday CLICK HERE
Flights from Belfast International also available
Or call 0131 608 1238 quoting "DC Thomson Travel"
---
Salzburg and Vienna
FROM
£1039.00
Departure dates
6th October 2020
13th October 2020