Scottish Whisky Trail & Irish Sea Expedition – 2023 British Isles Cruise
INTRODUCTION
Scottish Whisky Trail & Irish Sea Expedition – 2023 British Isles Cruise from Greenock

Discover the highlights of the northern British Isles, from beautiful Scottish landscapes and historic Irish cities, to ancient castles and exceptional whiskies.
You'll uncover a goldmine of cultural heritage, from medieval castles and ancient monoliths to celebrated feats of modern engineering.
Feel the pull of history from the moment you set foot in Glasgow where splendid Victorian architecture blends seamlessly with contemporary design.
Witness the awesome Giant's Causeway in Ulster, uncover Celtic and Viking history on the Isle of Man, and see Northern Ireland's shipbuilding heritage in Belfast.
Sample those timeless institutions that are the bedrock of British Isles society – pubs.
Find out the "craic" – friendly talk and fun times – in Dublin's cosy establishments of good cheer while sipping a pint of Guinness, and visit some of Scotland's oldest whisky distilleries on the Isles of Arran, Mull and Islay.
Naturally, you may want to sample some of those famed distilled malts as you hop from port to port.

What You'll Love
Expedition cruise in a cabin of your choice
Breakfast, lunch and dinner including beverages (house beer and wine, sodas, and mineral water) in restaurant Aune
Complimentary tea and coffee
Complimentary Wi-Fi on board. Be aware that we sail in remote areas with very limited connection. Streaming is not supported.
Complimentary reusable water bottle to use at water refill stations on board
English-speaking Expedition Team who organise and accompany activities on board and ashore
Range of included activities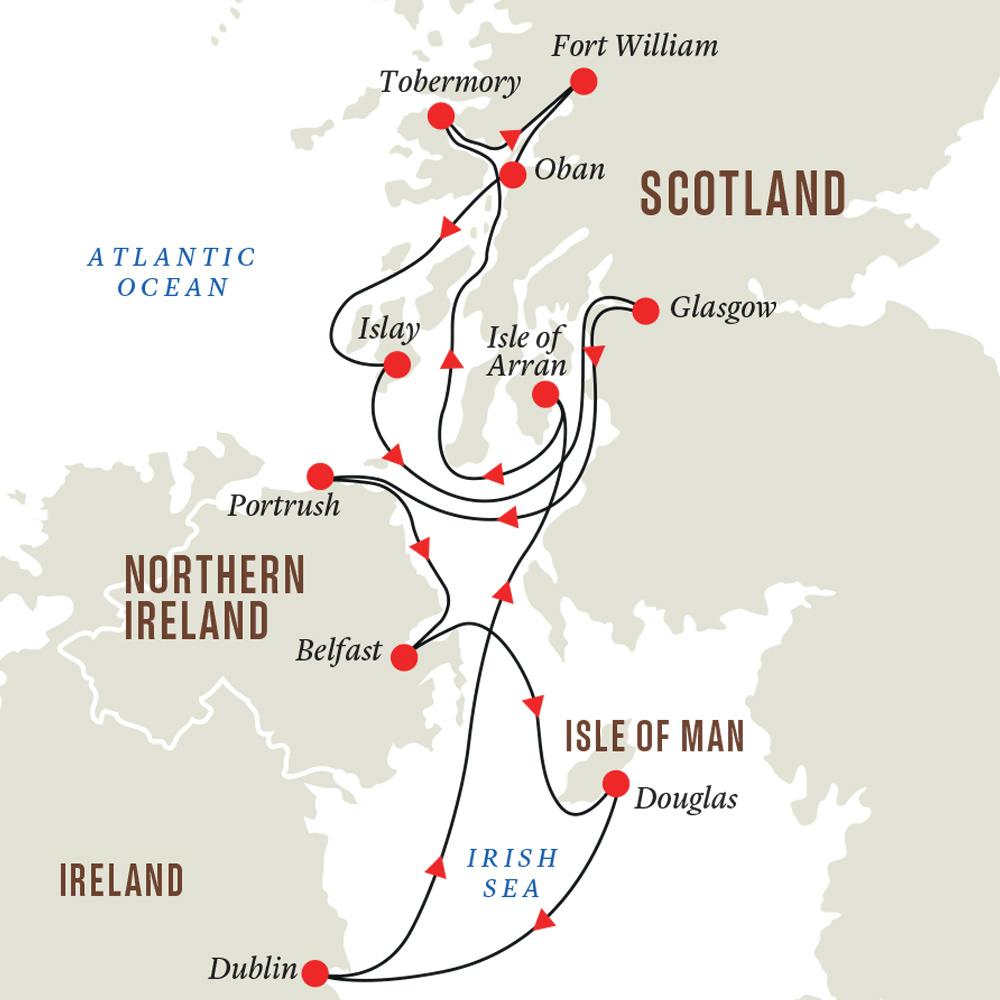 Itinerary
Day 1: Glasgow, Scotland
Enjoy elegant Glasgow – a city filled with splendid architecture in Victorian and Art Nouveau styles.
Day 2: Portrush, Northern Ireland
Portrush has been a popular resort town since Victorian times. There are several walks you can go on and birders should trek up to Ramore Head.
A big drawcard is UNESCO-listed Giant's Causeway.
Day 3: Belfast, Northern Ireland
Famed as the birthplace of the Titanic, Northern Ireland's capital is a city of industry and elegance.
Admire the detailed mosaics of St Anne's Cathedral, and the majestic façade of the Grand Opera House.
Day 4: Douglas, Isle of Man
There's a lot to see in Douglas. Visit the Manx Museum, check out the murals in St Thomas's Church and discover the impressively spooky Peel Castle.
Day 5: Dublin, Ireland
Explore fascinating Dublin with visits to places such as Trinity College, the oldest university in Ireland as well as Dublin Castle.
Don't forget to try a pint of Guinness!
Day 6: Isle of Arran, Scotland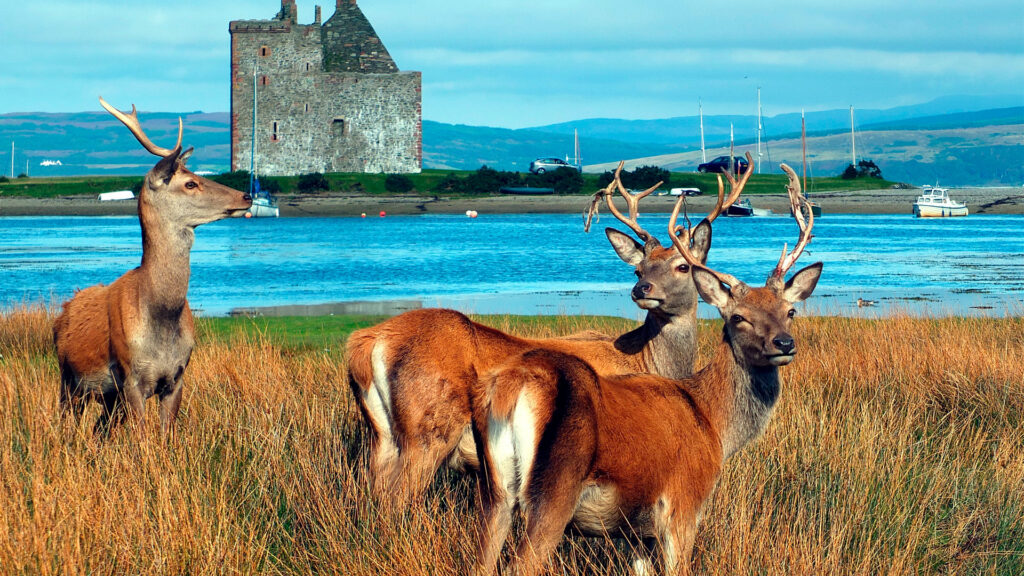 The sheltered Isle of Arran is a haven for wildlife. See if you can spot Scotland's 'Big Five' wildlife draws: the Golden Eagle, red deer, red squirrel, otter and seal.
Day 7: Tobermory, Isle of Mull, Scotland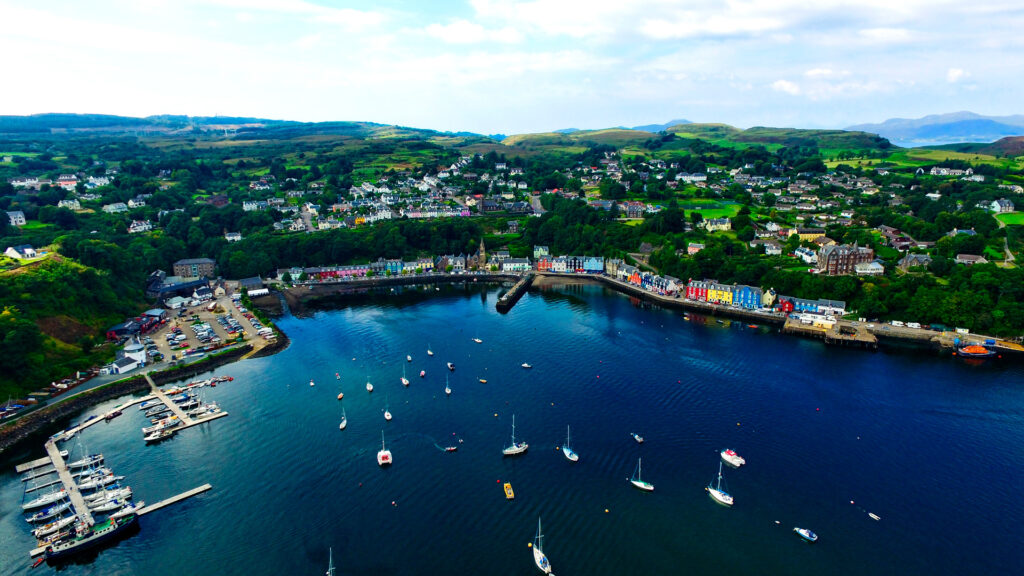 Explore Tobermory, a small town packed with cafés, restaurants and craft stores – it even has its own whisky distillery.
If conditions allow, we'll go to Loch Sunart, a beautiful loch and a great place for spotting otters, dolphins and porpoises.
Day 8: Fort William, Scotland
After sailing into Loch Linnhe we arrive at Fort William. Known as 'Britain's Outdoor Capital' it's a magnet for hikers, bikers, climbers and skiers.
As you'll see, it's set amidst some spectacular Highland scenery.
Day 9: Oban, Scotland
The 'Gateway to the Isles', the little town of Oban reached its heyday when the railway arrived, adding to its life as a busy fishing port.
Victorian buildings cluster round the port while ferries come and go, heading out to the distant Hebrides.
Day 10: Islay, Scotland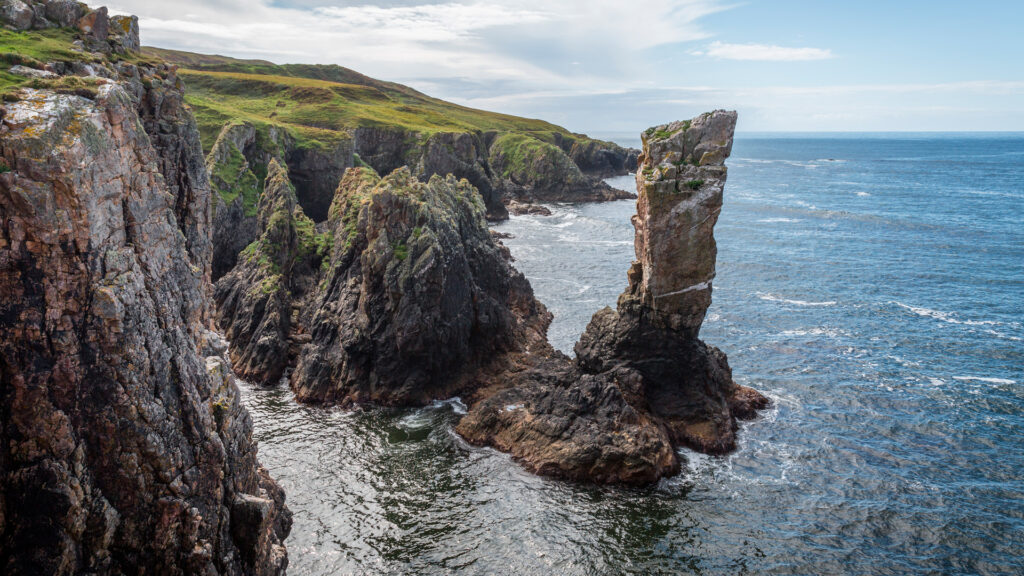 Islay isn't called 'Whisky Island' for nothing – there are nine working distilleries here.
It's also an island with over 200 species of birds including Golden Eagles, oystercatchers, gannets and Hen Harriers.
What's more, the mystical past is present here with ancient monoliths, Celtic crosses and a stone circle all visible.
Day 11: Glasgow, Scotland
Our expedition comes to an end in Glasgow.
Why not extend your stay a little longer and see some of the things you may have missed previously.
MS Spitsbergen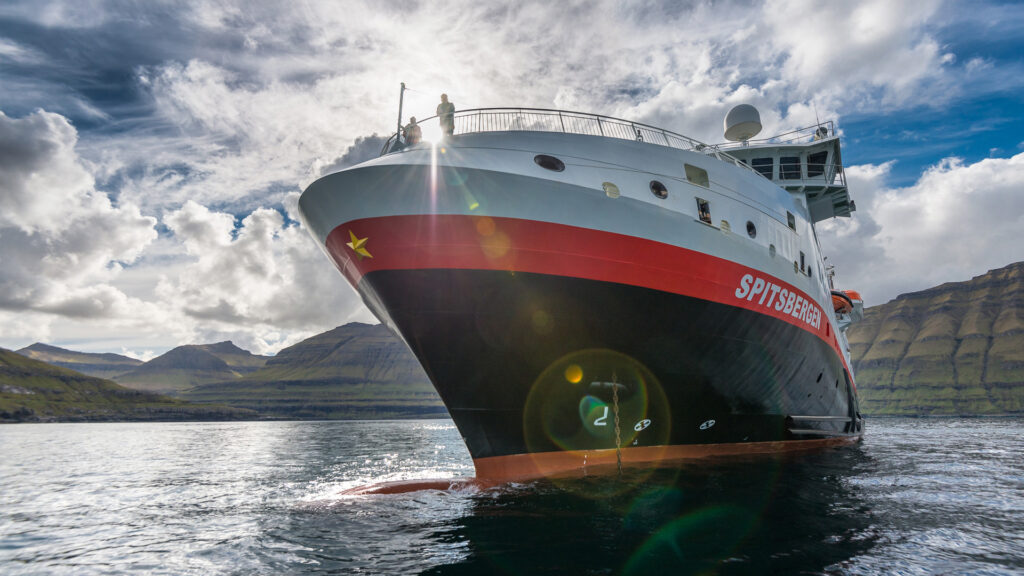 Named after the Crown Jewel of the Arctic Norway – the Svalbard archipelago and its biggest island, MS Spitsbergen is stylish, comfortable, offering morden public areas and cabins.
Environmentally progressive with future plans looking at ways to further reduce emissions and fuel consumption even more, MS Spitsbergen also has its own expedition team on board.
Throughout your journey, the on-board Expedition Team host a lecture programme and evening gatherings daily. Out on deck you can participate in live points of interest to learn more about the nature, culture and other phenomena we encounter during your cruise.
HOW TO BOOK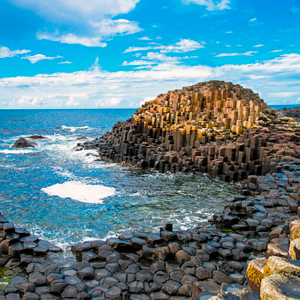 ENQUIRE OR BOOK
Call 0203 808 4029 quoting DCT OFFER
To request a brochure, click below.
Terms & Conditions
Organised by Hurtigruten. From price quoted are in GBP and are per person and based on the Select fare structure, and full occupancy of lowest available grade two-berth cabin, on a full-board basis. Single supplements apply. Cabins and excursions are subject to availability. Hurtigruten operates a flexible pricing system and prices are capacity controlled, correct at time of booking. Not included: travel insurance, luggage handling, optional excursions or gratuities.