Secret Italy – Trieste & Udine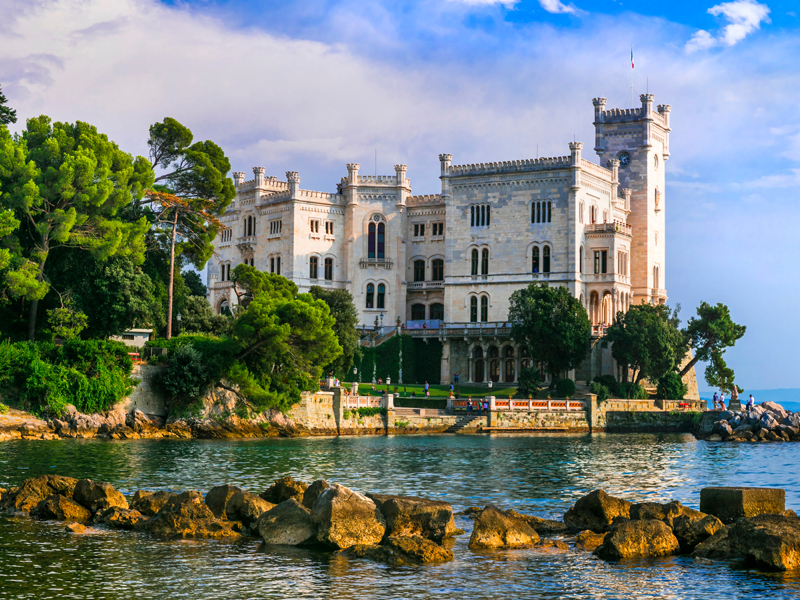 Available
Until September 2022
Few places in Italy remain undiscovered, but the tiny region of Friuli Venezia Giulia – known simply as Friuli – is a treasure trove of historic and artistic gems. You may find your first visit surprising, as there's so much to explore and it's so easy to fall under the spell of this unspoilt landscape.
Tucked away in the northeast at Italy's borders with Austria and Slovenia, Friuli boasts enchanting scenery of staggering contrasts. The snow-capped Dolomites and Julian Alps dominate the north, while fertile plains and manicured vineyards sweep across the centre and south in emerald waves to meet the rugged Adriatic coast.
The base for our engaging tour is Udine, an affluent provincial city whose grand historic centre features Roman columns, Grecian statues and Venetian archways. We discover the legacies of Caesar, Charlemagne and the dukes of Lombard in the charming towns of Cividale and Aquileia, and admire Trieste's splendid Habsburg heritage, art and architecture. We enjoy a coastal drive to Miramare, where we visit the magnificent castle built for Austrian Archduke Maximilian.
Secret Italy Price Includes
Change your booking free up to 45 days before travel*
Covid Cancellation protection included as standard
Return flights from a selection of regional airports, with hotel transfers
Five nights in four-star accommodation with breakfast

Enjoy a guided tour of Trieste, Europe's largest seafront square

See the remains of Aquileia, an ancient Roman megacity

Take a guided tour of the Aquileia's UNESCO-listed basilica

Discover Udine, a hidden Venetian gem with grand architecture

Visit Miramare, Archduke Maximillian's castle and botanical park

Tour the prestigious Mosaic School of Friuli to admire this intricate art

Visit a traditional producer to see how San Daniele's delicious prosciutto is cured

Sample the Collio region's white wines on a visit to a renowned producer

Visit the Lombard Temple of Cividale, an 8th-century church with art from the Middle Ages

Explore fascinating Gorizia, a city once divided between Italy and Yugoslavia

Expert tour manager
Subject to availability. Single supplements apply.
*Book by 30 April 2021 and you can enjoy the flexibility to change your booking before travel, with no fees and no questions asked. You can change your booking up to 45 days before departure for 2021 holidays. New bookings for 2022 can be changed for free up until 30 September 2021. Full terms and conditions can be viewed here. 
Itinerary
Day 1 – Arrival in Udine
Fly to Italy and transfer by coach to the four-star Astoria Hotel in Udine, the historic capital of Friuli.
Some departures will stay at the four-star Ambassador Palace Hotel, located in a peaceful yet convenient area, less than a 10 minute walk from Udine's main square and the town's main attractions, with a wide selection local restaurants and cafes nearby. The hotel features a restaurant serving local dishes, as well as a bar and lounge area. The rooms are traditionally decorated in neutral colours and feature air conditioning, tv and minibar.
Day 2 – Trieste
Morning
After breakfast we drive through rolling countryside with the snowy peaks of the Julian Alps never too far off in the distance. We arrive in Trieste, the region's cosmopolitan capital, beautifully situated on the gulf of Trieste overlooking the Adriatic Sea. We will partake in a walking tour of the area, which has a reputation as 'the city of cafés'. Notably the seafront Piazza Unità d'Italia – Europe's largest sea-facing square, features the smart cafés, with their inspiring sea views were once frequented by literary figures, such as James Joyce and Sigmund Freud.
During our tour, your local guide will introduce you to Trieste's highlights and splendid mix of architectural styles in its largely pedestrianised old town. Up above the hill overlooking the harbour stands a medieval fortified castle, which remains remarkably preserved as it has been miraculously spared any significant military activity. At the foot of the hill lie the ruins of a striking Roman theatre, astonishingly unearthed only in 1938! It once had a magnificent proscenium decorated with ornate statues and archways looking out to the sea – in Roman times, the sea reached inland as far as the theatre! Another must-see is the San Giusto cathedral, known for its dazzling Byzantine mosaics, reminiscent of those in Ravenna.
Afternoon
After our tour, you have free time to wander at your own pace and soak up the café culture for yourself – try a strucolo de pomi, the Triestine take on apple strudel, with a cup of Illy coffee, the famous brand that was founded here.
Next, we follow the coastal road to Miramare Castle, built in 1860 for the Archduke Maximilian of Habsburg and his wife, Charlotte of Belgium. Set dramatically on a rocky promontory above the sea, this fairy-tale castle is a fine example of an aristocratic residence with remarkably preserved furnishings. Entrance is included to the castle, so take a closer look at Habsburg life in the eclectic interiors or stroll through its immaculately landscaped park to admire the impressive variety of plants. If the beauty and serenity of the location haven't taken your breath away, the stunning views over the gulf will surely do the trick.
Day 3 – Mosaic School of Friulli & San Daniele
This morning we drive through lush countryside to visit the Mosaic School of Friuli in Spilimbergo. Founded in 1922, this renowned training centre attracts students from all over the world. During our guided tour, we'll dive into the nitty-gritty of this intricate artform and the various techniques used. We'll walk the halls of the school's gallery to admire the talented students' finished works, creatively expressed in a kaleidoscope of colours, motifs and styles.
There's free time after to discover the pretty little town of Spilimbergo. As you walk along cobbled streets between elegant buildings, you'll feel as though you've stepped back in time. The town's medieval castle comprises magnificent buildings in a fascinating combination of architectural styles – some buildings were set ablaze during upheavals in 1511, but fortunately much of its wonderfully painted façades were saved. There is also a 13th-century cathedral with frescoes, paintings and sculptures adorning its interior.
Later we continue to San Daniele, a hilltop town renowned for its delicious prosciutto. We visit a local producer to learn about the ancient artisanal process involved in curing this very special ham and enjoy a tasting afterwards. Its sweet and delicate flavour is said to be a result of the area's microclimate, owing to a mingling of the winds from the Carnic Alps and the Adriatic Sea.
Day 4 – Cividale, Gorzie & Wine-Tasting
Morning
After breakfast we drive to Cividale, nestled in the green hills bordering Slovenia and split by the picturesque Natisone river, over which spans the town's bridge – so-called 'Devil's Bridge' after locals allegedly asked the devil for help to build it! Cividale was founded by Julius Caesar as 'Forum Iuli' – from where Friuli gets its name – and grew in significance as the capital of the first Lombard duchy in Italy.
To discover its fascinating history, we visit the Santa Maria in Valle monastery to see the unique Lombard Temple, an outstanding example of art and architecture from the High Middle Ages. The well-preserved walls and ceilings of this hidden gem are intricately adorned with Byzantine frescoes and stucco decorations, and its 8th-century sculptures are some of the finest to survive in Europe.
Then we drive to Gorizia, a unique town at the border with Slovenia once well-loved by the Habsburg bourgeoisie. Its red-roofed buildings are crowned by a medieval castle, and there are sweeping views over the beautiful countryside. Hemingway's Frederic Henry begins his narrative near Gorizia in his beloved novel, A Farewell to Arms, set during the Great War. Today Gorizia is a lovely place to wander, with elegant arcades and Baroque buildings.
Afternoon
After time for lunch at your leisure, we continue to the critically acclaimed wine region of Collio Goriziano. This enchanting landscape of gentle hills is marked by hypnotic rows of verdant vines and dotted with grand villas and wine estates. The unique microclimate, created by the area's equidistance from the Adriatic Sea and the Austrian Alps, works perfectly with the marlstone soil to yield exceptionally fragrant grapes. Unsurprisingly, some of the world's best white wines are produced here, so our tour would not be complete without a visit and tasting at one of Collio's celebrated vineyards.
Day 5 – Aquileia & Rustic Lunch
Morning
This morning we discover Aquileia, one of the largest and wealthiest cities of the Roman Empire. At its peak the population exceeded 100,000, but today it's a sleepy rural town peppered with ancient ruins – the most complete example of an early Roman city in the Mediterranean world. During the Middle Ages, a smaller town took its place and a magnificent basilica was built. As we near the historic site, keep an eye out for the ancient remains flanking the road.
We have a guided tour of Aquileia's early medieval Patriarchal Basilica, a World Heritage site recognised for its significance as a Christian hub in central Europe. Interestingly, this Romanesque-Gothic building was built on the ruins of a 4th-century church, and the original floor, paved with stunning mosaics, is a sight to behold. The excitement builds as we descend to the subterranean depths of the basilica to unearth its treasures. Its Crypt of Frescoes boasts a 9th-century vault beautifully painted with 19 biblical scenes, while the Crypt of Excavations houses an astonishing collection of excavated gems from three different periods, including the remains of intricate mosaics, columns and a baptismal font.
Afternoon
After a fascinating morning, we drive to a rustic restaurant in order to sample authentic Friulan fare made with fresh local ingredients.
Later we return to Udine with the rest of the day at leisure. There's plenty to explore in this visual feast of a city, such as the hilltop castle, which houses a collection of excellent museums, including an art gallery with works by Caravaggio and Tiepolo. For those who enjoy more recent art, the Museum of Modern and Contemporary Art features an impressive 20th-century collection. Of course, art in Italy isn't confined to just museums and galleries – Udine's beautiful Venetian heritage can be admired in Piazza della Libertà, a Renaissance jewel with handsome sculptures and gleaming palaces.
Day 6 – Return Flight
Transfer to the airport for your return flight.
---
Secret Italy – Trieste & Udine
FROM
£899.00
Departing From
Edinburgh
Other UK airports also available
Departure dates
15th October 2021
2nd September 2022
11th September 2022