Slovenia & the Gulf of Trieste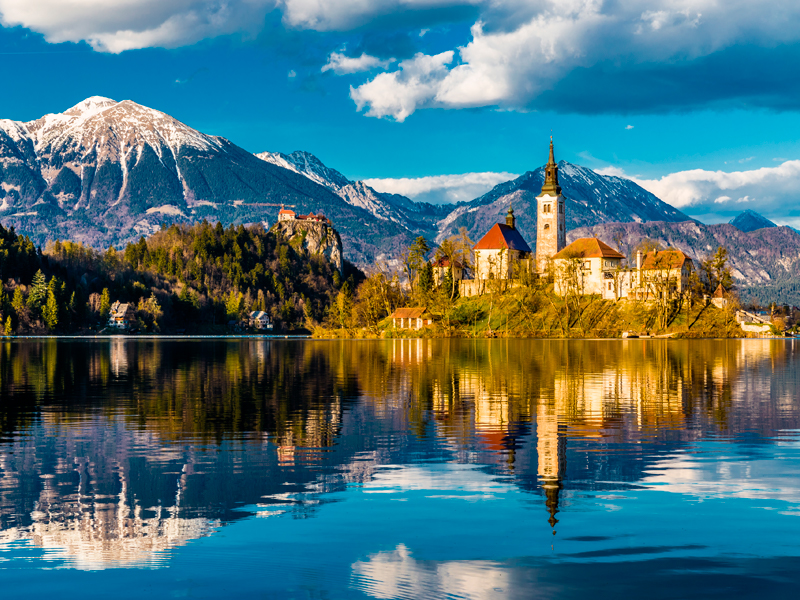 Discover the astounding natural beauty and culture wealth of Slovenia on this 7-night holiday. From stunning coastal views, to charming cities and inspiring architecture, this Eastern European gem will take you by surprise.
On this guided package holiday, we'll discover Slovenia's most famous and stunning sight – Lake Bled, enjoy a panoramic boat trip on the Slovenian coastline from Portorož to Izola, and take in the impressive historic buildings of Ljubljana, Slovenia's capital.
We'll also venture into neighbouring Italy and enjoy a full day excursion to the city of Trieste.
Based in Lucija- Portorož, a charming resort town on Slovenia's coast, you'll also have plenty of leisure time to explore the nearby centre of Portorož, take a stroll along the beach or visit one of the many spas that use mud and brine from the nearby traditional salt pans.
What You'll Love
Explore Eastern Europe on this 7-night holiday to Slovenia & the Gulf of Trieste
Stay in Lucija-Portoroz, a resort town on Slovenia's coast known for its luxurious spas (3* Half Board)
Learn the history of Slovenia on a guided walking tour of the country's capital, Ljubljana
Discover Slovenia's most famous attraction, the stunning glacial Lake Bled and medieval Bled castle
Take in the beautiful Adriatic Sea by boat, on a half day guided excursion from Portorož to Izola
Venture into Italy on a day trip to the incredible seaside Miramare Castle & the medieval town of Trieste
Relax & unwind with plenty of free time in Lucija- Portorož with recommendations from your expert guide
Return flights and transfers
Subject to availability. Single supplements apply. To check latest availability, call 0131 608 1238 quoting "DC Thomson Travel"
Itinerary
Day 1 – Travel to Slovenia
Fly to Venice airport in the morning, where you will be met by your local guide and transferred to your hotel in Lucija-Portoroz, a resort town on Slovenia's coast.
Day 2 – Izola
After breakfast you will meet your guide who will accompany you on a half day's panoramic boat trip from Portoroz to Izola. Depart Portoroz port towards the picturesque coastal town of Piran, tucked between the sea and its impressive town walls. Continue along the peninsula of Piran and enjoy a spectacular view of the high cliffs of Strunjan Natural Park and the charming towns scattered along its coast. Marvel at the amazing backdrop of the Italian coastline as you reach Izola, an ancient fishing town. Take in Izola's white-washed bell towers, exclusive marina and fertile vineyards in the distance as you return to Portoroz. (Note that in the rare occurrence of unsuitable weather, this excursion may be re-scheduled to a different day).
The afternoon can be spent at your leisure. Your guide would be delighted to recommend some other hidden gems for you to discover.
Day 3 – Mirimare Castle & Trieste
After breakfast today you will set off for a full day excursion to the neighbouring country of Italy. After crossing the border, you will travel towards the city of Trieste, well known for its numerous cultural and historical monuments, palaces and churches. Start your tour at the beautiful Miramare Castle, a 19th century castle located on the Gulf of Trieste (entrance paid locally). Surrounded by a flourishing park, it offers a spectacular panoramic view from a cliff high above the sea.
Day 4 – At Leisure
Visit Portoroz Beach and explore its wide, sandy stretch with wooden piers. Take a dip in the beautiful Mediterranean Sea or discover the delightful cafes or restaurants by the sea. Chat with your guide during the previous day's tours and pick up some tips and information on how to make the most of this fabulous location.
Day 5 – Ljubljana & Lake Bled
This morning, enjoy a guided walking tour of the city's highlights, including Ljubljana Castle and the leafy banks of the Ljubljanica River. Afterwards, you will have free time for lunch and to further explore city at your own pace. Your local guide will be happy to offer suggestions of activities that suit your interests.
Day 6 – Discover Lake Bled
Continue your journey to Lake Bled for a guided tour including a boat trip to Bled Island, which lies in the centre of the lake's glacial blue waters. The small island is home to a church, small museum and the historic South Staircase, a set of 99 steps built in 1655. Later, visit the medieval Bled Castle which overlooks the lake from its imposing clifftop perch.
Day 7 – At Leisure
Enjoy two free days to relax at your hotel and explore your enchanting surroundings at your own pace. Why not try therapeutic treatments based on the mud and brine from the nearby Secovlje Salina salt pans for further relaxation?
Day 8 – Return Home
After breakfast, check out of your hotel and depart for Venice airport for your flight home.
---
Slovenia & the Gulf of Trieste
FROM
£1228.00
Departure dates
15th May 2023
12th June 2023
11th September 2023
9th October 2023