Sorrento Coast, Pompeii & Capri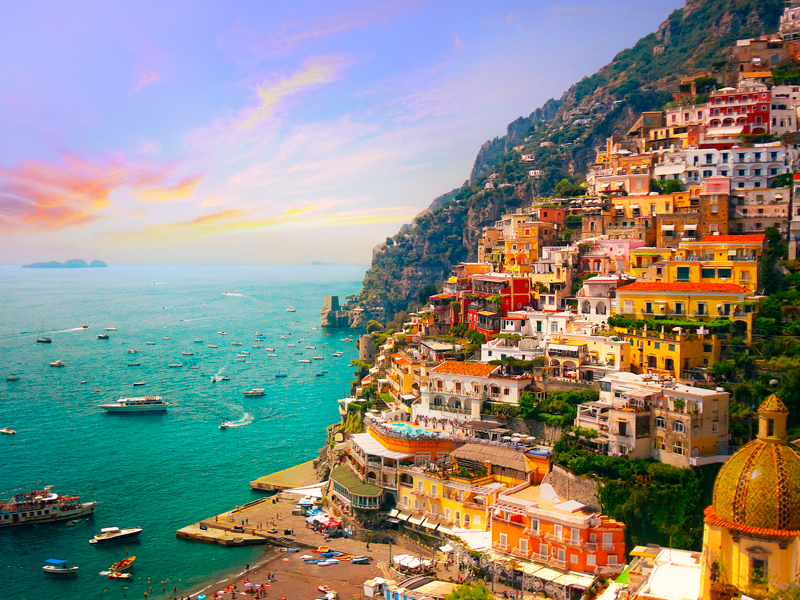 Join us on this Italy trip to experience the breathtaking landscape of hills and valleys, scented lemon orchards, silvery olive groves, and dramatic cliff tops giving way to picturesque fishing villages of the Sorrento Peninsula.
Overlooking the beautiful Bay of Naples and with easy access to some of southern Italy's most famous sites, Sorrento is the perfect location for a touring holiday.
On this guided trip, we'll make use of this fantastic location with excursions to explore the dazzling Amalfi Drive, the charming town of Sorrento, the romantic island of Capri and the ancient ruins of Pompeii.
You'll also enjoy plenty of leisure time to relax by the sea, sample local delicacies like limoncello or explore coastal towns with personalised recommendations from your expert guide.
What You'll Love
Experience the perfect combination of spectacular coastline & Italian culture on this guided Italy tour
Spend 7 nights in 3 & 4* accommodation on the Sorrento Peninsula overlooking dramatic sea cliffs & deep turquoise waters (Half Board)
Visit the enchanting Island of Capri on a guided day trip with free time to swim, shop or just soak up the sun
Uncover the history of Sorrento as an ancient Roman resort on a half day walking tour of the city centre
Learn about the volcanic eruption that forever changed Southern Italy on a visit to the ruins of Pompeii
Enjoy a scenic drive on the legendary Amalfi Coast with stops in Amalfi & Ravello and views over Positano
Return flights & transfers
Subject to availability. Single supplements apply. To check latest availability, call 0131 608 1238 quoting "DC Thomson Travel"
Itinerary
Day 1 – Travel to Italy
Upon arrival in Naples, we will be met at the airport by our local representative and transferred to our hotel.
Enjoy a welcome drink on arrival at our hotel. This is a great opportunity to get to know other members of our group and to pick up plenty of tips and information from our local guide.
Day 2 – Capri
After breakfast, depart our hotel for Sorrento's port. We will travel by hydrofoil to the enchanted island of Capri, renowned for its beauty and the clear blue sea that surrounds it. Stroll through Capri town, visit the famous Augustus Gardens and admire the incredible views. There is plenty of free time to enjoy a leisurely lunch, a swim in the sea or a visit to the famous Blue Grotto, before returning to our hotel.
Day 3 – Sorrento & Pompeii
This morning, we will enjoy a guided tour of Sorrento Town, followed by free time to explore at our own pace.
In the afternoon, we will visit the excavations of the ancient Roman town of Pompeii. There will be a guided tour of the excavations, explaining how time was frozen in the year 79AD for the 25,000 residents of Pompeii, when the great Mount Vesuvius erupted.
Day 4 – At Leisure
Today is free to spend at your leisure in Sorrento. (For those staying in hotels not based in Sorrento town a transfer to and from the centre will be provided). Piazza Tasso is the hub of the town, where you can view the lovely Baroque Church del Carmine Maggiore, and the 18th century mansion, Palazzo Correale. From here you can visit the Basilica of St. Antonino, the town's patron saint; and the pretty historic quarter is close by, with plenty of cafés, shops and interesting small streets to discover.
Sorrento's fishing village, Marina Grande, is the perfect spot for an al fresco lunch and maybe a refreshing dip in the sea! A day quickly flies in the town while chit-chatting with the locals and shopping for souvenirs and local specialities.
Day 5 – Amalfi Coast
On this magical guided excursion, we will travel along the Amalfi Coast, renowned for its breathtaking scenery and pastel coloured villages, perched over the turquoise Mediterranean Sea.
After a stop at picture-perfect Positano to drink in the view, we will continue to the lovely maritime town of Amalfi, and on to the hilltop village of Ravello.Visits to the Cloister of Paradise in Amalfi and Villa Rufolo in Ravello are included.
Day 6 – At Leisure
Today is a free day, for relaxing or independent sightseeing on the Sorrento Peninsula. Our guide will be on hand to suggest activities based on your interests.
Day 7 – At Leisure
Today is another full day at leisure, to take in those amazing views, go shopping, enjoy a delicious gelato or two and practice your Italian!
There are many charming towns and villages around the Sorrento peninsula that can be reached by public transport. Your guide will be happy to advise you.
Day 8 – Return Home
Time to say 'arrivederci' to the unforgettable Sorrento Coast. After breakfast, we will transfer to the airport, with guide assistance for our return flight home.
---
Sorrento Coast, Pompeii & Capri
FROM
£979.00
Departure dates
21st July 2022
9th August 2022
25th August 2022
13th September 2022
22nd September 2022
4th October 2022
18th April 2023
9th May 2023
18th May 2023
8th June 2023
13th June 2023
4th July 2023
13th July 2023
8th August 2023
17th August 2023
5th September 2023
3rd October 2023
5th October 2023