Spain's Basque Country, La Rioja & Burgos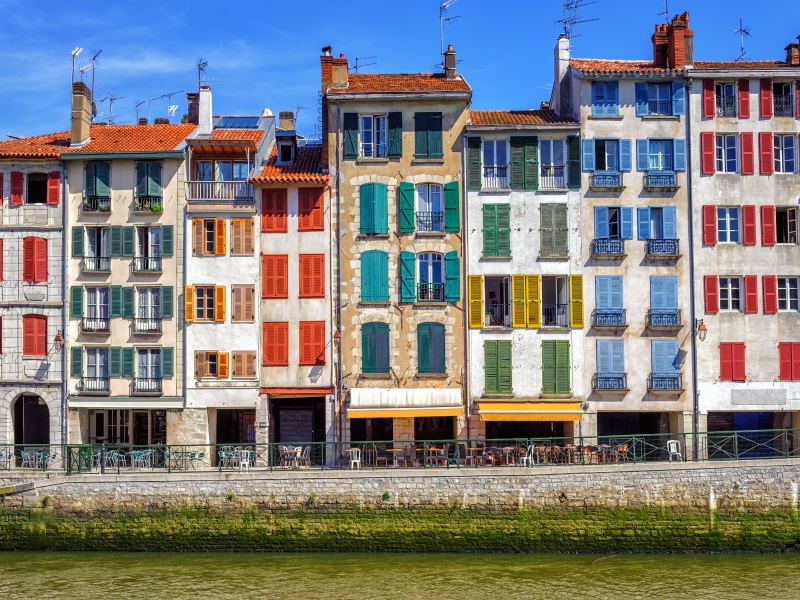 Experience fascinating Basque culture, captivating towns and cities along the Camino de Santiago pilgrimage route, spectacular scenery, Rioja wines, an inspired gastronomic heritage, and one of the world's most avant-garde museums. Euskal Herria – better known to us as the Basque Country – is wonderfully varied and blessed with its own distinctive identity.
Spanning northern Spain and southwestern France, it is a region of immense beauty and diversity, crowned by the dramatic peaks of the Pyrenees mountains which seem to pierce the sky. Hills lushly carpeted with broadleaf forests rise and fall into fertile lowlands, dotted by classic red-and-white farmhouses, before reaching the vivid blue waters of the wild Atlantic. Along the rugged coast are sweeping natural harbours with beaches of fine sand, home to charming fishing villages.
Our tour begins in San Sebastián, a coastal beauty and where you'll find some of Spain's finest food. We spend a day in Bayonne, one of the prettiest cities in the French Basque Country, to observe the fascinating cultural differences across the border, and ascend the sacred Basque mountain of La Rhune for unforgettable views.
Back in Spain we discover mighty Pamplona, capital of the once-powerful Kingdom of Navarra, and Burgos, crowned by its magnificent Gothic cathedral.
We drive through La Rioja, Spain's most famous wine-producing region – and of course, we stop at a renowned bodega for a tasting.
Our journey continues off the beaten path to Santillana del Mar, a charming medieval town seemingly unchanged for centuries, and to Altamira, renowned for its prehistoric cave paintings. In bustling contrast is modern Bilbao, where we stay and visit the outstanding Guggenheim Museum.
What You'll Love
Enjoy peace of mind with Flexible Booking*
Happy by day two or we'll bring you home with a full refund
Return flights from a selection of regional airports, with transfers to and from your hotel
Seven nights' accommodation in four-star hotels, with breakfast and one dinner, inclusive of all local taxes
Enjoy a guided tour of beautiful Bayonne, capital of the French Basque Country and a former English stronghold
Ascend to the peak of La Rhune mountain by vintage cog railway for superb panoramas of the Pyrenees
Take a guided walking tour of Burgos and explore its outstanding Gothic cathedral (audio guide included)
Tour one of Rioja's most revered vineyards and enjoy a tasting
Visit the iconic Guggenheim Museum in Bilbao
Enjoy a guided tour of Pamplona, capital of the Basque-based Kingdom of Navarra
Explore Santillana del Mar, a picture-postcard medieval town
Discover San Sebastián, an alluring coastal beauty
Sample delicious pintxos at a traditional bar in San Sebastián, perhaps Spain's gastronomic capital
Marvel at the superb prehistoric cave paintings of UNESCO-listed Altamira at a remarkably reproduced replica cave museum
The services of our experienced and insightful tour manager
Subject to availability. Single supplements apply.
*Full terms and conditions can be viewed here. 
Itinerary
Day 1 – Arrival in Bilbao
On arrival, we transfer by coach to San Sebastián, where we stay for three nights at the four-star Silken Amara Plaza. Located along the River Urumea, the hotel is a pleasant 10-minute walk to the cathedral and a 25-minute walk to the old town.
Day 2 – San Sebastian & Free Afternoon 
Gloriously sited on a shell-shaped stretch of the Bay of Biscay and framed by fine white-sand beaches, San Sebastián is one of the most enchanting coastal resorts in Spain. Manicured parks and belle-époque buildings are elegant reminders that this was once the preferred holiday destination of the Spanish aristocracy. Since 1953 the city has played host to an annual film festival, which attracted legends including Alfred Hitchcock.
San Sebastián is flanked by two hills – Monte Igueldo in the west and Monte Urgull in the east – and this morning we explore the bay between the hills. Admire the grand buildings including the Miramar Palace which was designed by a British architect, and the luxurious Hotel María Cristina. As we walk through the old town we'll see its highlights, such as Constitución Square, which was once a bullring where spectators reserved seats on the numbered balconies and placed their bets.
The tour concludes at a traditional bar, giving you the opportunity to sample pintxos. Not to be confused with tapas, they tend to be more elaborate, particularly in San Sebastián, where their creation has become an art form. So popular are they that 'txikiteo' has become a local pastime – going from bar to bar in the evenings enjoying pintxos and drinks before settling down to a main meal.
The rest of the day is free. Perhaps visit the San Telmo Museum dedicated to Basque history, or ascend Monte Urgull to see the remains of the old city walls. San Sebastián was named a European Capital of Culture in 2016 and boasts a staggering total of 17 Michelin stars, so there's plenty to see, do and taste.
Day 3 – Bayonne & La Rhune Railway
This morning we cross the French border to Bayonne to experience Basque culture in the north. Situated where the River Nive meets the Adour, Bayonne was once a fortified Roman town. Following Eleanor of Aquitaine's marriage to Henry II of England in 1152, the city prospered in the Middle Ages under English kings, represented as lions in the city's coat of arms. During our guided walking tour, we'll see colourful half-timbered buildings, the remains of 17th-century ramparts and the stunning Gothic cathedral, seat of the former Bishops of Bayonne. Although the city bears a French appearance, Basque is widely spoken here. Don't miss the opportunity to sample Bayonne's fine chocolates and cured ham for which the city is known; there are even annual festivals celebrating the centuries-old traditions of chocolate and ham production.
We then journey inland to La Rhune, an imposing mountain sacred in Basque mythology at the western end of the Pyrenees. The La Rhune cog railway takes us past typical Basque villages with red-shuttered houses and rolling countryside, home to Pottok ponies, Manex sheep and birds of prey. From the summit that towers on the border between France and Spain, we are treated to breathtaking views of the majestic Pyrenees and the Bay of Biscay. After a wonderful day of sightseeing, we return to the hotel.
Day 4 – Pamplona & Rioja Winery
Today we travel to the wooded foothills of the mighty Pyrenees, passing beautiful landscapes of rolling countryside and rocky gorges. We arrive in Pamplona, capital of the fiercely independent Kingdom of Navarra and a popular stop on the Way of St James, one of the most important Christian pilgrimages in the Middle Ages. Little was known about this historic gem until its annual San Fermin festival was brought to the world's attention in Ernest Hemingway's novel, 'The Sun Also Rises'. The week-long celebration honours the martyr, San Fermin, and features colourful parades of 'giants and big heads'. Each morning the running of the bulls takes place – a tradition that is said to have begun with butchers shepherding their bulls to the bullring, their apprentices running ahead to entice the animals forward.
During our guided tour we'll see Pamplona's cathedral and pass shops selling elaborate papier-mâché heads for the festival. One of the country's best-preserved military structures can be found here in the 16th Century citadel, built in a pentagon shape with imposing bastions at each point.
This afternoon we follow the pilgrimage route through La Rioja, Spain's legendary wine region centred on the Ebro River Valley. Rows of olive trees and vines colour the undulating landscape with stripes of green and ochre, while medieval fortified villages crown hilltops overlooked by the jagged Cantabrian mountains. We have a guided tour of one of the region's traditional wineries, to learn how their grapes are crafted into the noble drink.
Later we continue to Burgos and its eponymous capital, where we stay two nights at the four-star Abba Burgos Hotel. Located just 350 yards from Burgos Cathedral, the hotel offers guests complimentary use of its heated indoor pool, sauna, gym and tennis court. The hotel has a café-bar and a restaurant, which serves fresh seasonal dishes, and features a garden terrace with lovely views over Burgos.
Day 5 – Burgos & Free Afternoon 
The 9th-century city of Burgos played a significant military and political role in Spanish history. Founded as a fortress to defen d the Kingdom of Navarra from the Moors, it became the capital of Castile and Léon for five centuries. Like many Castilian towns, Burgos prospered from the wool trade and its wealth funded the outstanding architecture that can be seen today. During our guided tour this morning, we learn about the city's volatile history and explore the old quarter's maze of twisting streets, dominated by the 13th-century cathedral, one of Spain's glittering jewels of religious architecture. Our tour of the cathedral includes an audio guide, so you can admire this Gothic masterpiece and its numerous treasures at your own pace. Observe the majestic façade, the intricate Chapel of the Constable and the splendid tomb of Burgos' most intriguing son, El Cid.
You are free this afternoon to seek out more of the city's highlights. As a prominent stop on the pilgrimage route, Burgos has many more churches to discover, such as the remarkable Church of St Nicholas. A stroll across the river takes you to the spectacular Monasterio de las Huelgas, a Cistercian monastery founded and lavishly endowed by royalty.
This evening we dine at an excellent restaurant specialising in Castilian dishes.
Day 6 – Bilbao
Today we journey to Bilbao, the largest city of the Basque Country and one of its great treasures. Surrounded by green hills of Artxanda, Bilbao has a very attractive and lively medieval centre with pretty parks and attractive architecture. It shot to worldwide renown in 1997 with the opening of the European branch of the Guggenheim Museum on the banks of the River Nervíon. Architect Frank Gehry drew inspiration from Bilbao's maritime heritage to create the titanium-clad masterpiece of modernist architecture. We enjoy a visit to the Guggenheim to see an array of works by modern Spanish and international artists.
After some free time to admire the museum's collection, we transfer the four-star Hesperia Bilbao, situated across the river from the Guggenheim in a striking building with a colourful glass façade.
Day 7 – Santillana del Mar & Altamira Cave Museum
We drive through the stunning Cantabria region, dominated by lush forests and the dizzying peaks of the magnificent Picos de Europa mountains in the distance. Set inland is the medieval town of Santillana del Mar, one of the most picturesque in Spain and a joy to explore. Nicknamed 'the village of three lies', it does not have its own saint ('santa') and it is neither positioned on a flat plain ('llana') nor situated by the sea ('del mar').
Wander its well-preserved cobbled streets and admire the charming ensemble of 15th- to 17th-century golden houses. At the heart of the town is its Romanesque Collegiate Church, which has its origins in a 9th-century monastery. Why not refresh yourself with a drink at one of the many cafés or visit one of its interesting museums. Discover the fate of 'heretics' during the Spanish Inquisition at the fascinating museum of torture – not one for the faint-hearted!
Our journey of discovery continues in Altamira, one of the most important prehistoric caves in Europe as it contains some of the world's finest examples of Ice Age art – bison, deer and ibex have been masterfully rendered in charcoal and red ochre. The painter Picasso was said to have been so enamoured after a visit that he declared, 'after Altamira, everything is decadence'. We visit the cave museum nearby to see its remarkably accurate facsimile, built to protect the original paintings – it's every bit as astonishing as the original and enables us to have a detailed look at the fascinating facets of this complex masterpiece. Later we return to our hotel in Bilbao.
Please note: for some departures it may not be possible to visit the Altamira Cave Museum, in the event of this an alternative itinerary will be offered.
Day 8 – Return Flight
Transfer to the airport for your return flight.
---
Spain's Basque Country, La Rioja & Burgos
FROM
£1509.00
Departing From
Edinburgh
Other UK airports also available