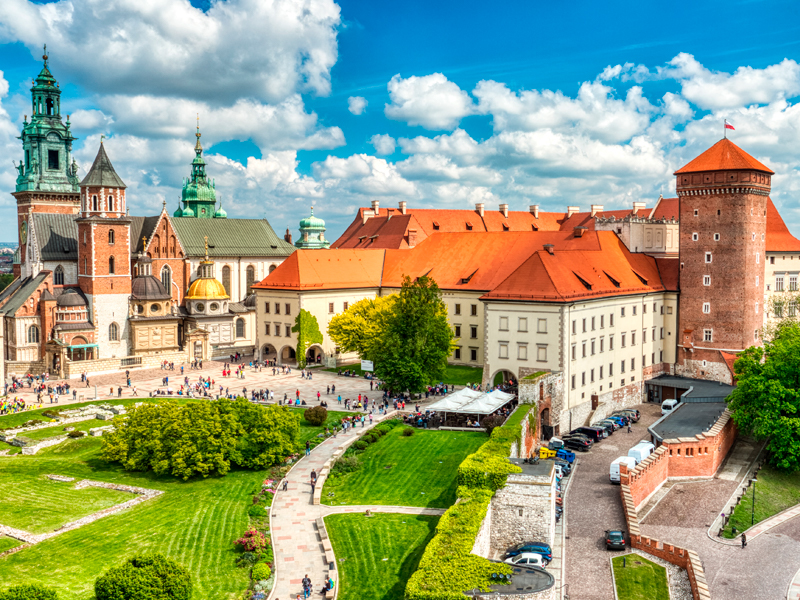 Available
Until October 2022

Uncover the history, culture and spirit of Krakow, Poland's former royal capital, and pay a moving visit to Auschwitz.
Discover one of only a handful of major Central European cities to have survived the centuries unscathed. Kraków, the former Archbishopric of Pope John-Paul II, is and a colourful university seat buzzing with life and post-Communist enthusiasm that is becoming one of Europe's must-see destinations. Our escorted break lifts the veil on this great visual masterpiece, whose UNESCO-listed treasures rival any found across the continent, and also pays a respectful visit to the preserved remains of infamous Auschwitz-Birkenau.
What You'll Love
Four nights' bed and breakfast accommodation at your chosen hotel
A visit to Auschwitz
A tour of Krakow
Return flights to Kraków
Comfortable, air-conditioned coach travel and transfers
Fully escorted by a friendly, experienced tour manager
Alternative Departures
Flights also available from Birmingham, Bournemouth, Bristol, East Midlands, Leeds Bradford, Liverpool John Lennon, London Gatwick, London Luton, London Southend, London Stansted, Manchester & Newcastle. Click here to check availability.
Single supplements apply. Subject to availability.
Itinerary
Day 1 – Fly to Poland
Fly to Kraków, meet your tour manager and transfer to your hotel. After check-in, head out to take your first look at the city, or head for a café or local beer cellar. Our tour manager will be on hand to point you in the right direction, and to make dinner suggestions.
A vibrant, bustling city, Kraków is no museum piece, but a lived-in space crammed full of cafés, restaurants and bars, and is especially lively in the evening when it offers an ever-widening choice of eateries, from traditional Polish, Russian, German, Lithuanian and Jewish cuisine to some of the latest foodie fads and fashions.
Day 2 – Included Krakow City Tour
Exploring mostly on foot in the company of a friendly guide, on our included guided tour of the city you'll see the highlights of this seat of Polish kings and former home to much-loved Cardinal Karol Wojtyla (better known around the world as Pope John Paul II). The focal point of Stare Miasto, Kraków's mesmerising medieval heart, is the Grand Square, Rynek Główny One of Europe's largest medieval squares, it is surrounded by buildings of breath-taking beauty, and churches with towers and intricate spires. At its centre stands the vast Sukiennice (Cloth Hall), which now serves as a covered market. Here, the upper floor is a fascinating art gallery, while the ground floor cafés are perfect places to stop and rest. Close by, the Mariacki Church is one of Poland's finest buildings and contains a fantastically intricate wooden altarpiece. And to both the north and west the medieval and Renaissance splendour continues – the University District is especially appealing.
After the tour, you're free to continue exploring. Head away from the stunning views of the River Vistula to visit the opulent State Rooms of Wawel Castle, and don't miss the art treasures of the Czartoryski Palace, close to Florianska Gate and the three-metre-thick defensive walls of the Barbakan, at the northernmost point of the Old Town.
South of Wawel Hill lies the Kazimierz district, the historic centre of Jewish culture in the city until the events of 1941 forced the residents into a temporary home in the ghetto across the river before their eventual, tragic, final journey to Auschwitz-Birkenau.
Day 3 – Included trip to Auschwitz-Birkenau
Today includes an unforgettable excursion to the remains of the most infamous of all the Nazi concentration camps, which lie some 70km southwest of the city. This harrowing and thought-provoking pilgrimage will provide a very real insight into the horrors of the Final Solution as you tour the buildings of the camp, many left as they were discovered in 1945.
Returning to the city, you'll be free to explore. Visit the Kazimierz quarter or the poignant Pharmacy Under The Eagle Museum, across the river in the Podgórze district that became Kraków's cramped wartime ghetto.
Day 4 – Optional excursion to Wieliczka salt mines
Today you're free to discover more of the city's sights, perhaps returning to a place of interest or looking for souvenirs of your visit. Alternatively, join our optional excursion to the astonishing salt mine at Wieliczka, just a short journey from the city.
This UNESCO-listed monument was first excavated a thousand years ago. And, while its vast underground chambers no longer function as a mine, it remains one of Poland's most fascinating attractions. Subterranean walkways lead past some remarkable natural and man-made wonders, including a full-sized chapel carved out of the salt and, on the very lowest level, a stupendous concert hall. A museum of mining gives an in-depth impression of what life was like for the miners, and your visit will end in the subterranean gift shop and café before you return to the surface by lift.
Later, make the most of your final evening in Kraków, reliving the excitement of the last few days.
Day 5 – Fly back to the UK
Depending on your flight time, you may have time to catch a final glimpse of this majestic city before we transfer you to the airport to check in for your flight home.
---
Spirit of Krakow
FROM
£504.00
Departing From
Edinburgh
Other UK airports also available
Departure dates
4th July 2022
11th July 2022
29th August 2022
5th September 2022
12th September 2022
19th September 2022
26th September 2022
3rd October 2022
10th October 2022
17th October 2022
24th October 2022