Sri Lanka Adventure Escorted Tour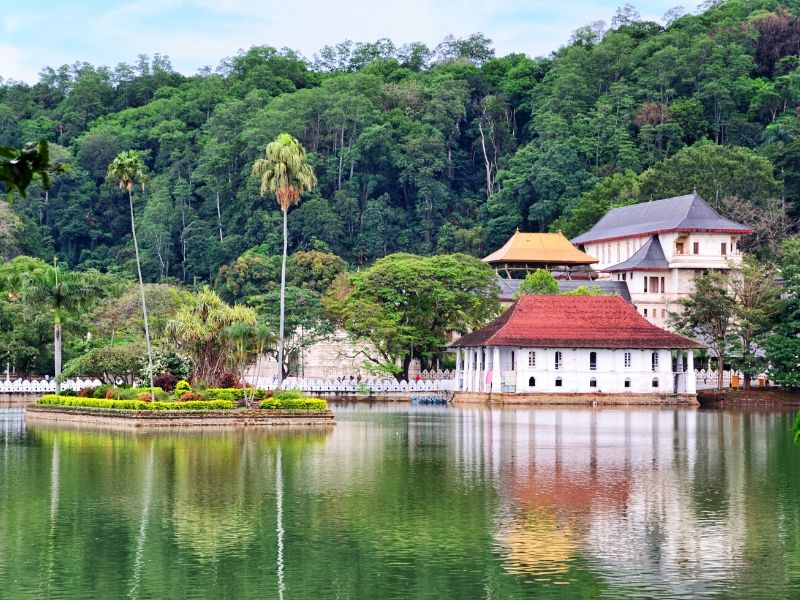 Available
January - November 2020
On this intriguing tour you can experience the elegance of a bygone era – Sri Lanka's colonial past – with stays in four heritage properties and discover the historic attractions of bustling Colombo, sacred Kandy, Nuwara Eliya hill station and Galle Fort.
Price Includes
Return flights from Glasgow, other UK airports available
VIP door-to-door travel service
12 nights in hotels and 1 in flight
30 meals: 12 breakfasts, 6 lunches and 12 dinners
11 excursions included: Colombo city tour, Dambulla Cave Temple and Matale spice garden, Udawalawe Elephant transit home, City tour of Kandy, Botanical garden and tea estate, Game drive in Yala National Park, Visit to the shrine of Lord Skanda and Temple of Kiri Vehera, Bundala Bird Sanctuary, Guided tour of Galle, Cultural dance performance, Cookery demonstration
All taxes and government air passenger duty
Services of a tour manager
Subject to availability. Single supplements apply.
To speak to an adviser regarding more information for this escorted tour or to book, please call 0800 1707 233 and quote *DC THOMSON TRAVEL*
Sri Lankan Adventure Itinerary
Day 1 – UK to Colombo
After taking Saga's included UK door-to-door travel service to the airport, depart in the evening for your overnight flight to Colombo.
Day 2 – Colombo
Arrive in the morning for an overnight stay at the locally rated 4-star Cinnamon Lakeside Colombo.
Day 3 – Colombo to Habarana
Get a panoramic taste of Colombo city with its tuk-tuks and mopeds on a tour that takes you past stupas and the bustling bazaar. Then escape the chaos of the city and follow a scenic route past pineapple farms and paddy fields to Habarana. Stay two nights at the locally rated 5-star Cinnamon Lodge. Visit the hotel's organic farm and enjoy a cookery demonstration of traditional dishes.
Day 4 – Habanara
Today is at lesiure. Optional excursions to Sigirya Rock Fortress and Polonnaruwa in the afternoon.
Optional Excursions
The Lion Rock of Sigirya | Half day
This excursion takes you to Sigiriya's famous 'Lion Rock' which was the brief capital of King Kassapa I some 1,500 years ago. Two colossal paws still stand either side of ancient limestone steps, a reminder of the lion figure that once guarded the entrance to the lofty palace gardens on the summit of this 370-metre-high granite rock. Cuts and grooves carved out of the rock face will give you an idea of the size and shape of the original lion structure. Sigiriya is also well known for the Maidens of the Clouds, paintings of 21 beautiful women found on a sheltered ledge.
Sigiriya Polonnaruwa | Half day
You will find the ruins of the ancient Sinhala civilisation at Polonnaruwa, which became Sri Lanka's capital between the 11th and 12th centuries. Highlights include the ruins of the king's council chamber, the Royal Citadel and the Vatadage Relic House. Another will undoubtedly be the Gal Vihare where unknown artists carved four separate images out of a granite cliff face: the great reclining image of the Buddha entering nirvana is 14-metres long and is generally held to be the most impressive of the sculptures. Also of interest are the reservoirs – they are so large that one, the Parakrama Samudra, is bigger than Colombo Harbour!
Day 5 – Habarana-Dambulla-Matale-Kandy
Head for the hill country and cooler temperatures, stopping to explore UNESCO-listed Dambulla Cave Temple. Join white-robed pilgrims visiting this venerable cave complex that is packed with murals and figures of Buddha, and other gods and goddesses. Keep an eye out for monkeys that snatch and grab floral temple offerings. Stop at a spice garden in Matale to learn more about the cultivation, trade, and uses of local spice. Continue to the locally rated 4-star Cinnamon Citadel Hotel in the historic former kingdom of Kandy for a two-night stay. Tonight take in a riotously colourful and athletic performance of traditional dance.
Day 6 – Botanic Garden and Kandy city tour
Explore the Royal Palace and the ornate golden-roofed Temple of the Tooth, home to a sacred tooth relic of Buddah that attracts thousands of pilgrims. By way of contrast visit the Royal Botanic Garden of Peradeniya and admire its orchid collection and towering exotic trees. You'll also visit a gem lapidary, and take a shopping tour in Kandy.
Day 7 – Kandy-Nuwara Eliya
Travel to Nuwara Eliya which lies nestled in a wooded basin at the foot of Mount Pidurutalagala, Sri Lanka's highest peak at 2,555 metres. The cool, crisp climate makes the region unlike anywhere else in Sri Lanka and is a serene retreat far removed from the hustle and bustle of Colombo. The town still retains a Victorian English appearance and is famous for its tea production. You'll get to look around one of the tea estates and factories to learn all about tea cultivation, the finer points of production, and have a cuppa of the local leaf.
Stay overnight at the locally rated 4-star The Grand Hotel in Nuwara Eliya, a former colonial retreat. During 2020 you can look forward to enjoying an included 'high tea' with delicious savouries such as smoked salmon with cream cheese and cucumber sandwich, chicken fajitas, and Thai fish cake and quail egg, before concluding with a sweet treat.
Day 8 – Nuwara Eliya-Udawalawe Elephant Transit Home-Yala
Travel to the locally rated 4-star Cinnamon Wild Yala for a three-night stay, stopping en route to see orphaned elephants at Udawalawe Elephant Transit Home. The Foundation works with the orphans to prepare them for being safely returned to the wild when they are around four years old.Cinnamon Wild Yara is situated at Kirinda, bordering the Yala Wildlife Sanctuary and the Indian Ocean, on the southernmost tip of Sri Lanka. Spanning 10 acres of jungle and endless miles of beach, the resort combines untamed beauty with surprising luxury.
Day 9 – Yala-Kataragama-Yala
Go on a jeep safari in wildlife-rich Yala National Park with a knowledgeable local guide to see elephants, water-buffalo, monkeys, crocodile, all manner of exotic bird life, and perhaps even a leopard. In the evening visit the holy town of Kataragama, one of the 16 places consecrated by Buddha. Here visit the Shrine of Lord Skanda and the Buddhist temple of Kiri Vehera that dates back to the 3rd century.
Day 10 – Yala
Champagne breakfast at the hotel, and, if your visit is in term time, visit a local school supported by the Saga Charitable Trust, the rest of the day is at leisure, you might like to watch the wildlife from the hotel observation decks.
Day 11 – Yala-Bundala-Galle-Beruwala
Leave early this morning for the pleasures of the coast, travelling to Beruwala, which is on the south-west coast of the island about 70 kilometres south of Colombo. Along the way stop to visit the bird sanctuary at Bundala, an important centre for aquatic birdlife. Look for spoonbill and pelican before heading to the former Dutch-colonial trading port of Galle for a walking tour of this atmospheric UNESCO-listed city. The town sprung up around the harbour and the fort, which was captured by the Dutch in 1640. The fort is now an archaeological site. Continue to the locally rated 4-star Cinnamon Bey for a three-night all-inclusive stay. The hotel is set on Sri Lanka's west coast, famous for its golden sands.
Day 12 – Beruwala
At leisure, or perhaps join an optional excursion.
Optional Excursions
River Safari | Half day
This river safari takes you past six islands, and includes a visit to a cinnamon plantation. Cinnamon, a small evergreen tree native to Sri Lanka, has been cultivated since antiquity for the spice obtained from its bark.
Day 13 – Beruwala
Day at leisure, you might want to spend it on the wonderful beach.
Day 14 – Beruwala to UK
Travel to Colombo Airport for your return flight, arriving for your included UK door-to-door travel service home.
Please note:
If Yala National Park is closed on government advice due to drought conditions on Day 9 of your stay, you'll visit Udawalawe National Park instead.
---
Sri Lanka Adventure Escorted Tour
FROM
£2128.00
Departing From
Glasgow
Other UK airports also available
Departure dates
5th February 2020
19th February 2020
4th March 2020
3rd June 2020
9th September 2020
4th November 2020