A Tale of Three Rivers 2021 River Cruise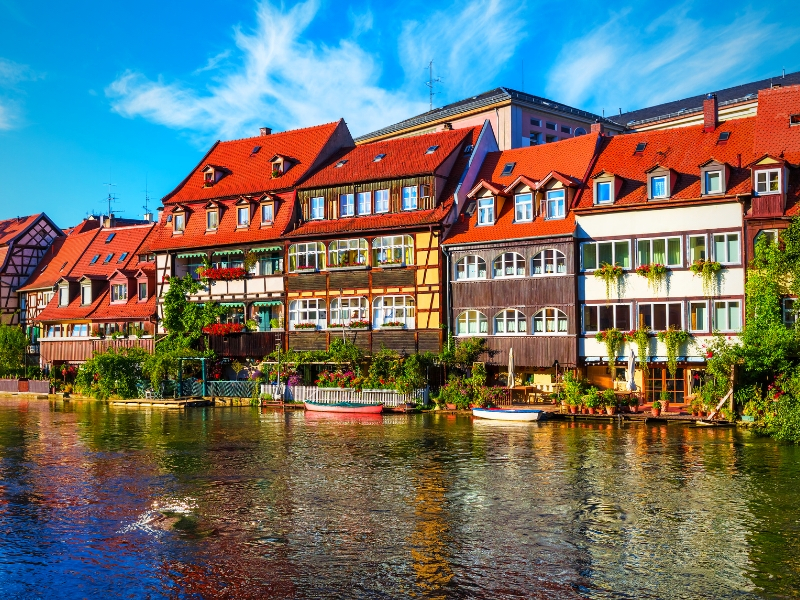 Available
April 2020 to November 2021
See great cities & landscapes on this fantastic Tale of Three Rivers River Cruise – save £1000pp on 2021 Viking River Cruises – book by 30 June 2020!*
Sail Europe's most iconic rivers: the Moselle with its steep vineyards; the castle-studded Rhine; and the Main, lined with quaint villages. Taste legendary Moselle Rieslings. Survey the Rhine from 900-year-old Marksburg Castle. Savor hearty German cuisine. With bookends in Trier and Bamberg, this 8-day journey celebrates the diverse landscapes of three of Europe's most beloved rivers.
---

---
Price Includes
Return flights from regional airports throughout the UK; including Aberdeen, Edinburgh and Glasgow
8 day cruise with river-view stateroom
6 guided tours
All on board meals
Quality wine, beer and soft drinks with lunch and dinner
Specialty tea and coffee any time on board
No corkage fee
Free Wi-Fi (connection speed may vary)
Evening entertainment
Onboard gratuities
Subject to availability. Single supplements apply.
To speak to an adviser regarding more information for this cruise or to book this cruise, please call 0800 1707 233 and quote *DC Thomson Travel*
*Prices from including £1000pp discount
Tale of Three Rivers Itinerary
Day 1 – Trier, Germany
Arrive in Trier today and transfer to your ship. One of Germany's most treasured cities for its rich history, Trier was once the regional capital of the Holy Roman Empire. After Emperor Constantine the Great had a vision of Christ, he and his mother Helena built great churches and cathedrals here. A few still stand, the magnificent Romanesque Cathedral of Trier among them.
The 20,000-seat amphitheater, the Roman Bridge and the massive Porta Nigra, the ancient city gate, are further relics of that time. Today, Trier is a picturesque town surrounded by forests and vineyards, known also as a vibrant university town.
Day 2 – Trier & Bernkastel, Germany
Enjoy a morning tour of Trier, Germany's oldest city, set on the banks of the Moselle River. See the wonderfully preserved Roman Porta Nigra, Trier Cathedral and the Church of Our Lady. Lunch is served on board as we depart. Enjoy scenic cruising along the Moselle this afternoon.
We dock in Bernkastel around dinnertime. After your evening meal you can take a walk through the town's cobblestone streets, or join an optional wine-tasting excursion in this famous wine region.
Day 3 – Cochem, Germany
A walking tour takes you through the quaint Moselle town of Cochem. Then, visit imposing Reichsburg Castle. After lunch you sail the scenic Moselle to Winnigen, arriving in the evening during dinner. Explore the cobbled streets and cafés, or stay on your ship and hear folktales about the Moselle.
Day 4 – Koblenz, Germany
After breakfast, disembark in Koblenz for a tour of Marksburg Castle, the only Rhine fortress that was never destroyed. Since its fortifications have remained so intact, stepping inside is a veritable journey back to the Middle Ages. Take in views of the Rhine Valley from this castle's stunning vantage point.
Meet your ship in Braubach, where it has sailed during your excursion. Have lunch and enjoy cruising through the storied Middle Rhine, a UNESCO World Heritage Site, lined with medieval castles, historic towns and vineyards.
Day 5 – Heidelberg, Germany
Today's full-day excursion takes you to Heidelberg, home to Germany's oldest university. Tour the imposing red sandstone ruins of Heidelberg Castle, built in the 12th century but twice destroyed by lightning and then later rebuilt.
A guided walk through Heidelberg's Old Town and marketplace is included, as is lunch in a local restaurant. Return to your ship for dinner and departure.
Day 6 – Würzburg, Germany
Disembark in Karlstadt and take a half-day excursion to the enticing Franconian wine town of Würzburg where you tour the Bishops' Residenz, a beautiful baroque palace with numerous paintings and frescoes.
Enjoy some free time in Würzburg this afternoon, or join an optional journey along the "Romantic Road" to the walled medieval village of Rothenburg. Meet your ship in Würzburg and dine on board.
Day 7 – Bamberg, Germany
This morning, enjoy scenic cruising along the Main River as you make your way eastward through the Franconia region of Germany. After lunch we stop in the historic town of Bamberg, founded in 902 and an important center of the German Enlightenment.
Enjoy a walking tour of Bamberg's beautifully preserved Old Town area, a UNESCO World Heritage Site, then take time to explore or perhaps sample the town's famous locally brewed smoky beer, rauchbier. Dine on board.
Day 8 – Bamberg, Germany to UK
After breakfast, proceed to the airport for your return flight home.
---
A Tale of Three Rivers 2021 River Cruise
FROM
£1595.00
Departing From
Aberdeen
Edinburgh
Glasgow
Other UK airports available
Departure dates
17th April 2020
24th April 2020
1st May 2020
8th May 2020
29th May 2020
5th June 2020
12th June 2020
19th June 2020
26th June 2020
3rd July 2020
10th July 2020
17th July 2020
24th July 2020
31st July 2020
7th August 2020
14th August 2020
21st August 2020
28th August 2020
4th September 2020
11th September 2020
18th September 2020
25th September 2020
2nd October 2020
9th October 2020
16th October 2020
23rd October 2020
30th October 2020
6th November 2020
7th May 2021
21st May 2021
28th May 2021
18th June 2021
2nd July 2021
16th July 2021
30th July 2021
13th August 2021
27th August 2021
4th September 2021
10th September 2021
24th September 2021
8th October 2021
5th November 2021