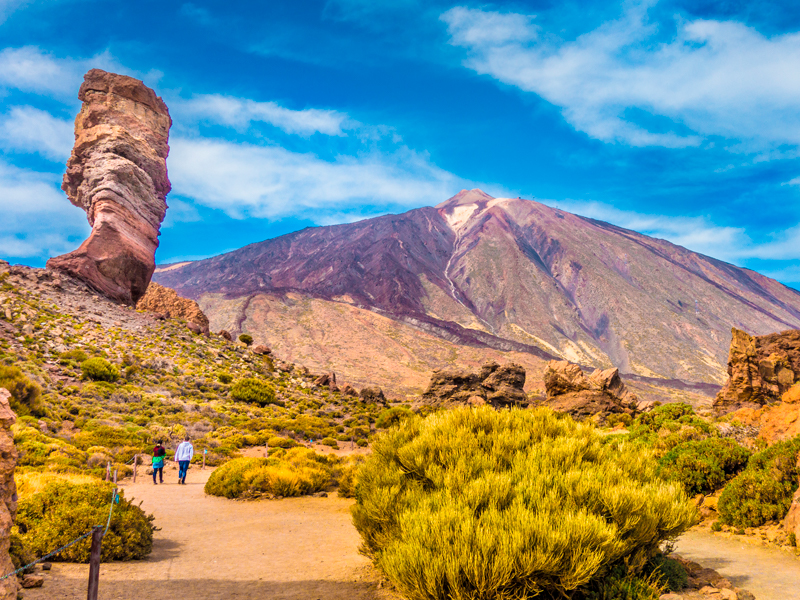 Travel with us to discover Tenerife Coast & Country. On this relaxing holiday, we'll explore the best of the Island's amazing scenery and fascinating history.
Excursions will include visits to UNESCO World Heritage city of La Laguna; the joint capital of the Canary Islands, Santa Cruz; and a full day sightseeing trip around the island.
We'll also get to explore the island's rugged mountainous landscape on a day trip to Mount Teide National Park to see the volcano that gave birth to Tenerife nearly 12 million years ago.
This trip also includes plenty of leisure time to relax on Tenerife's black sand beaches or discover the island at your own pace, with helpful recommendations on what to see and do from your expert guide.
What You'll Love
Discover the perfect climate & scenic landscape of Tenerife on this 7-night guided sun holiday
Stay in the seaside town of Puerto de la Cruz, known for its volcanic-sand beaches & saltwater pools (4* Full Board)
Venture to the highest peak in Spain, Mount Teide, on a guided half day excursion
Enjoy a half day excursion to two of the island's largest cities Santa Cruz & La Laguna
Take in some of Tenerife's most spectacular landscapes on a full day guided tour of the island
Relax & unwind with plenty of free time to soak up the sun or explore at your own pace
Return flights and transfers
Subject to availability. Single supplements apply. To check latest availability, call 0131 608 1238 quoting "DC Thomson Travel"
Itinerary
Day 1 – Travel to Tenerife
Upon arrival in Tenerife, you will be met at the airport by our local representative and transferred by coach to your hotel.
Day 2 – Puerto de la Cruz
In the morning we recommend that you get your bearings with a leisurely stroll through Puerto de la Cruz, which has a great selection of bars, restaurants and cafes and is surrounded by several beaches. After lunch why not relax by the pool or take a stroll down the beach at Playa Jardin.
Day 3 – Santa Cruz & La Laguna
On day 3 you will have a half day guided excursion to Santa Cruz. After breakfast you will travel to the famous sea port which is one of Spain's busiest and is the joint capital of the Canary Islands. This city was recently named one of the best five places in the world to live by "The Guardian" newspaper. You will then move on to the UNESCO World Heritage site of La Laguna. Here you will see its impressive cathedral and the old colonial city architecture.
Day 4 – Tour of Tenerife Island
On day 4 you will journey around the island for a full day's guided excursion. Your first port of call will be the village of Icod de los Vinos on the west coast, which is famous for the Canary Islands Dragon Tree. This subtropical tree-like plant is the natural emblem of Tenerife. Continue to Playa de Las Americas for some free time, with views of the spectacular Los Gigantes Cliffs en route.
In the afternoon, we'll visit the Basilica of Candelaria, to view the famous statue of the Black Madonna and bronze statues of the 'Guanches'. The Guanches were the original inhabitants of the Canary Islands and while it is generally believed that they no longer exist as a distinct ethnicity, many traces of their culture remain.
Please note only breakfast and dinner will be included in your hotel on this day.
Day 5 – At Leisure
Day 5 will be free to enjoy at your leisure. We recommend you take some time to explore the town of Puerto de la Cruz, which has an excellent range of cafes and bars. There are many other attractions outside the town centre, particularly the botanical gardens, which have a large range of tropical and subtropical trees, plants and flowers.
Day 6 – Mount Teide
You will begin day 6 with a morning guided excursion to the volcanic Mount Teide National Park, which is dominated by the highest peak in Spain, Mount Teide itself. Along the way you will pass through the evergreen valley of La Orotava. The soil here is home to some very rare flora due to the lava flows on the flanks of the mountain. After, you will return to your hotel in time for lunch.
The afternoon is free to spend at your leisure.
Day 7 – At Leisure
On your final day you are free to relax and enjoy your surroundings. Why not take a walk to Puerto de la Cruz for some last-minute souvenirs or visit Loro Parque (Parrot Park), which is a theme park and zoo that is amongst the largest in the world.
Day 8 – Return Home
You will be transferred to the airport with guide assistance for your flight home.
---
Tenerife Coast & Country
FROM
£799.00
Departure dates
21st September 2022
5th October 2022
9th November 2022
6th February 2023
6th March 2023
27th March 2023
26th April 2023
10th May 2023
31st May 2023
13th September 2023
18th October 2023
14th November 2023