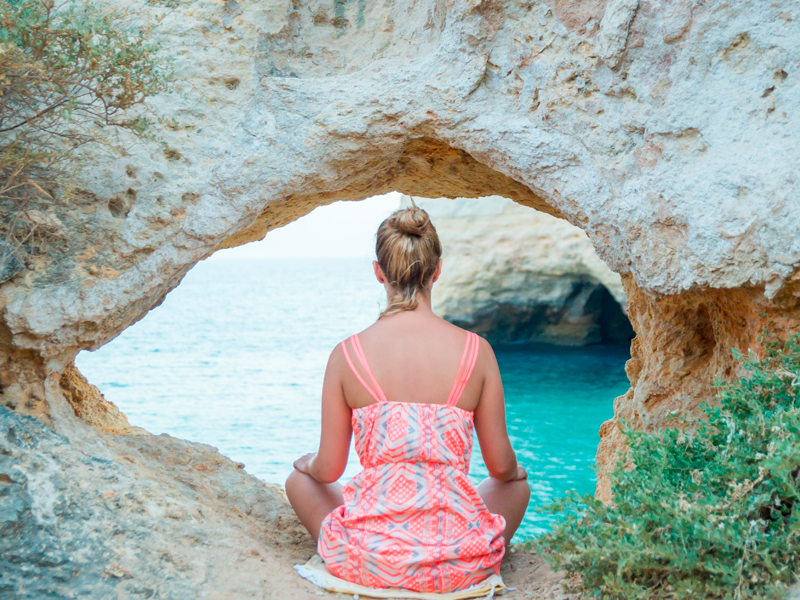 Available
Until October 2022
Travel with us on a unique yoga holiday that will allow you to unwind while discovering the beautiful natural surroundings of Portugal's southern coast.
With a year round superb climate, fantastic beaches and dramatic landscapes, the Algarve is the perfect backdrop for a relaxing and reviving yoga holiday. Throughout this guided trip, our vinyasa/hatha practice will be varied and themed per day and all yoga sessions will be open level.
Led by a highly qualified yoga teacher from MOONS Yoga, we'll focus on slow mindful, movement with stronger holds. Variations will be offered to intensify or soften each of the poses. Between yoga sessions we'll also have free time to take in the highlights of this region. Enjoy walks along the coast, take a surf lesson, or simply bask in the tranquillity of our surroundings.
Please ensure you bring your own yoga mat for this holiday.
The Algarve Yoga Holiday Price Includes
Immerse yourself in sunshine & serenity on this yoga holiday to the Algarve.
Spend 3 nights in the beautiful seaside village of Sagres.
Ground yourself with a welcome 'Slow Flow Stretch' & grounding meditation.
Enjoy twice daily yoga sessions, all led by an expert teacher from MOONS Yoga.
Explore Sagres at your own pace in between sessions & with a day at leisure.
Enjoy the flexibility to make your own way there, see "Know Before You Go​" below for more info.
To view available dates and prices for this holiday CLICK HERE
Or call 0131 608 1238 quoting "DC Thomson Travel"
---
The Algarve Yoga Holiday
FROM
£399.00