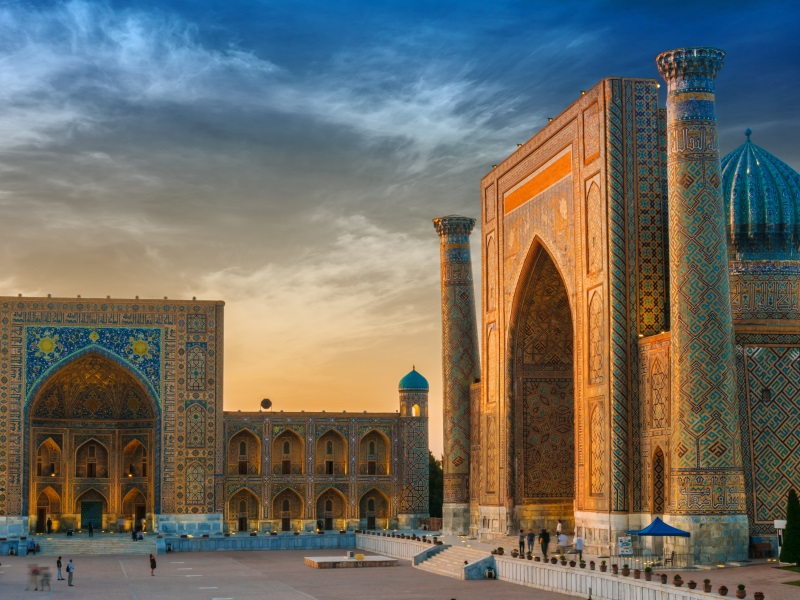 From mosques to madrassas and mosaics to mausoleums, take in the sights of the Silk Road on this unmissable Uzbekistan tour. Absorb the culture of the ancient cities and astounding desert landscapes of this dynamic destination, full of wonder, culture and history. With recent renewed interest in both the historical and modern Silk Road, now is the ideal time to discover this endlessly intriguing country as it starts to open up to the world, with the bonus of no visa requirements and less than seven hours flying away.
Price Includes
Return flights and transfers
Stay in hand-picked three-star and four-star accommodation, with daily breakfast and nine meals
Stay in three of Central Asia's most extraordinary cities; Khiva, Bukhara and Samarkand
Guided walks through the incredible UNESCO World Heritage site of Khiva, still completely enclosed by its ancient walls
See the places where the 'Great Game' was played out between Britain and Russia in the 19th-century
Discover how first the Russian Tzars and then the Soviet state influenced and changed this strategic region
Guided visits through bustling local markets and fascinating bazaars full of colourful handicrafts, including Chorsu bazaar, the largest in the country
Travel through vast plains and deserts and cross the fabled River Oxus
Discover the old summer palace of the last Emir of Bukhara, which was built in the early 20th-century
Visit ancient mosques, covered markets and forbidding fortresses, see soaring minarets and vaulted caravanserais
Marvel at the outstanding intricacy and vibrant colours in almost every shade of blue of the tiles adorning ancient mosques
Visit the little village of Gijduvan, famed for its master potters, to meet a family who have perfected their craft over seven generations
Wonder at the exquisite beauty of Samarkand's Registan Square, the epicentre of Tamerlane's great empire and visit his mausoleum
Travel on Uzbekistan's new fast trains from Samarkand to Tashkent
The services of an experienced and insightful tour manager
Subject to availability. Single supplements apply.
For more information or to book, please call 01283 742300 or click here.
---
The Silk Road
FROM
£2199.00
Departure dates
13th October 2020
20th October 2020