Umbria, Perugia & Assisi – The Heart of Italy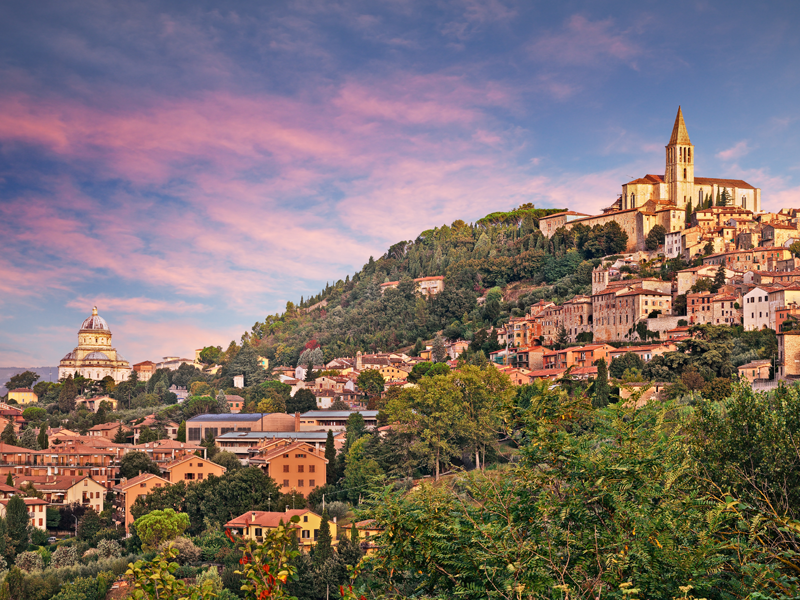 Italy's rich mix of archaeological treasures, fine art and architecture, hearty cuisine and mountainous Mediterranean landscape has long proved irresistible to visitors.
Unreservedly romantic and deeply influenced by religion, it's capable of stirring emotion in a way that's unrivaled worldwide. And despite possessing these attributes in abundance, Umbria slips under the radar. Its unique position as the only region in Italy that doesn't border another country or the sea ensures it remains one of the country's most authentic areas.
If you'd like to discover what lies at the very heart of Italy – a region that's every bit as beautiful and historically important as neighbouring Tuscany, but remains largely unexplored – this tour of Umbria is set to surprise and enchant.
Price Includes
Return flights from a selection of regional airports, with hotel transfers
Seven nights in four-star accommodation, inclusive of all local taxes, with breakfast (a three-night hotel dining option is available)
Enjoy a guided tour of Perugia, capital of Italy's beautiful Umbria region and formerly one of the 12 Etruscan cities
Wander medieval Assisi, the birthplace of St Francis and home to the incredible basilica dedicated to his name
Cross into Tuscany to explore the timeworn, narrow streets of hilltop Cortona
Take the ferry across Lake Trasimeno to the time-capsule island of Maggiore
See Spoleto's ancient Roman and Romanesque architecture, as well as its formidable hilltop fortress
Sample the spoils of the verdant Umbrian countryside at a local producer of Sagrantino di Montefalco wine
Descend deep under Umbria's undulating landscape to explore the enchanting Frasassi Caves
Journey through the history of one of Umbria's oldest towns, Gubbio.
Take the funicular up a volcanic rock-face to the hidden town of Orvieto, a former Etruscan stronghold boasting one of Italy's finest cathedrals
Taste traditional fare at a rural restaurant
The services of our experienced and insightful tour manager
Subject to availability. Single supplements apply.
For more information or to book, please call 01283 742300 or click here.
---
Umbria, Perugia & Assisi – The Heart of Italy
FROM
£1129.00
Departing From
Glasgow
Other UK airports also available