Walk & Discover: Lake District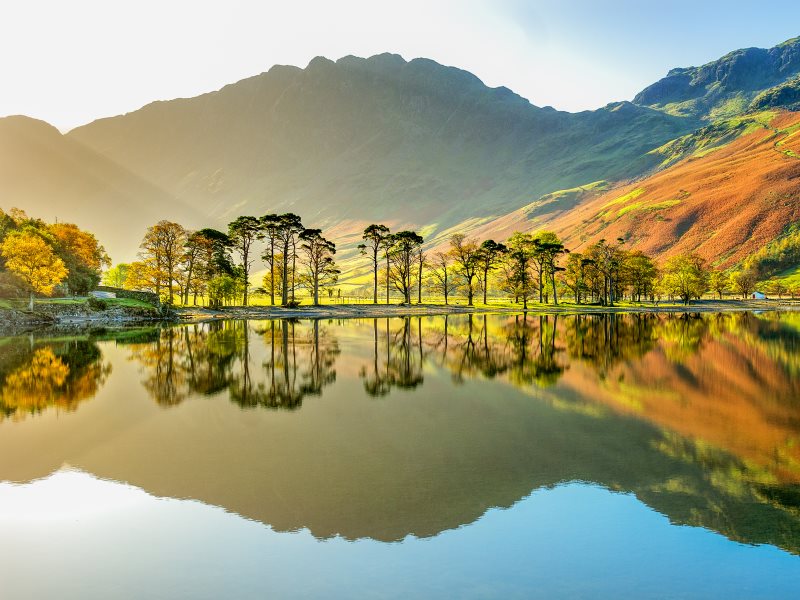 Available
Until October 2022
A British beauty that inspired the words of Beatrix Potter, Arthur Ransome and Wordsworth, discover the natural landscapes that make up the unforgettable Lake District.
There's so much to explore on this carefully crafted tour, from the history of Sizergh Castle, Muncaster Castle and views of The Old Man of Coniston, through to the historical voyages of the Steam Yacht Gondola and Ravenglass and Eskdale Railway.
But of course the one thing you can't miss is the breathtaking landscapes around every turn, driving through iconic scenery and exploring on foot with chances to get to the heart of each destination on guided woodland and lakeside walks around Coniston Water and Buttermere.
Lake District Price Includes
Enjoy peace of mind with Flexible Booking*
Covid Cancellation protection included as standard
Four nights in four-star accommodation with breakfast
Two dinners at the hotel plus a choice to book a hotel dining package (from £65 per person)
Discover the National Trust owned Sizergh Castle and Gardens
Take the Steam Yacht Gondola across Coniston
Journey on the The Ravenglass & Eskdale Railway, one of the oldest and longest narrow-gauge railways in England
Explore Muncaster Castle on a guided tour before a private group lunch
Scenic drive to enjoy Windermere at your leisure
Two included guided walks of Monk Coniston and Buttermere
The services of a Riviera Travel tour manager
Subject to availability. Single supplements apply. Click here for departures exclusively for solo travellers.
*Book a new holiday with Rivera Travel and you can enjoy the flexibility to change your booking before travel, with no fees and no questions asked. You can change your booking up to 45 days before departure for 2021 holidays. New bookings for 2022 can be changed for free up until 31 December 2021. Full terms and conditions can be viewed here. 
Itinerary
Day 1
Make your way to your well-appointed hotel in Kendal for around lunchtime, surrounded by the breathtaking views of the Cumbrian countryside, and make yourself at home. For those who drive, there is a free car park available for you to use. If you'd like us to arrange train travel or a private car, our helpful team will be happy to help.
This afternoon, enjoy a visit to the National Trust owned Sizergh Castle and Gardens, built 750 years ago in the Middle Ages by the Strickland Family – and incredibly still their home today. A visit is literally like walking through history, from the Medieval great hall, to ornate Elizabethan panelling and then onto finely decorated rooms from the 18th Century. It's also famous for the well-kept gardens, including the enchanting water pools, and rockeries, as well as the tranquil wildflower displays.
Day 2
This morning we head to Coniston Water, steeped in history and settled since Neolithic times. The village nestles in the lee of The Old Man of Coniston – likened by Wainwright to the position of the Zermatt and the Matterhorn and is surrounded by spectacular rugged crags and foaming waterfalls. It truly illustrates the turbulent geological complexities of a valley born of violent volcanic fire and sculpted, even as 'recently' as 10,000 years ago, by unimaginable depths of ice.
We arrive at the lake and take the beautifully restored Steam Yacht Gondola, and cruise across Coniston like the Victorians did before us. Enjoy a guided commentary from the captain of the yacht, who will tell us about the history of the lake and what we can see. Look out for Brantwood John Ruskin's home on the shores of the lake, a visionary thinker and pioneering conservationist, who foresaw the 'green-house effect' more than a century ago. Ruskin also inspired the establishment of The National Trust, and the founders of the National Parks movement.
We can also spot Arthur Ransome's cottage – he used Coniston as the setting for his every popular children's book series Swallows and Amazons, which since published in 1930 has been made into numerous series and films. Most people will of course associate the lake with Donald Campbells water Speed record attempt, which ended in tragedy. He reached speed of over 300 mph on his craft "Bluebird".
Day 3
Heading as far west as we can in the lake, our first stop is a return journey on The Ravenglass & Eskdale Railway, one of the oldest and longest narrow-gauge railways in England.
"La'al Ratty" as it is affectionately known, meaning little railway in old Cumbrian was built in 1873. The journey itself was one of Alfred Wainwright's favourites due to the beautiful scenery and was immortalised in his guidebooks.
We then continue to Muncaster Castle a jewel in the majestic western lakes setting. Inhabited for 9 centuries continually, thought to have been built on Roman remains. We have a guided tour of the castle, before having a private group lunch. The rest of the afternoon is free to explore the gardens and maybe visit the Hawk and Owl Centre.
Day 4
Today we take a scenic drive to explore Ullswater, passing through Pooley Bridge and Glenridding.
We then continue across the breathtaking Kirsktone pass to Windermere with time to explore at your leisure. The afternoon is free, so you could choose to take a trip a on the steam railway or maybe even indulge in a lake cruise? Alternatively, you may wish to take a walk along one of the many scenic paths that border the lake.
Day 5
Today is a chance to explore one of the Northern Lakes, beautiful Buttermere. The mountains that ring Buttermere sweep straight up from the lake in steep unbroken slopes, but the path we follow is on the valley floor. This lake is particularly unusual as it's the only one of the famous district's lakes that you can take a path all the way around. And so we follow this picturesque route around though the woodland, hugging the shores and wildlife spotting along the way. Lastly, we stop at Buttermere village itself for refreshments before returning to the hotel to collect cars before your departure or transfer to the train station.
Buttermere Lakeshore Walk
With a mix of lakeside paths and woodland, this circular walk takes us around Buttermere and through Burtness Wood with brilliant vistas of Fleetwith Pike and Haystacks fell. As you trace the shoreline, you'll be sure to see stunning views of Robinson, Hindscarth and Dale Head too. The other half of the walk is through more woody and muddy areas (so be sure to bring good walking boots) but it's a level path and a wonderful loop back to Buttermere village.
Easy walk – Duration: 2.5 hours / Distance: 4.7miles / Terrain: shoreline paths, stones, rough and narrow in places with possible muddy areas
---
Walk & Discover: Lake District
FROM
£719.00
Departure dates
20th September 2021
18th October 2021
26th April 2022
10th May 2022
14th June 2022
20th September 2022