Walking in France – Camargue, Alpilles & Crau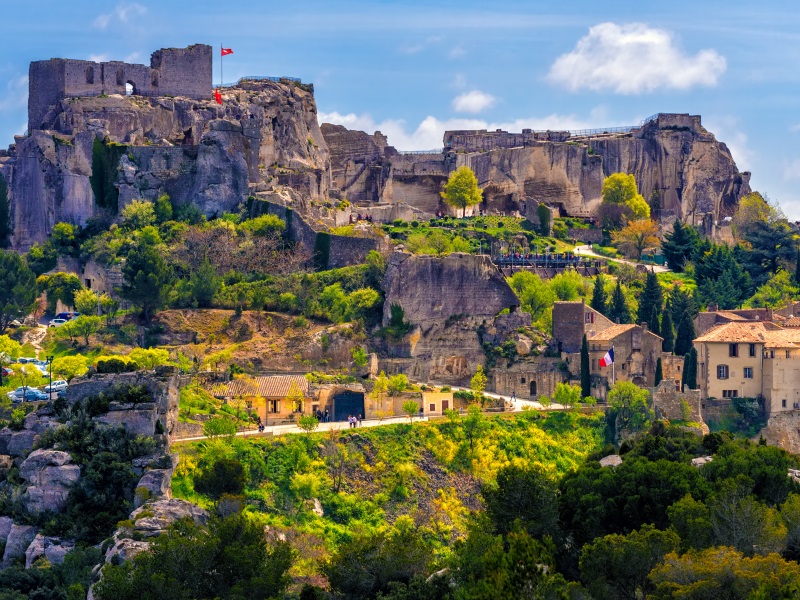 La Camargue, les Alpilles and la Crau – the French 'golden triangle' of biodiversity. The Camargue, with its white horses, black bulls and pink flamingos, needs little introduction. Just to the north, the jagged, limestone peaks of the Alpilles mountains are a striking contrast to the vast wetlands of the Camargue. Sandwiched between the two is la Crau, a unique, ancient steppe landscape where shepherds have tended their flocks for 6,000 years. You'll discover the amazing flora and fauna of all three environments on guided walks with an expert naturalist. You'll also enjoy the manmade wonders of the city of Arles, your holiday base, renowned for its Roman monuments, van Gogh scenes, and, of course, Provençal cafés and restaurants!!
Price Includes
7 nights bed & breakfast in Van Gogh's Arles
Return direct flights with coach transfers
Three included walks – La digue à la mer; Domaine de la Palissade & la Crau; and Les Alpilles – Saint Paul-de-Mausole, Glanum and the Vallon de St Clerg
Transport to walks
Services of an Expert Guide
Itinerary
DAY ONE: Flight to Marseille or Nîmes, transfer to your hotel in Arles (one hour from Marseille, 40 minutes from Nîmes) for seven nights hotel accommodation. Two dinners in the hotel are included during your stay, leaving five nights to sample the delights of the local restaurants. Your Tour Director will be on hand to assist. A walking tour of the city will show you the major sights and attractions of this splendid city – the remarkably intact 1st century AD amphitheatre could entertain 30,000 spectators and is still used today; the Musée Réattu, a 15th century priory of the Knights of Malta on the bank of the river Rhône; the Place de la République with its obelisk and impressive town hall. Devotees of Van Gogh will recognise many parts of the city from his paintings, including the courtyard of the old hospital where he was treated after cutting off his ear, the amphitheatre, his café terrace, and the Rhône – especially on a starry night!
DAYS TWO TO SEVEN: There are three included walks during your stay in Arles.
Walk 1: La digue à la mer. Transfer to Saintes-Maries-de-la-Mer (23 miles). On the way you'll hear the story of the Three Marys (Jacob, Salome and Magdalene) and their servant Sarah, patron saint of Gypsies, thousands of whom have been making the annual pilgrimage to Saintes- Maries for centuries. 'La digue' is the dyke built in 1859 to keep the sea at bay. This is a long but easy walk which takes you into the heart of the Camargue National Nature Reserve. Landmarks along the route include the Rousty sluice gate, the old customs house and the working Gacholle lighthouse whose 60ft tower can be seen from miles around. Common bird sightings will include warblers, gulls, terns, waders and avocets but the emblematic Pink Flamingos are especially visible at the end of the walk in the Fangassier lagoon where between 15 and 20 thousand breeding pairs (spring only) should be waiting for you . 11 miles – flat.
Walk 2: Travel by coach to the Domaine de La Palissade at the mouth of the Rhone (28 miles). On the way there you should see numerous species of heron, Glossy Ibis and many migrants: Marsh Terns, Caspian Tern, Bee-eaters and Rollers. On a 1-mile flat walk you can see a breeding colony of Slender-billed Gulls, Gull-billed Terns and Little Terns. Sometimes, the world's largest Tern species, Caspian, can be seen with the smallest! Leaving the Domaine, you take the short ferry crossing from Salin de Giraud to Port Saint Louis and travel 17 miles to la Crau Nature Reserve. Legend has it that the countless polished stones covering the terrain were rained down by Jupiter and used as missiles by Hercules in battle after he had used all his arrows. On a 2-½ mile flat walk you would hope to see Pin-tailed Sandgrouse, Lesser Kestrel, Larks and Tawny Pipit.
Walk 3: Les Alpilles – Saint Paul-de-Mausole, Glanum and the Vallon de St Clerg.
0900 –  Coach transfer to Saint Rémy (19 miles) where you meet your guide. Your walk to Les Baux de Provence (6 ½ miles, 250m ascent/ descent) passes Saint Paul-de-Mausole (where van Gogh painted over one hundred works of genius while a voluntary patient in the rest home for just under a year) and continues past the archaeological site of Glanum. Walking through the valley of St Clerg, you have some time at the foot of the two-holed rock looking out for the Bonelli's Eagle and also the Short-toed Eagle, Sub-Alpine and Sardinian Warblers. Your walk ends in Les Baux, where you take a short walk on a path overlooking a wonderful landscape in search of Blue Rock Thrush at the foot of the imposing ruined citadel. Transfer back to your hotel in the late afternoon.
As well as the three included trips there will be an unusual, optional evening/night excursion to a Little Bustard site in beautiful scenery, followed by a picnic in the company of Eagle Owls to the sound of Nightingales and whirring Nightjars. Return to the hotel will be after 11pm.
DAY EIGHT: Free time until departure for the airport and your flight home.
Autumn bird sightings:
Bird sightings mentioned above are based on departures in the spring. In the autumn we would expect:
Walk 1: La digue à la mer
Common bird sightings include gulls, waders and avocets and, of course, the emblematic Pink Flamingos will be present all along the walk.
Walk 2: Domaine de la Palissade & la Crau.
You would hope to see Flamingos, Herons, waders and ducks, Pin-tailed Sandgrouse, Little Bustards and Calandra Larks.
Walk 3: Les Alpilles – Saint Paul-de-Mausole, Glanum and the Vallon de St Clerg.
Sightings would include Wallcreeper and Blue Rock Thrush, Bonelli's Eagle and Sardinian Warblers.
If you have friends who are not walkers interested in this itinerary, we also offer it with a touring programme.
---
Walking in France – Camargue, Alpilles & Crau
FROM
£899.00
Departing From
Aberdeen via London
Bristol
Edinburgh
Glasgow
London Heathrow
London Gatwick
Luton
Manchester
Southend
Stansted