Walking in the Peak District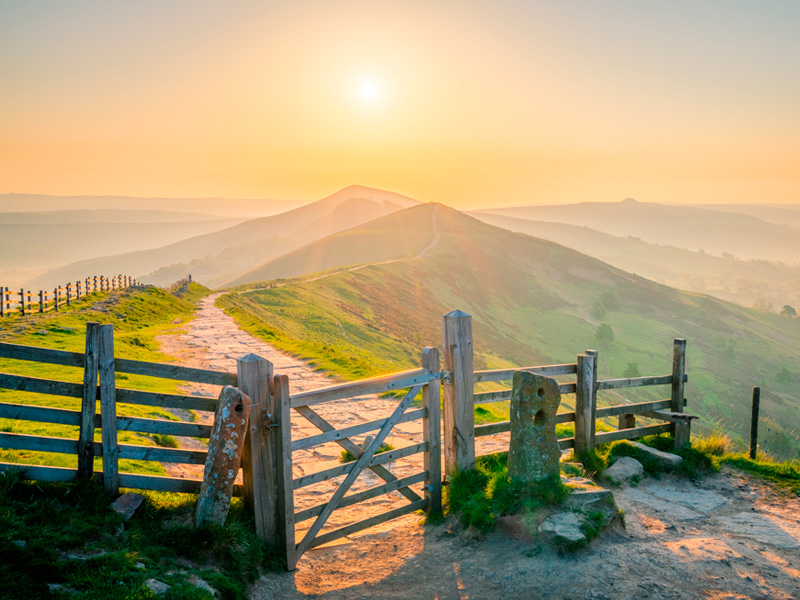 The Peak District of Derbyshire offers some of the finest walking in England, with its distinctive limestone-scarred landscape of rolling hills and wooded dales. Bracing walks in the morning are complemented by stimulating visits in the afternoon featuring the historic houses and natural wonders of the region.
The first of our walks takes us to Chatsworth House, Derbyshire's jewel in the crown, and from there through wonderful woodland and peaceful pastures to Bakewell. The next day enjoy an exhilarating high-level walk which combines sweeping views over Peak District's Great Ridge with some familiar film locations, as well as connections with legendary figures Robin Hood and Little John.
Our final walk takes us over heather-covered moors to the village of Eyam, which famously 'self-isolated' during the plague years of the 16th century.  In the afternoon we enjoy a classic walk on the Great Ridge with far reaching views from the summit at Mam Tor towards Kinder Scout and the Dark Peak.
Please note a good degree of mobility is required to get the most from this tour, along with good walking boots (and walking poles if used) along with appropriate outdoor clothing. Departure point: Join at the hotel, check-in available after 15.00.
What You'll Love
Accommodation
Services of a professional tour manager
Comfortable coach travel throughout
Meals – as per the itinerary
Single Supplements apply. Subject to availability.
Itinerary
Day 1
Travel independently to our hotel, the Hotel Mercure Kenwood Hall & Spa, Sheffield.
Day 2
Following breakfast, we transfer by coach to Chatsworth House. What better way to approach Derbyshire's 'jewel in the crown' than walking through the grounds, along the shores of the River Derwent – spot the high fountain and look out for deer on the pastures surrounding one of England's most beautiful country estates. Admire the splendour of the house and explore over 105 acres of garden discovering water features, giant sculptures, and beautiful flowers.
(2 miles/1 hour/easy)
After an opportunity for lunch (not included) at Chatsworth House, we walk to Bakewell taking in the village of Edensor on the Chatsworth Estate. Commissioned by the 6th Duke of Devonshire in the 19th century, the village has a delightful mix of houses including mock Tudor and Swiss cottage designs (the Duke had the original village demolished and built Edensor where it was out of sight and did not spoil his view across Chatsworth Estate). Climbing out of Edensor we then descend into Bakewell with some free time to explore.  This market town is best known for its unique Pudding, and you can visit the 16th century Yeoman house, now a museum, a Medieval bridge, and a church with monuments from the 14th and 15th centuries. Our coach will return us to the hotel.
(3 miles/2 hours/easy to moderate)
Day 3
After breakfast this morning, we transfer by coach to Longshaw Estate, the start of our high-level walk which combines nature, stunning scenery and a film linked to two classic novels – Pride and Prejudice and Jane Eyre – and the dramatic rock escarpment, Stanage Edge. This is where actress Keira Knightley, playing Elizabeth Bennett, stood upon a rock ledge and dreamed of Mr Darcy in the 2005 film version of Jane Austen's Pride and Prejudice. This massive gritstone escarpment is famous for its classic climbing routes, with sweeping views towards the Peak District's Great Ridge, Mam Tor, Winn Hill and Derbyshire's highest point, the Kinder Scout plateau.
Stop for pictures at the iconic 'Keira Knightley Rock' and explore Robin Hood's Cave (legend suggests he sheltered there).  Descending from the Edge we pass North Lees Hall, a beautiful stately home visited by Charlotte Bronte in 1845 – it's believed North Lees inspired Thornfield Hall, home to Mr Rochester in Bronte's classic, Jane Eyre.  Through woodland and pastures the walk passes near Hathersage Church, legendary burial place for Robin Hood's Little John, before finishing in Hathersage itself. We return by coach to our hotel.
(7 miles / 3.5 hours Moderate / Challenging – ascent at the beginning and then gradual and undulating)
We then transfer by coach from Hathersage to Sheffield Botanical Gardens for a relaxing afternoon visit. Opened in 1836, covering 19 acres and listed as a grade II site of special historic and architectural interest by English Heritage, these gardens offer the visitor an exploration through 18 different garden areas based on geographical or botanical themes.  Visit the Glass Pavillions which house a wonderful collection of plants from the temperate areas of the world, a rock and water garden, an asia garden and a four seasons garden offering a continually changing display.
Day 4
After breakfast we transfer by coach to the hill top hamlet of Bretton, the starting point for a historical walk with plenty of variety. Beginning on a high ridge at Bretton with far reaching views over the White Peak, this walk gradually descends into the famous village of Eyam, a village that quarantined itself in 1666 to protect the population and Sheffield from an outbreak of the plague.  Explore the village, see the houses where it all began and visit the museum – it's a fascinating story with resonance today.
(3.5 miles / 2 hrs easy/moderate with some descent)
We walk part of The Great Ridge this afternoon, a classic walk with some of the best views in the Peak District.  Following a drive up the beautiful Winnats Pass (home to the famous Blue John mines), the walk starts high and reaches the summit of Mam Tor, a hill fort with stunning views across the Dark Peak, Kinder Scout, and the Derwent moors. The walk keeps its height along the Great Ridge to Hollins Cross, before gradually descending to Castleton, a traditional Peak District village. Return by coach to hotel.
(3.5 miles /2 hours/easy to moderate – ascent at start and steady descent off the ridge)
Day 5
After breakfast we are free to depart independently.
---
Walking in the Peak District
FROM
£595.00