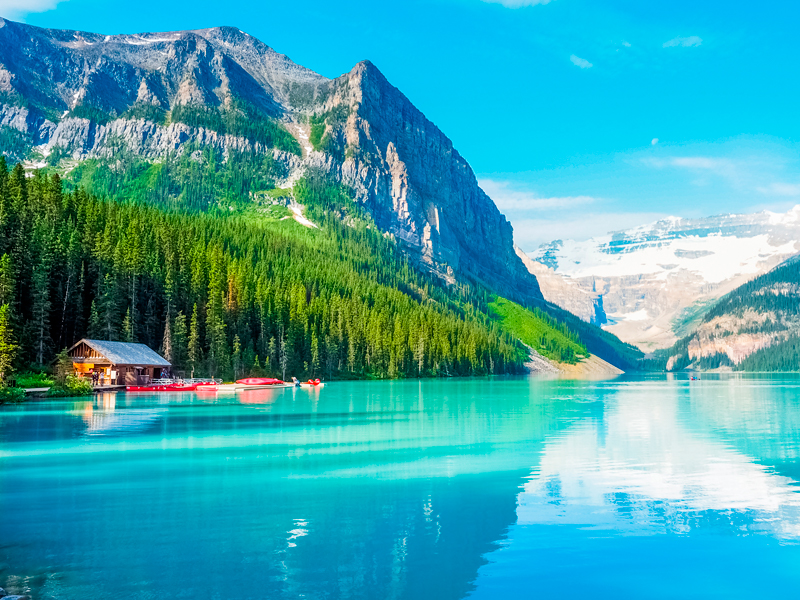 Experience the wonder of Western Canada and the Rocky Mountains on this 10-night guided holiday through the Great White North.
We'll travel in comfort through the snow-covered highlands as we visit glaciers, rushing rivers and crystalline lakes, gaping canyons and valleys, thundering waterfalls and steaming hot springs.
As we pass through cowboy country and Gold Rush territory, an expert guide will explain the highlights and history of this remarkable area.
On this trip, we'll also take time to tour the vibrant city of Vancouver with its buzzing shops & first-rate restaurants as well as the beautiful landscape of its North Shore.
This holiday also includes leisure time for you to sight-see at your own pace, with recommendations based on your interests from our local guide.
What You'll Love
Discover Western Canada's incredible mountain scenery & rich history on this 10-night guided holiday
Explore Vancouver on a full day city tour with stops at Stanley Park, Chinatown & Gastown
Enjoy a Snowcoach ride on Athabasca Glacier for the best views of the Columbia Icefield
Visit Canada's oldest national park on a trip to Banff with a stop at the bright blue waters of Lake Louise
Experience Canada's "cowboy country" as you make your way through tiny gold rush towns
Take a gondola to the top of Grouse Mountain & walk across Capilano Suspension Bridge in Vancouver
Includes 9 nights on a bed and breakfast basis (3 & 4*)
Return flights and transfers included
Subject to availability. Single supplements apply. To check latest availability, call 0131 608 1238 quoting "DC Thomson Travel"
Itinerary
Day 1 – Travel to Canada
Upon arrival in Vancouver, you will be met by a local guide and transferred to your hotel.
Day 2 – Vancouver
In the morning, take in the highpoints of Vancouver on a guided city tour. Visit the 1,001-acre Stanley Park with its collection of totem poles, the beach at English Bay, and the iconic Canada Place, an architectural landmark famous for its ship-like appearance. Explore trendy Robson Street with its many shops and cafes, experience the exotic smells of Vancouver's Chinatown and visit the oldest part of the city in historic Gastown.
The afternoon will be free to continue sightseeing at your leisure, browse the shops or simply relax. Your local guide will be happy to advise on activities to suit your interests.
Day 3 – Kamloops & Sun Peaks or Clearwater
After breakfast, check out of your hotel and depart for your hotel in Sun Peaks or Clearwater. On the way, pass through the rolling ranch land of British Columbia's "cowboy country" and the old fur-trading town of Kamloops on the Thompson River. You will spend the night in your hotel Sun Peaks or Clearwater. (Distance covered to Sun Peaks: 415km / to Clearwater : 480km includes comfort stops, sightseeing stops and free time for lunch.)
Day 4 – Wells Gray Park & Jasper
After breakfast, head out into the wilderness of Wells Gray Park and be wowed by its mountains, deep canyons, volcanic cones, old-growth forests, roaring waterfalls and white-water rivers.
In the afternoon, begin the journey to Jasper through the vast Mount Robson Park, named for the highest mountain in the Canadian Rockies. Remember to bring your camera for a striking photo opportunity of its snowy peaks. Continue through the incredible scenery along the Yellowhead Highway, finally arriving in the town of Jasper for the night. Set within Jasper National Park, the town boasts an appropriately scenic backdrop of striking mountaintops, meadows and lakes. (Distance covered: 450km, includes comfort stops, sightseeing stops and free time for lunch.)
Day 5 – Icefields Parkway, Athabasca Glacier & Banff
One of the world's most scenic drives, the Icefields Parkway is bordered by jagged mountains, shimmering lakes, fresh mountain streams and deep forests. Along this spectacular route to Banff town, you will stop to take a Snowcoach ride on the Athabasca Glacier, the best way to experience this part of the Columbia Icefield in all its glory. Arrive in Banff Town for your 2 night stay within Banff National Park. (Distance covered: 290km, includes comfort stops, sightseeing stops and free time for lunch.)
Day 6 – Banff & Lake Louise
Banff became Canada's first ever national park in 1885 in order to protect its natural hot springs. On today's sightseeing tour, visit the grand and castle-like 19th century Banff Springs Hotel, Tunnel Mountain, impressive Hoodoo rock formations and the region's famous Bow Falls. Later, travel to Lake Louise to marvel at its aquamarine waters, brightly coloured by rock flour carried by melt-water from the nearby glaciers.
Return to Banff town in the late afternoon to enjoy some free time soaking up the natural beauty of the Rockies. If you're in the mood, you could soak up even more in the soothing mineral waters at the Upper Hot Springs Pool, or celebrate the birthplace of Canada's national park system at The Cave & Basin National Historic Site.
Day 7 – Okanagan Valley & Vernon
Today, wave goodbye to The Rockies and travel through Kicking Horse Pass into the Columbia River Valley. This historic route was chartered by railroad engineers and well-worn by fur traders in the mid-1800s. Continue through Glacier National Park via Rogers Pass high in the snowy Selkirk Mountains. Pass the Monashee Mountains before arriving in Vernon, the oldest incorporated town in the fertile Okanagan Valley. (Distance covered: 430km, includes comfort stops, sightseeing stops and free time for lunch.)
Day 8 – Nicola Valley & Whistler
Today's route will bring you through the modern day cowboy country of Nicola Valley, now home to many a cattle ranch, before you continue west across the steep canyon walls along the Fraser River. Follow in the footsteps of 19th century gold seekers as you pass through Lillooet, the small remote town that was the heart of the 1860 Cariboo Gold Rush.
Arrive in Whistler and enjoy the afternoon at leisure in this picturesque mountain village, a skiing hotspot and home to the 2010 Olympic Winter Games. Consider taking a gondola ride with 360 degree views, or take in some contemporary and First Nations culture at one of the town's many art galleries. (Distance covered: 450km, includes comfort stops, sightseeing stops and free time for lunch.)
Day 9 – Vancouver
Drive south along the Sea-to-Sky Highway with its magnificent setting, surrounded by jagged fjords and glaciated mountain peaks. Back on Vancouver's North Shore, walk across the Capilano Suspension Bridge, hanging high among the treetops above the Capilano River. Finally, ride the gondola to the top of Grouse Mountain for panoramic views of Vancouver. Return to the city across the Lion's Gate Bridge and through Stanley Park for your final night in Canada. (Distance covered: 130km, includes comfort stops, sightseeing stops and free time for lunch.)
Day 10 – Vancouver & Return Home
Today you will have the morning at leisure before getting a guide transfer to Vancouver International Airport for your overnight flight home.
Day 11 – Arrive Home
Arrive home from this holiday of a lifetime.
---
Western Canada & the Rockies
FROM
£3169.00
Departure dates
8th September 2022
22nd June 2023
14th September 2023